Newsletter May 2011: Bell necklaceNews:First of all, a new and unique yarn in the shop: my bamboo laceweight.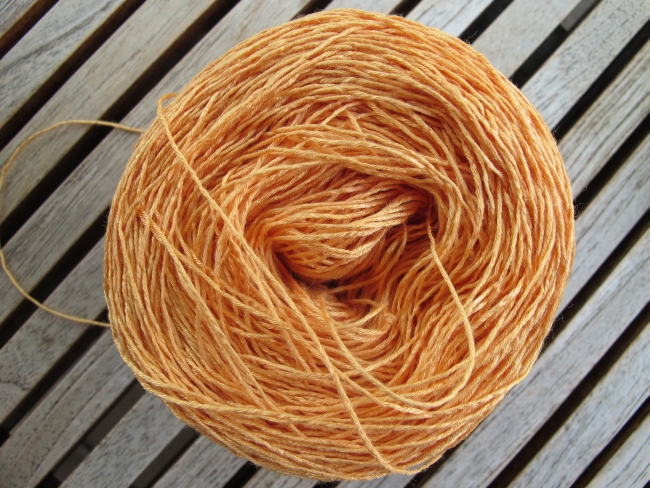 This superb bamboo viscose is currently available in nine colours (a couple more are on their way). At 4.50€ for a 50 g ball, containing 300 m (330 yds) of yarn, it is very reasonably priced. The yarn is spun in France, and sold online only by me.Now is the time to try it out – I will be offering free shipping on all yarns during the entire month of June. Prepare your summer projects!On the pattern front, I'm happy to present my own new shawl design, Ecume.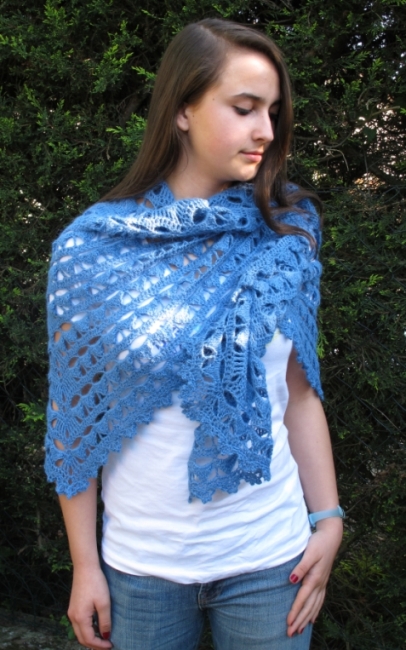 Ecume is worked in a fingering weight yarn (alpaca in this photo) with a 4 mm (US G-6) hook. The stitch pattern is a stylized wave. Throughout my childhood, I spent all my weekends and all my vacations near or on the water with my parents, who love sailing. Now, I live far from the sea, but the waves in the shawl bring many happy memories… »Ecume » is French for « foam », and the shawl is finished with a « foamy » border, just like a wave that breaks on the shore.I'm also proud to present the latest shawl by EclatDuSoleil – Ananas #343.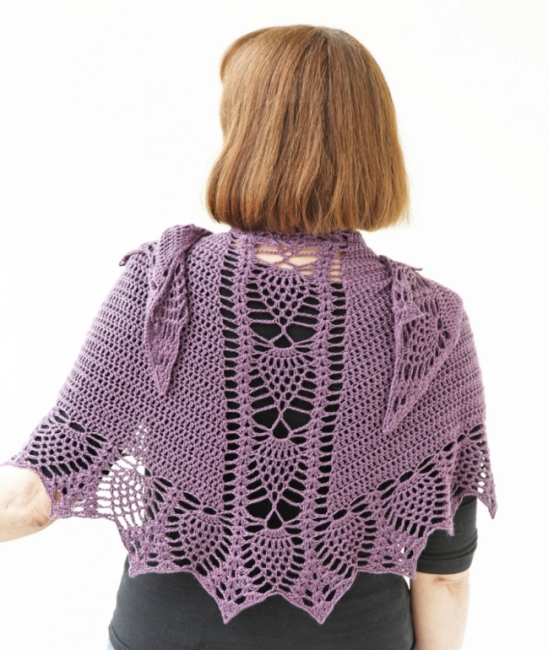 In this shawl, EclatDuSoleil has played with one of the many variations on the pineapple motif (« ananas » is French for « pineapple » – this newsletter is a miniature French course!).  Worked with a slightly oversized hook, this soft and drapey shawl will follow you everywhere. So, why the number 343? It's all explained in the shop! A small necklace:It's that time of year again – summer is approaching (though weatherwise it's already here in France – we are having the hottest and driest spring ever) and I want to crochet small things, like necklaces or bracelets.This time around, I wanted to use my new laceweight bamboo yarn, to explore its shine and softness.You will need approx 5 g or 30 m (35 yds) of laceweight yarn, and a 2 mm (US steel 4) hook.Bells:(Make 3)Start with an adjustable ring (click to see the newsletter from June 2010, where this technique is explained).Round 1: 6 sc in adjustable ring. Tighten ring. Place a marker in the first stitch – move this marker up for each new round. You will work in spirals, without closing rounds. The marker shows the beginning of the round.Round 2: 2 sc blo (= in back loop only – click to see the newsletter from January 2011 about working into one loop only) in each st to end of round – 12 sts.Rounds 3 – 4: Work straight in sc blo.Round 5: *1 sc blo in each of next 2 sts, 2 sc blo in next st*. Repeat from * to * to end of round – 16 sts.Rounds 6 – 7: Work straight in sc blo.Round 8: *1 sc blo in each of next 2 sts, 2 sc blo in next st*. Repeat from * to * until 1 st remains at end of round. 1 sc blo in last st – 21 sts.Round 9: Work straight in sc blo.Round 10: 1 sl st in every st (through both loops). Remove marker and make 1 sl st in 1st st of round. Fasten off.
Wonderful! You've just made 3 hats for very small elves!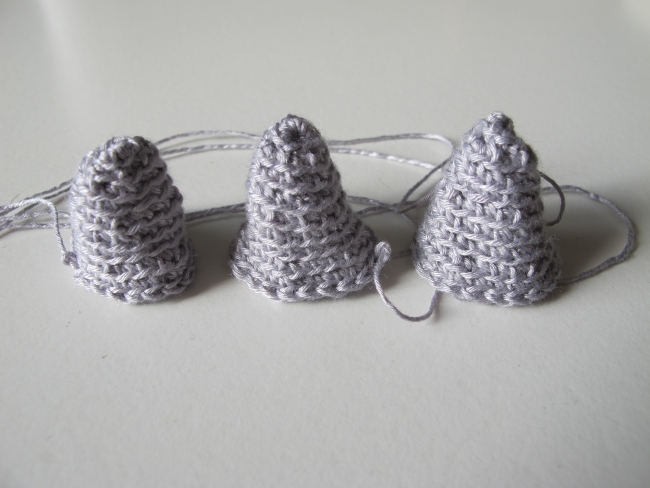 Necklace:Ch 126Row 1: 1 dc in 3rd ch from hook, 1 dc in each ch to end of row – 125 dc (the 2 ch at beg of row count as 1 dc). Fasten off. Turn work.Row 2 (WS): Attach yarn with a sc in 48th st, ch 10, skip 6 sts, 1 sc in each of next 3 sts, ch 18, skip 11 sts, 1 sc in each of next 3 sts, ch 10, skip 6 sts, 1 sc in next st, 1 sl st in next 2 sts. TurnRow 3: 10 dc in 10-ch sp, ch 2, 10 dc in same ch sp, 18 dc in 18-ch sp, ch 2, 18 dc in same ch sp, 10 dc in 10-ch sp, ch 2, 10 dc in same ch sp, skip sc and next st, sl st in next st. Fasten off.Finishing: Pin out the necklace wrong side up on an appropriate surface (I used my ironing board). Make sure to stretch the necklace to desired length and give it a rounded shape (see picture). Place a pin in each of the three 2-ch sp in row 3. Steam or spray and let dry.(Don't block the bells.)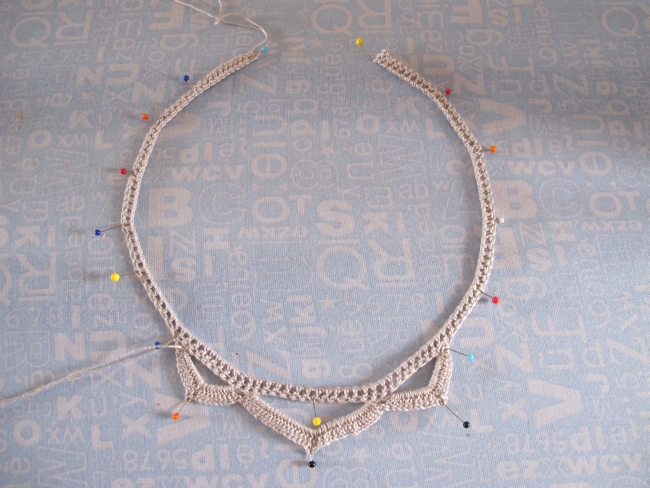 Weave in the end at the edge of each bell. Thread the starting end (at center of bell) on a needle and string some beads on the end. Go back with the needle through the beads (skipping the first one).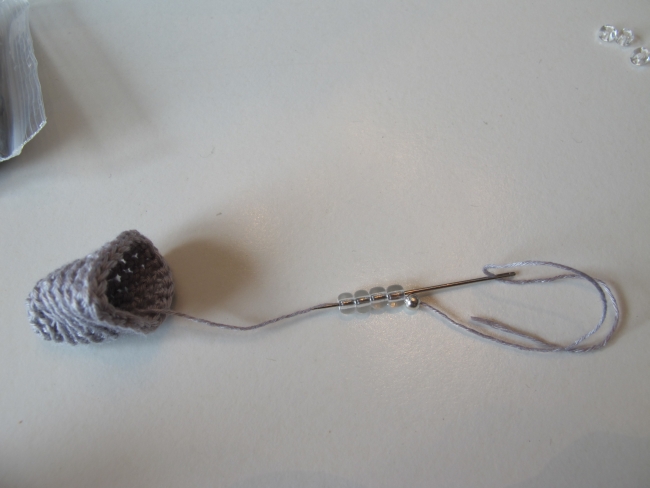 Adjust the beads so they hang slightly below the edge of the bell, like stamens in a flower.  Weave in end at top of bell, and (provided it is long enough) use it to stitch the bell to one of the 2-ch spaces in row 3 of the necklace.Repeat for the two remaining bells.Sew a metal closure of your choice to the ends of the necklace. If your necklace turns out a bit long, fold over the ends and stitch them down to shorten it.And here it is!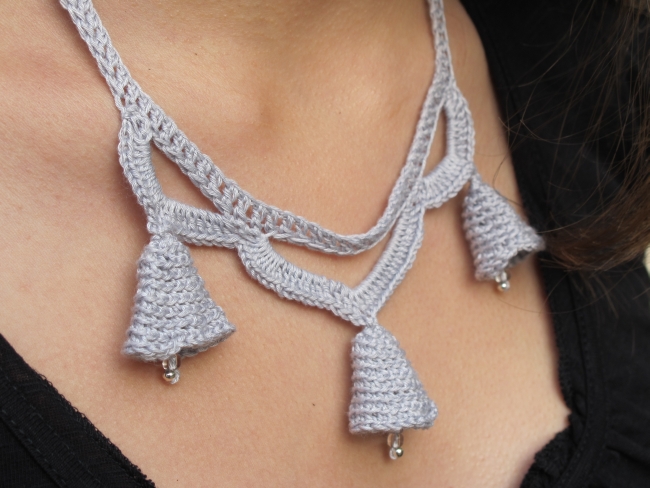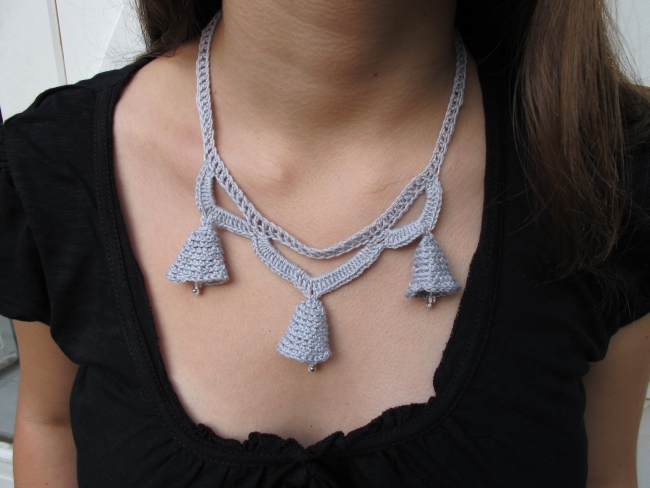 See you soon!