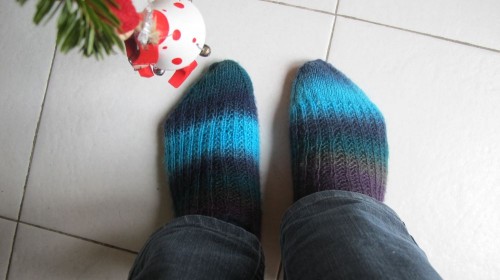 Oui, bon, ce sont des chaussettes de Noël tout simplement parce que je les ai fini vers 5 heures du matin le 24 décembre. Non pas que je devais les offrir le 25, mais je ne pouvais pas dormir, donc j'ai préféré me lever pour grafter le bout de la deuxième chaussette !
Well, they are Christmas socks only because I finished them around 5 a.m. on December 24th. Not because I was giving them away on the 25th, but I couldn't sleep, so I prefered to get up to graft the toe of the second sock!
Comme pour la plupart de mes chaussettes, je me base sur les explications dans The Knitter's Handy Book of Patterns d'Ann Budd. Cette fois-ci, je les ai combinées avec des détails chipés dans The Sock Knitter's Handbook de Charlene Schurch et Beth Parrott : un nouveau point, une nouvelle façon de grafter le bout, et un talon un peu différent.
As for most of the socks I knit, they are based on the numbers in The Knitter's Handy Book of Patterns by Ann Budd. This time, I combined those numbers with a few details found in The Sock Knitter's Handbook by Charlene Schurch and Beth Parrott: a new stitch pattern, a new way to graft the toe, and a slightly different heel flap.

Finalement, pour le point, je pense qu'une paire suffit. J'essaie de faire mes chaussettes avec des points un peu texturés, ne serait-ce que parce que c'est plus facile de faire deux chaussettes pareils (au moins pour les dimensions) si on peut compter les rangs (ou des multiples de rangs) facilement. Là, le point changeait un rang sur deux (une maille envers devenant une maille endroit), et en combinaison avec un fil assez sombre, cela demandait un peu trop de concentration – après tout, les chaussettes sont pour moi des « projets sac-à-main », qu'on doit pouvoir tricoter un peu en toute circonstance.
When it comes to the stitch pattern, I think that one pair will be enough. I try to use textured stitches in my socks, if only because it makes it easier to make both socks the same (at least in size) if you can count the rows (or vertical stitch repeat) easily. This pattern changed every alternating row (a knit became a purl), and combined with a rather dark yarn, it required a bit too much concentration – after all, to me, socks are « handbag projects », that should be possible to work on in various situations.
Le grafting du bout, simplement tourné 90 degrés par rapport au grafting classique, donne une bande continue sur la pointe du pied – mais je ne retiens pas non plus, car sur mes pieds cela donne une sorte de pointe que je ne trouve pas tip-top.
The grafting technique for the toe, which consists in simply turning the grafting 90 degrees compared to the most usual one, makes for a continuous band of stockinette along the tip of the toe – but I won't repeat that either, since on my feet the grafted stitches show as a tip that I'm not totally happy with.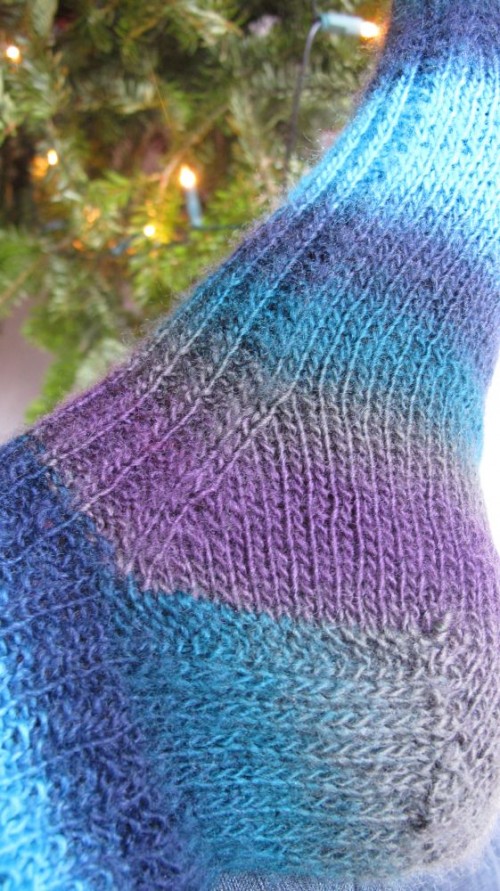 Par contre, le talon est une trouvaille ! Au lieu de la maille glissé en début de chaque rang, on tricote les 3 premières et les 3 dernière mailles en point mousse. C'est très facile à compter le nombre de rangs tricotés, et de relever des mailles sans faire de trou!
But the heel flap is fabulous! Instead of slipping a stitch at the beginning of every row, you knit the first and last 3 stitches in garter stitch. It makes it very easy to count your rows, and even more interestingly, to pick up stitches along the edge without making any holes!
Malgré les imperfections, je suis ravie de mes chaussettes – quand on a froid au pied, rien ne vaut une paire de chaussettes tricotées main!
My socks aren't perfect by any means, but I still love them – when your feet are cold, nothing beats a pair of handknitted socks!