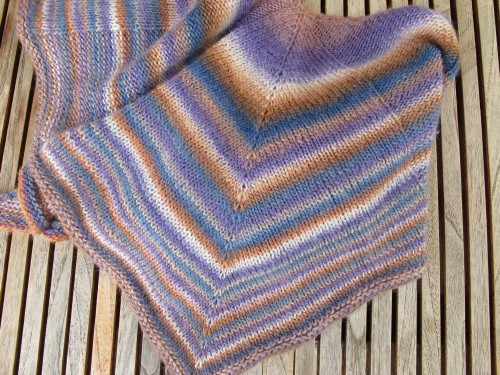 Cela fait déjà un petit moment que mon Pogona est terminé, mais il faut aussi faire des photos!
My Pogona has been finished for a while, but the photos weren't!
C'était bien amusant de voir comment le fil Mini Mochi (col Blueberry Pancakes) fonctionnait avec ce modèle. Comme vous le voyez, le début du châle (milieu du haut du dos) est très dégradé, et au fur et à mesure que les rangs s'allongent, l'effet devient plus rayé. J'aime!
It was a lot of fun to see how the Mini Mochi yarn (col Blueberry Pancakes) behaved with this design. As you can see, at the beginning of the shawl (top center) the color transitions are very soft. As the rows get longer, the effect is more stripey. I love it!
Pour la taille, je voulais voir jusqu'où je pouvais aller avec 2 pelotes de Mini Mochi. C'est tout juste assez pour faire la taille indiquée dans la fiche (j'ai du supprimer quelques rangs).
Regarding the size, I wanted to see how far I could go with 2 balls of Mini Mochi. It's just enough to make the size indicated in the pattern (minus a couple of rows).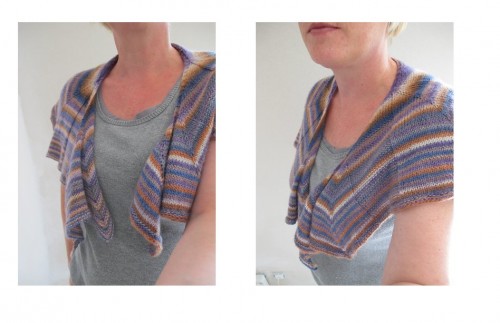 Pour porter autour du cou, c'est suffisant, mais sur les épaules, je trouve qu'il manque un peu de matière.
To wear around the neck, it's enough, but wrapped around my (admittedly large) shoulders, I think it could be a little bigger.
Comme ce modèle peut être agrandi sans aucune difficulté (il suffit de continuer), je recommanderais 3 pelotes pour celles ou ceux qui souhaiteraient réaliser ce châle en Mini Mochi.
Since this design can be resized without any problem (to make it bigger, you just continue working), I'd recommend 3 balls for those who would like to make it in Mini Mochi.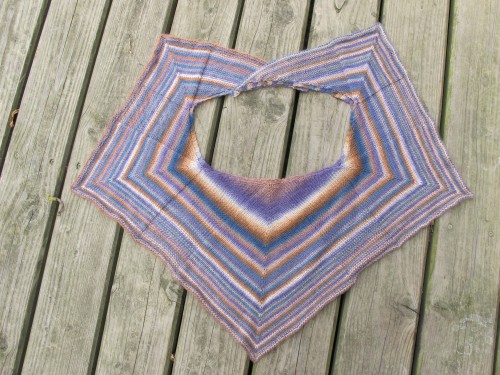 Mon bilan final: un modèle magnifique dans un fil magnifique!
All in all: a beautiful design in a beautiful yarn!