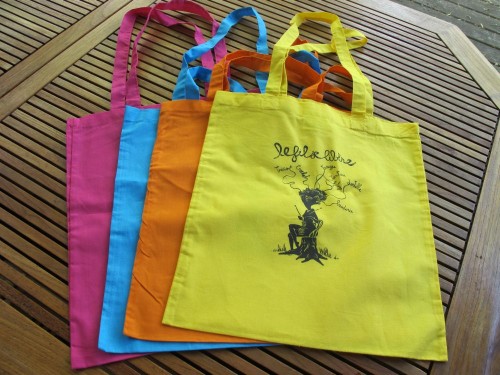 Cet été, libérons le fil et emportons nos ouvrages partout ! Je vous propose, pour toute commande supérieure à 50 euros, dont au moins 100 g de fil, un sac en tissu coloré et sympa pour transporter vos pelotes cet été. Une pièce collector, uniquement dans la limite du stock disponible.
This summer, let's free our yarn and bring our projects everywhere! I'm happy to offer, for any order over 50 euros including at least 100 g of yarn, a colourful fabric bag in which you can carry your yarn this summer. Available only as long as my (limited) stock lasts.
Le sac est imprimé d'une illustration originale de David Abry, créé à l'origine pour les Moments de Libération du Fil, organisés par la Fraction Armée Révolutionnaire du Tricot.
The bag is printed with a drawing by David Abry, created for the Moments de Libération du Fil event organized by the Fraction Armée Révolutionnaire du Tricot. Tentative translation of the headline : « Freedom for yarn ». The techniques mentioned are knitting, crochet, weaving, dyeing, spinning, lacemaking and embroidery.