Pour ce troisième projet, des idées d'assemblage !
For this third project, some joining ideas!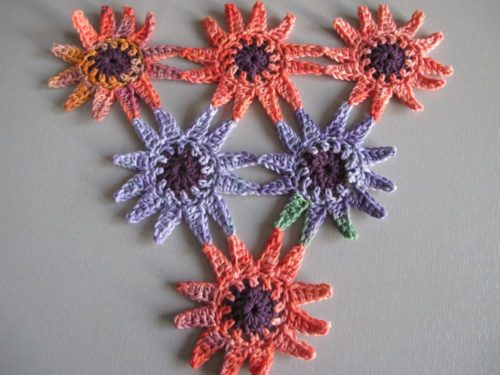 J'ai d'abord voulu jouer avec la fleur (ou l'étoile si vous préférez !) obtenue avec les trois premiers tours. Ici, aux points d'accrochage, j'ai simplement remplacé la 6ème ml du début du pétale avec 1 mc dans la pointe correspondante.
First, I wanted to play a little with the flower (or star, depending on your preference) obtained with the first three rounds of this motif. Here, at the joining points, I simply replaced the 6th ch at the beginning of the petal with a sl st in the opposite petal tip.
Le fil choisi est le coton bio, en coloris « quetsche » (uni) pour le premier tour et « sorbet sur la plage » (corail) ou « myrtilles sur branche » (bleus) pour les tours 2 et 3. J'aime vraiment beaucoup la façon dont les fils multicolores déploient leurs nuances quand ils sont travaillés en motifs.
The yarn used here is my organic coton, in « damson » (solid) for the first round and « sorbet on the beach » (coral) or « blueberries on the branch » (blues) for rounds 2 and 3. I really like how multicoloured yarns show their colour changes when worked in motifs.
Cet essai me plaît, mais il me donne aussi très envie de jouer sur les proportions de la fleur et sur le placement des couleurs – j'ai deux-trois idées qui me trottent dans la tête …
I like this little swatch, but it also makes me want to play around some more with the proportions of the flower and colour placement – I have a few ideas…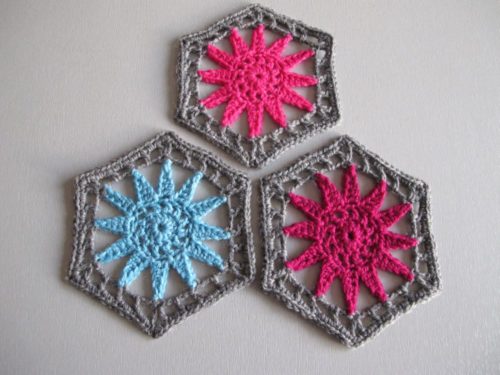 Le motif complet est un hexagone – quelle satisfaction d'assembler des hexagones pour créer des ensembles qui ressemblent à des nids d'abeille.
The completed motif is a hexagon – it's so satisfying to join hexagons into honeycomb fabric.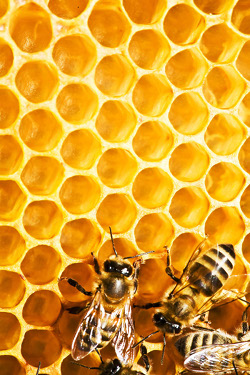 J'ai crocheté mes hexagones ensemble avec des brides rabattues ensemble piquées pour la première bride dans un motif et pour la deuxième dans le motif en face.
I joined my hexagons by crocheting dc2tog, inserting the hook in one motif for the first dc and in the other one for the opposite motif.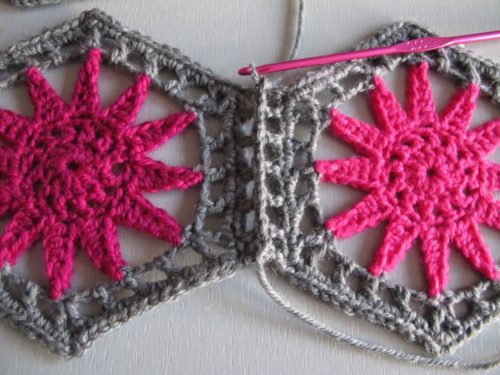 Du coup, l'assemblage reprend le dessin de la bordure du motif, ce que je trouve plutôt sympa.
This means that the join mimicks the edge of the motif, which I find quite pleasing.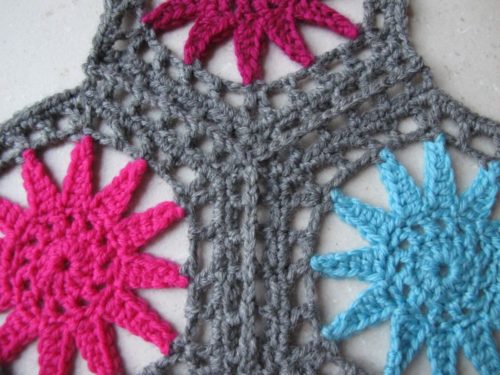 Les coins se rencontrent dans un triangle, puisque j'ai repris l'idée (1 br, 1 ml, 1 br) dans l'angle, en remplaçant la ml par une mc pour la troisième « couture ».
The corners form a triangle, since I used the idea of the (1 dc, ch 1, 1 dc) in the angle, replacing the chain with a sl st for the third « seam ».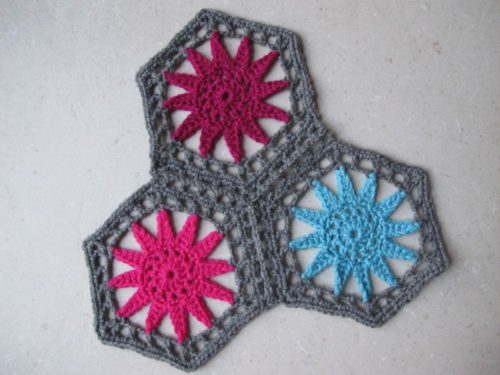 Il faudrait que je réfléchisse sur comment expliquer cela plus précisément, car je trouve le résultat assez réussi !
I need to think about how to explain this more clearly, because I find the result pretty nice!
Demain, c'est le weekend – le moment de profiter des offres spéciales, avant d'attaquer notre dernier motif (déjà !) lundi prochain. À très vite !
Tomorrow's the weekend. Take advantage of the special offers before we start our last motif (already!) next Monday. See you very soon!