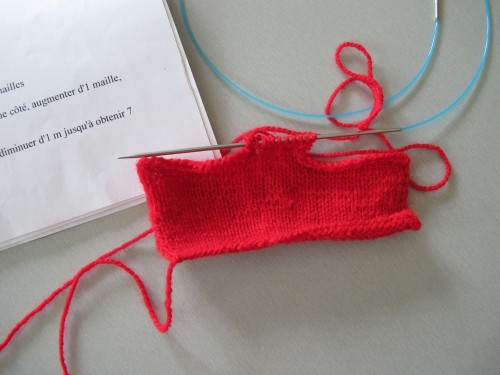 Pas sûre que ça se voit, mais cet encours va devenir un fez de tiralleur sénégalais. En miniature, bien sûr. Il fait partie de ma très modeste contribution à un très grand projet initié et piloté par la formidable Anna du blog Délit Maille.
I'm not sure it's very obvious, but this work in progress will become a fez for a Senegalese Tirailleur. It's a miniature, of course. It's part of my very modest contribution to a very large project, started and managed by fabulous blogger Anna of Délit Maille.
Ainsi, en commémoration de la Grande Guerre, vous pourrez, à partir du 15 décembre 2014 et jusqu'au 12 avril 2015, vous rendre au Musée de la Piscine à Roubaix pour y contempler des milliers de soldats tricotés main, représentant toutes les armées qui ont participé à ce carnage indicible.
In memory of the Great War, you can, from December 15, 2014 to April 12, 2015, visit the Musée de la Piscine in Roubaix in northern France, to contemplate thousands of handknitted soldiers, representing all the armies who participated in this terrible carnage.
Ces soldats et leurs uniformes auront été tricotés par des centaines de tricoteuses (et, j'ose penser, tricoteurs) dans la France entière. Pour ne pas oublier. Pour essayer de comprendre l'incompréhensible. Pour combattre les obus et le gaz avec du fil et des aiguilles no 2.
These soldiers and their uniforms will have been knitted by hundreds of knitters throughout France. To never forget. To try to understand the unfathomable. To fight bombs and gas with yarn and 2 mm knitting needles.
Mme Délit Maille explique mieux que moi, dans cette vidéo :
If you understand French, Ms Délit Maille explains it very well in this video:

PS: 200 000 tirailleurs « sénégalais » ont combattu pour la France pendant la Première Guerre mondiale. 30 000 sont mort au combat, beaucoup des survivants sont revenus blessés ou invalides.
PS: 200 000 « Senegalese » tirailleurs fought for France during World War One. 30 000 were killed in combat, many among the survivors returned injured or handicapped for life.