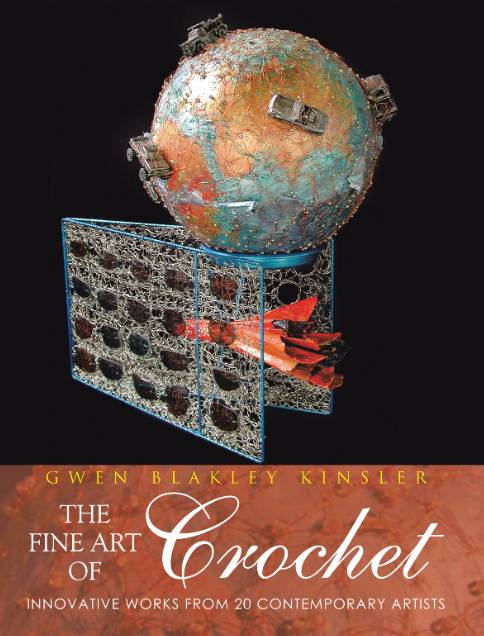 Il y a quelques semaines j'ai été contactée par Gwen Blakley Kinsler qui m'a demandé si je voulais parler de son nouveau livre, The Fine Art of Crochet, sur mon blog. J'ai dit oui, sans hésiter.
A few weeks ago I was contacted by Gwen Blakley Kinsler who asked if I wanted to review her new book, The Fine Art of Crochet, on my blog. I said yes, without hesitation.
Gwen n'est pas très connue de notre côté de l'Atlantique, mais elle fait partie des grandes figures du crochet américain. Elle est notamment la fondatrice de la grande organisation Crochet Guild of America (CGOA), qui a pour vocation de promouvoir le crochet.
Gwen is not very well known on our side of the Atlantic, but she's one of the great names of American crochet. Among other things, she is the founder of the Crochet Guild of America (CGOA), a well-known organization created to promote crochet.
Dans ce livre, The Fine Art of Crochet, Gwen parle du crochet en tant qu'art. Elle présente 20 artistes contemporains américains qui utilisent le crochet dans leurs oeuvres – seul ou en association avec d'autres techniques.
In this book, The Fine Art of Crochet, Gwen discusses crochet as fine art. She presents 20 American contemporary artists using crochet in their work – alone or in conjunction with other techniques.
Il est impossible ici de résumer toutes ses expressions différentes – je préfère vous parler de deux artistes dont les œuvres m'ont immédiatement frappé à l'œil, et que je ne connaissais pas avant.
It is impossible to summarize all these expressions here – I prefer to present two artists whose works jumped out at me from the pages, and that I didn't know before.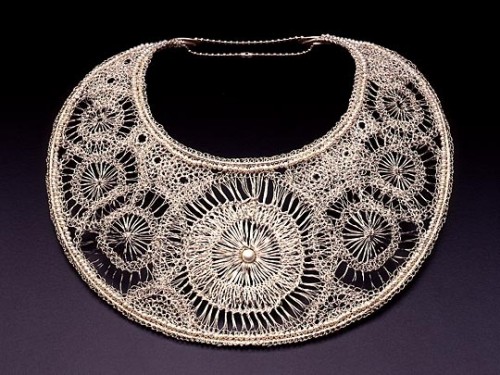 Arline Fisch travaille essentiellement en fils métalliques. Elle utilise plusieurs techniques textiles (et a écrit un livre sur les techniques textiles appliquées au métal), dont le crochet. Arline fait beaucoup de bijoux mais aussi des sculptures et des installations. Elle s'inspire souvent des formes de la vie sous-marine. Son travail est tout en finesse, léger, aérien, comme un appel vers un monde mystique. D'autres images de ses œuvres ici.
Arline Fisch works mostly in metal wire. She uses several textile techniques (and has written the book Textile Techniques in Metal), among which crochet is one. Arline makes jewelry, but also sculptures and installations. She is often inspired by the shapes of subaquatic life forms. Her work is refined, light and airy, like an invitation to a mysterious world. Other images of her work can be found here.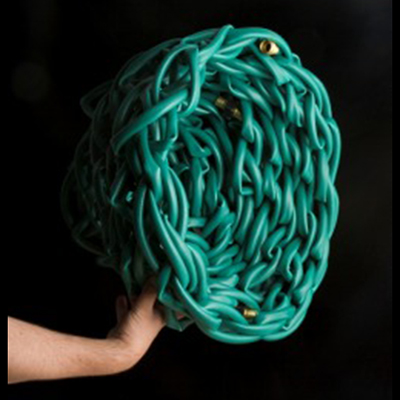 Pate Conaway crochète avec des matières plutôt improbables : du papier recyclé, de la ficelle horticole ou, comme sur la photo, des tuyaux d'arrosage. Pate crochète plus souvent avec ses doigts qu'avec un crochet. Il cherche à communiquer avec ceux qui regardent ses œuvres, et crochète souvent en public. Il insiste sur la dimension de partage dans le crochet, et sur le fait que cette technique continue à se transmettre d'une personne à l'autre. Les matières utilisées sont souvent de grandes dimensions, et les objets qu'il réalise ont du poids et de la présence. Plus d'images ici.
Pate Conaway crochets with quite improbable materials: recycled paper, garden twist ties or, as in the picture, garden hoses. Pate uses his fingers more often than a regular hook. He wants to communicate with those who watch his work, and often crochets in public. He insists on the sharing dimension of crochet, and on the fact that this technique still is one often transmitted from one person to another. The materials used are often of big dimensions, and the objects made by Pate has weight and presence. More images here.
J'ai été ravie de découvrir ce livre. À ma connaissance, c'est le seul actuellement disponible sur le crochet dans l'art. Il faudrait essayer de faire un inventaire européen, en écho au travail de Gwen Blakley Kinsler. Car le crochet en tant qu'art, cela existe bien sûr aussi ici.
I was so happy to discover this book. As far as I know, it is the only one currently in print discussing crochet in fine art. I'd love to see a European inventory echoing Gwen Blakley Kinsler's book. Because crochet as an art form can of course be found here too.