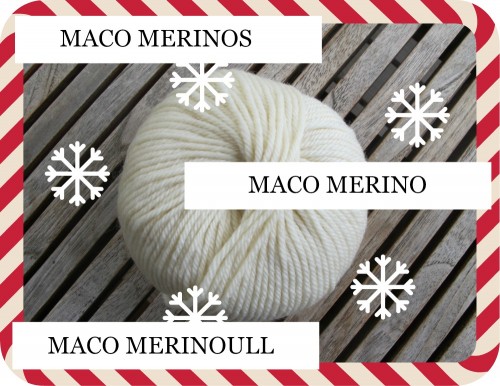 L'offre du jour porte sur un fil superbe, le maco mérinos. Aujourd'hui seulement, recevez 30% de réduction sur l'achat de ce fil de qualité, dont la matière provient de moutons élévés en France !
Comment procéder : dans la boutique, mettez le nombre désiré de pelotes de maco mérinos dans votre panier et validez votre commande. La réduction de 30 % se fera automatiquement.
Attention ! L'offre n'est valable qu'aujourd'hui, sur les produits spécifiés et dans la limite des stocks disponibles. L'offre expire ce soir à 23h59 (heure de Paris).
Today's offer is a reduced price on a superb 100 % wool yarn, the Maco merino wool. Only today, get a 30 % discount on this rare quality yarn from sheep bred in France!
How it works: in the shop, put the desired number of balls of  Maco merino wool in your cart and confirm your order. At checkout, the 30% discount will be applied automatically on the price of the yarn.
NB! This offer is only valid today, on the specified products and as long as stocks last. The offer will expire this evening at 11.59 p.m. (CET).
Dagens kalendererbjudande är ett nedsatt pris på det utsökta garnet Maco merinoull. Endast idag får du 30 % rabatt på det här kvalitetsgarnet där ullen kommer från franska får!
Hur det går till: gå till butiken, lägg önskat antal nystan av Maco merinoull i varukorgen och bekräfta din order. 30 % rabatt dras från priset på garnet innan du betalar.
OBS! Erbjudandet gäller endast idag, på den angivna produkten och så länge lagret räcker. Erbjudandet måste utnyttjas senast ikväll kl 23.59.