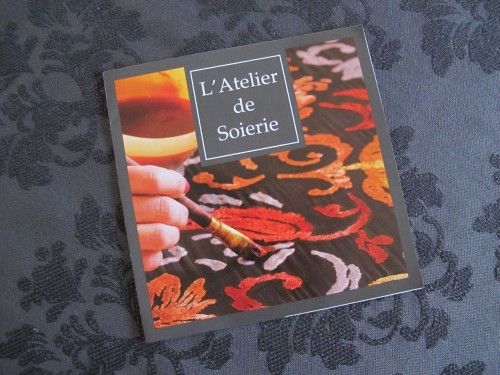 Les lyonnais connaissent peut-être déjà, mais pour moi c'est une découverte : l'Atelier de Soierie dans le 1er arrondissement de Lyon. On peut y acheter de belles pièces en soie, imprimées de façon artisanale, mais surtout suivre le travail dans l'atelier. Nous avons découvert l'impression à la planche, l'impression au cadre et la teinture de la panne de velours.
If you live in Lyon, you might already know this place, but to me it was a new discovery: the Atelier de Soierie in the 1st arrondissement of Lyon. You can buy beautiful silk here, printed by hand, but the most interesting part is to watch them being made. We were able to see printing with wood blocks, printing with screens, and hand colouring of velvet.
À ne pas louper si vous venez à Lyon ! C'est en bas de la rue Romarin, tout près de la place des Terreaux. Après la visite, il suffit de remonter la rue pour trouver la boutique des Artpenteuses, où vous découvrirez le travail de créatrices locales, dont Olivia Ferrand/Mon Souk (réouverture le 2 janvier).
Do not miss this place if you come to Lyon! It's at the lower part of the rue Romarin, close to la place des Terreaux. And after visiting the workshop, just walk up the street to the Artpenteuses shop, where you will find the work of several local designers, among whom Olivia Ferrand/Mon Souk (reopening Jan 2nd).