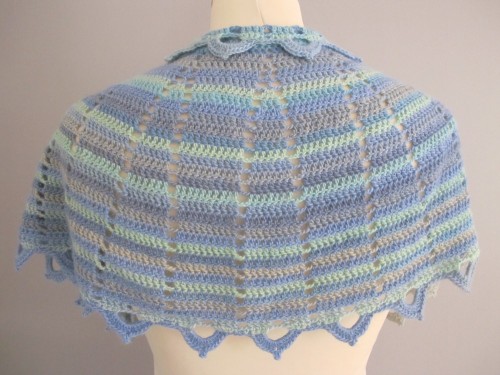 J'avais envie de voir ce que pouvait donner mon modèle Capelette crocheté en Mini Mochi … et je trouve que cela rend bien !
I wanted to see what my pattern Capelette looked like worked up in Mini Mochi … and I find it looks really good!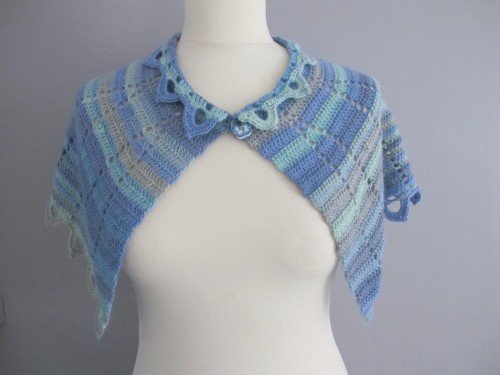 Avec ce fil un peu moins gonflant le résultat est un peu plus petit, avec l'encolure plus près du cou. J'ai rajouté 4 rangs pour la longueur, vous pouvez aussi ajouter 10 m à l'encolure si vous voulez (mais j'aime beaucoup aussi ce rendu).
With this yarn, the result is a little smaller with the neckline closer to the neck. I added 4 rows in length, and if you prefer, you can add 10 sts at the neckline (but I like it a lot this way too).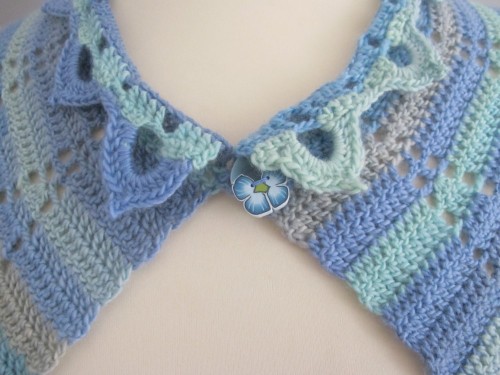 3 pelotes de Mini Mochi suffisent – et après il faut bien sûr un bouton. Je n'ai pas hésité, avec ma Capelette en coloris Seaview, le bouton fleur de Butterfly Couture était pile-poil ce qu'il fallait !
3 balls of Mini Mochi are enough – but you will of course need a button. With my Capelette in the Seaview colourway, I didn't hesitate for a second: the flower button from Butterfly Couture was just what it needed!
La fiche dans la boutique comprend désormais la version Mini Mochi. Et bien sûr, si vous êtes au Puy-en-Velay ce weekend, vous pouvez la voir en vrai !
The pattern in the shop now also contains the Mini Mochi variation.