Aujourd'hui, on continue à travailler derrière les pétales du tour 3, dans les arceaux créés hier (au tour 4). C'est plus facile à faire si on plie le pétale devant l'arceau.
Today, we continue working behind the petals in round 3, in the ch space we created yesterday (when making round 4. This is easier to do if you fold over the petal in front of the ch space.
Idag fortsätter vi virka bakom blombladen i varv 3, i de luftmaskbågar vi gjorde igår (på varv 4). Det går lättare om man viker blombladet framför luftmaskbågen.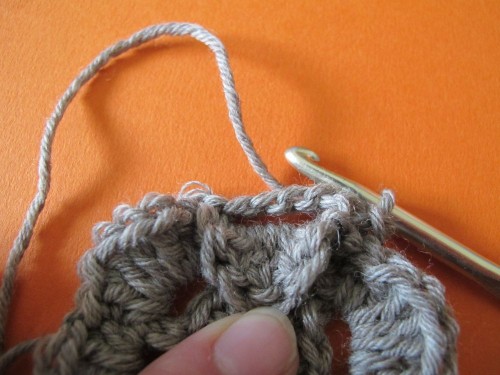 Tour 5 : 1 mc dans le premier arceau de 4 ml, 1 ml, (1 ms, 7 br, 1 ms) dans le même arceau, répéter (1 ms, 7 br, 1 ms) dans chaque arceau suivant, 1 mc dans la première ms du tour. On a 6 pétales avec 7 br dans chaque pétale.
Round 5: 1 sl st in first 4-ch space, ch 1, (1 sc, 7 dc, 1 sc) in same ch space, repeat (1 sc, 7 dc, 1 sc) in each ch space around, 1 sl st in first sc in round. There are 6 petals with 7 dc in each petal.
Varv 5: 1 sm i första 4-lmb, 1 lm, (1 fm, 7 st, 1 fm) i samma lmb, upprepa (1 fm, 7 st, 1 fm) i varje lmb runt varvet, 1 sm i första fm i varvet. Det blir 6 blomblad med 7 st i varje blomblad.
Et ce n'est pas fini … à demain !
And it's not finished yet… see you tomorrow!
Och det är inte färdigt än… vi ses imorgon!