Nous avons obtenu une petite fleur à 6 pétales. Aujourd'hui, nous allons crocheter en passant derrière les pétales du tour précédent. Mais d'abord, il va falloir repérer les mailles dans les pétales que nous venons de faire.
We have made a little flower with 6 petals. Today, we are going to work behind those petals. But first, we will need to clearly read the stitches in the petals we just made.
Nu har vi en liten blomma med 6 kronblad. Idag ska vi virka bakom de kronbladen. Men först behöver vi ha full koll på maskorna i de kronblad vi just gjort.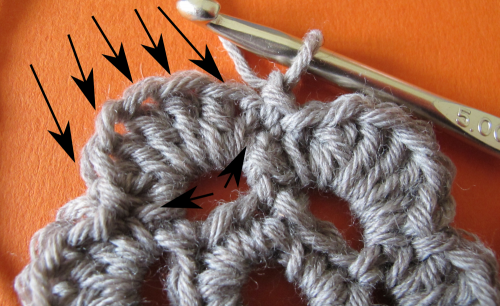 Chaque pétale commence et se termine avec une maille serrée. Le centre du pétale est composé de 5 brides. Les mailles serrées sont les mailles désignées par les deux flèches du bas dans la photo. Elles sont petites, et un peu compressées. Il est possible que vous trouverez plus facile de repérer les 5 brides (désignées par les 5 flèches du haut), et ensuite trouver les mailles serrées « par déduction » – ce sont les mailles juste avant et juste après les 5 brides.
Each petal starts and finishes with a sc. The center of the petal is made up of 5 dc. The sc are the stitches shown by the two bottom arrows in the picture. They are small, and slightly compressed. You might find it easier to locate the 5 dc (shown by the top 5 arrows), and find the sc from there – they are the stitches just before and after the 5 dc.
Varje blomblad börjar och slutar med en fm. Mitten av blombladet består av 5 st. Fastmaskorna är de maskor som de två pilarna längst ner på bilden pekar mot. De är små och lite hopklämda. Det kan vara enklare att hitta de 5 stolparna (som de 5 pilarna högst upp pekar mot), och sedan de fasta maskorna – det är maskan precis före och precis efter de 5 stolparna.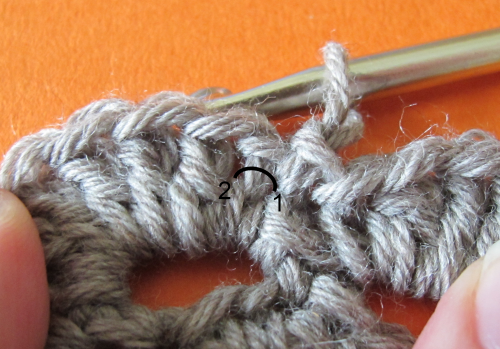 Tour 4 (ce tour se crochète en passant derrière les pétales du tour précédent): 1 ml, passez le crochet derrière le pétale du dernier tour, *1 ms autour de la 1ère ms du pétale …
Le crochet est piqué de l'arrière du pétale vers l'avant où il ressort au point 1, il passe devant la maille et est piqué de l'avant vers l'arrière au point 2.
L'opération est plus facile si on plie le pétale comme ci-dessous.
Round 4 (this round is worked behind the petals in the previous round): Ch 1, pass the hook behind the petal in previous round, *1 sc around first sc in petal…
The hook is inserted from back to front at point 1, passes in front of the stitch and is inserted from front to back at point 2.
This is easier if you fold the petal as in the picture below.
Varv 4 (det här varvet virkas bakom blombladen i föregående varv): 1 lm, för virknålen bakom blombladet i föregående varv, *1 fm runt första fm i blombladet..
Virknålen sticks bakifrån genom arbetet vid punkt 1, går framför maskan och sticks framifrån genom arbetet vid punkt 2.
Det går lättare om man viker blombladet som på bilden nedan.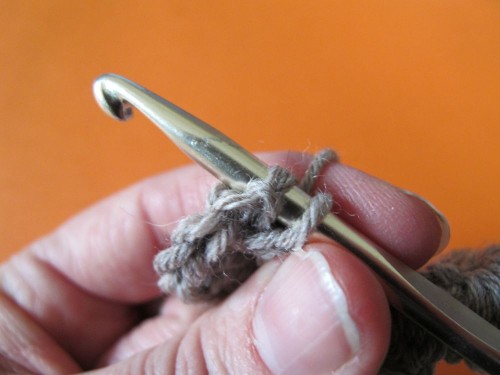 Suite tour 4 : … 4 ml, 1 ms autour de la 2ème ms du pétale*, répéter de * à * pour chaque pétale, 1 mc dans la première ms du tour. On a 6 arceaux de 4 ml, situés derrière les pétales du tour 3.
Round 4 continued: …ch 4, 1 sc around second sc in petal*, repeat from * to * for each petal, 1 sl st in first sc in round. There are 6 4-ch spaces behind the petals made in round 3.
Forts varv 2: … 4 lm, 1 fm runt andra fm i blombladet*, upprepa från * till * för varje blomblad, 1 sm i första fm i varvet. Det blir 6 4lmb bakom blombladen i varv 3.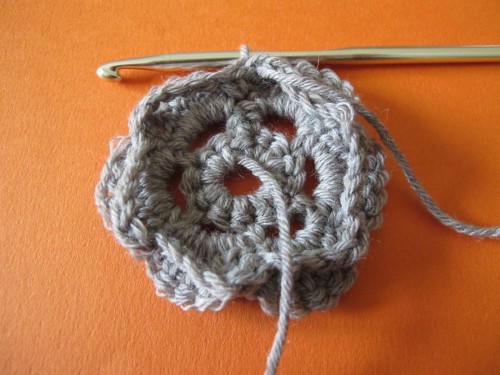 Voici ce que l'on voit en retournant l'ouvrage après le tour 4.
This is what you should see on the back of the work after round 4.
Så här bör det se ut på baksidan av arbetet efter varv 4.