C'est le tout dernier jour de notre calendrier d'Avent 2015 !
It's the very last day of the Advent Calendar 2015!
Det är den allra sista dagen i 2015 års adventskalender!
Tour 6 : Comme le tour 4 mais en faisant à chaque fois 5 ml au lieu de 4 ml. On a 6 arceaux de 5 ml.
Tour 7 : 1 mc sous le premier arceau de 5 ml, 1 ml, (1 ms, 1 demi-br, 2 br, 2 Dblebr, 1 picot, 2 Dblebr, 2 br, 1 demi-br, 1 ms) dans chaque arceau. Fermer le tour avec 1 mc dans la première ms.
Arrêter le fil.
Round 6 : As round 4 but with 5 ch in each ch space. There are 6 5-ch spaces.
Round 7 : 1 sl st in first 5-ch space, ch 1, (1 sc, 1 hdc, 2 dc, 2 tr, 1 picot, 2 tr, 2 dc, 1 hdc, 1 sc) in each ch space around, 1 sl st in first sc in round. 
Fasten off.
Varv 6: Som varv 4 men med 5 lm i varje lmb. Det blir 6 5-lmb.
Varv 7: 1 sm under första 5-lmb, 1 lm, (1 fm, 1 hst, 2 st, 2 dst, 1 picot, 2 dst, 2 st, 1 hst, 1 fm) i varje lmb. Slut varvet med 1 sm i första fm.
Ta av garnet.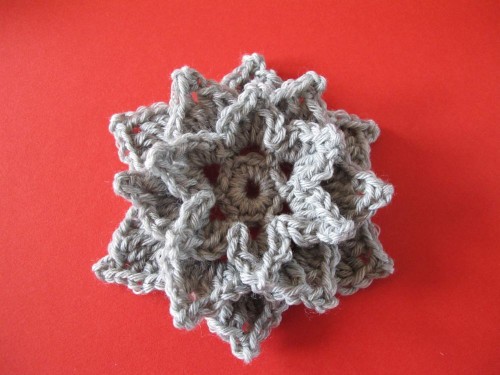 N'oubliez pas de m'envoyer vos photos ou de les partager dans le groupe Facebook. Si vous le faites avant le 31 décembre, vous participerez au tirage au sort !
Don't forget to send me your photos or share them in the Facebook group. If you share your photos before December 31, you will enter the prize drawing!

Glöm inte att skicka mig dina bilder eller dela dem i Facebookgruppen. Om du gör det innan den 31:a december deltar du i utlottningen av priset!
Je vous souhaite de fabuleuses fêtes de fin d'année !
I wish you fabulous holidays!
Jag önskar er en fantastisk jul och ett underbart nytt år!