C'est le premier dimanche de l'Avent 2015, et nous commençons le Calendrier d'Avent de l'année avec une offre exceptionnelle, valable deux jours.
It's the first Advent Sunday 2015, and we kick off this year's Advent Calendar with an exceptional offer, valid for two days.
Det är den första söndagen i advent 2015, och vi börjar årets adventskalender med ett exceptionellt erbjudande som gäller i två dagar.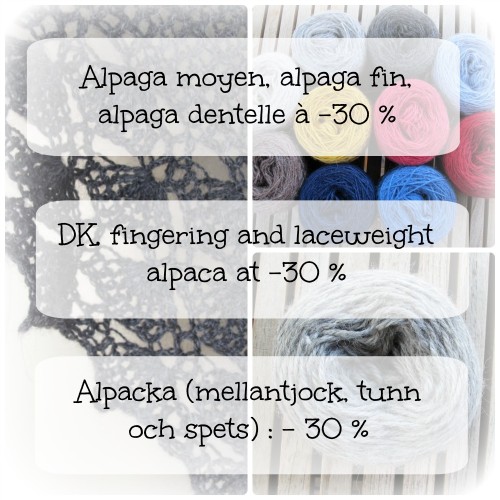 Cette première offre porte sur l'achat d'au moins 2 pelotes des trois fils d'alpaga pur présents dans la boutique : l'alpaga moyen, l'alpaga fin ou l'alpaga dentelle. Aujourd'hui et demain seulement, recevez 30 % de réduction sur l'achat d'au moins 2 pelotes de ces fils de qualité !
Comment procéder : dans la boutique, mettez le nombre désiré de pelotes (au moins 2) d'alpaga moyen, d'alpaga fin ou d'alpaga dentelle dans votre panier et validez votre commande. La réduction de 30 % se fera automatiquement. (En cas de problème avec la réduction automatique, le remboursement sera fait rapidement par la suite).
Attention ! L'offre n'est valable qu'aujourd'hui, le 29 novembre 2015, et demain, le 30 novembre 2015, sur les produits spécifiés et dans la limite des stocks disponibles. L'offre expire demain soir à 23h59 (heure de Paris).
This first offer is a reduced price on the purchase of at least 2 balls of any of the alpaca yarns available in the shop: DK weight, fingering weight or laceweight alpaca. Only today and tomorrow, get a 30 % discount on these quality yarns!
How it works: in the shop, put the desired number of balls (at least 2) of DK weight, fingering weight or laceweight alpaca in your cart and confirm your order. At checkout, the 30% discount will be applied automatically on the price of the yarn. (In the event of a problem with the automatic discount, a refund will be issued shortly after the payment).

NB! This offer is only valid today, November 29th 2015, and tomorrow, November 30th 2015, on the specified products and as long as stocks last. The offer will expire tomorrow evening at 11.59 p.m. (CET).
Det första kalendererbjudandet är ett nedsatt pris på minst 2 nystan av något av de tre alpackagarnerna i butiken: mellantjock alpacka, tunn alpacka eller alpacka spetsgarn. Endast idag och imorgon får du 30% rabatt på dessa kvalitetsgarner!
Hur det går till: gå till butiken, lägg önskat antal nystan (minst 2) av mellantjock alpacka, tunn alpacka eller alpacka spetsgarn i varukorgen och bekräfta din order. 30% rabatt dras från priset på garnet innan du betalar. (Om den automatiska rabatten inte fungerar görs en återbetalning i efterskott).
OBS! Erbjudandet gäller endast idag, den 29:e november, och imorgon, den 30:e november, på de angivna produkterna och så länge lagret räcker. Erbjudandet måste utnyttjas senast imorgon kl 23.59.