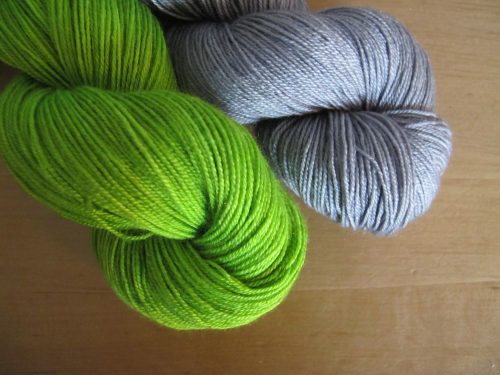 Alors, comment utiliser le dernier ajout à la boutique, le fil sublime Covent Garden en laine et soie ?
So, how should we use the last addition to the shop, the superb Covent Garden yarn in wool and silk?
Voici des idées pour les crocheteuses. Il s'agit de modèles créés spécifiquement pour le fil London, le jumeau de Covent Garden.
Here are a couple of ideas for crocheters. These patterns were created specifically for the yarn London – Covent Garden's twin.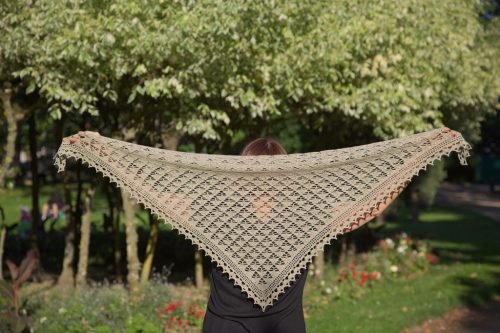 Foulard de Soie est un modèle désormais classique créé par EclatDuSoleil/Hélène Marcy. Le point principal repose sur le contraste entre les parties pleines et les jours. Hélène y a associé une bordure en toute finesse.
Silk Scarf is one of the great classics designed by EclatDuSoleil/Hélène Marcy. The main stitch pattern finds its beauty in the contrast between solid and lacy sections. Hélène paired it with a sophisticated border.
C'est un modèle que je recommande souvent pour les débutantes. Vous pouvez le réaliser avec 2 écheveaux de Covent Garden.
This is a pattern that I often recommend to beginners. You can crochet the shawl with 2 skeins of Covent Garden.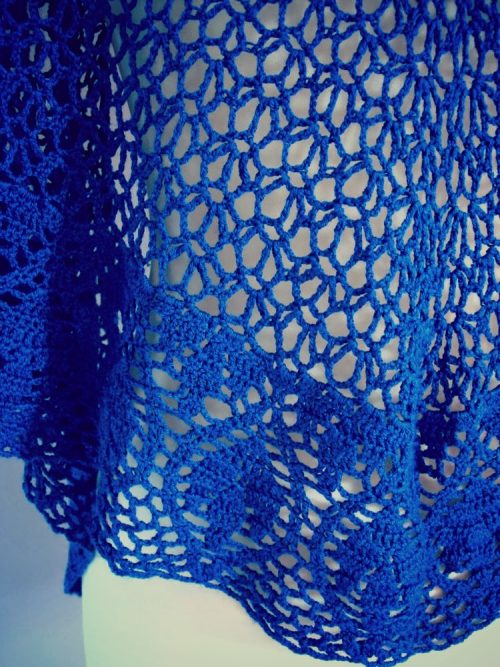 Blue Leaves, une autre création d'EclatDuSoleil, demande un peu plus d'expérience pour la mise en place du point du centre, et pour la réalisation de la bordure. Si vous avez déjà réalisé quelques ouvrages au crochet, vous vous en sortirez très bien avec ce point original.
Blue Leaves, another design by EclatDuSoleil, requires a little more experience to start the center stitch pattern and to work the border. If you already have a few crochet projects under your belt, you will easily work this unusual stitch pattern.
Là aussi, 2 écheveaux de Covent Garden suffisent pour réaliser le châle.
For this project as well, you will need 2 skeins of Covent Garden.
Bientôt, des idées pour les tricoteuses !
Coming soon: ideas for knitters!