Aujourd'hui, en Suède, c'est la Sainte Lucie, une belle fête au cœur de l'hiver. Vous pouvez lire quelques informations sur cette fête dans l'article Wikipedia, mais méfiez-vous – cet article fait croire qu'il s'agit d'une fête née avec la christianisation de la Suède, mais ses origines sont beaucoup plus anciennes (et païennes).
Today in Sweden, it's Saint Lucy's day, a festival of light in the heart of winter's darkness. There are some informations and pictures in the Wikipedia article. 
Buvez un peu de vin chaud, mangez une brioche au safran et attrapez votre crochet – on ne fera qu'un tour sur notre motif aujourd'hui, mais c'est un tour qui va tout changer.
Drink some mulled wine, eat a saffron bun and pick up your hook – we are only going to work one round in our motif today, but this round will change everything.
Tour 3 : * 6 ml, 1 ms dans la 2ème ml à partir du crochet, 1 demi-br dans chacune des 2 ml suivantes, 1 br dans chacune des 2 dernières ml, 1 mc dans la br suivante *, rép de * à * encore 11 fois, en piquant la dernière mc dans la mc qui a fermé le tour précédent. Arrêter le fil de couleur A.
On a 12 pétales pointus.
Round 3: * Ch 6, 1 sc in 2nd ch from hook, 1 hdc in each of next 2 ch, 1 dc in each of last 2 ch, 1 sl st in next dc *, repeat from * to * 11 times more, placing last sl st in the sl st closing the previous round. Fasten off colour A.
There are 12 pointy petals.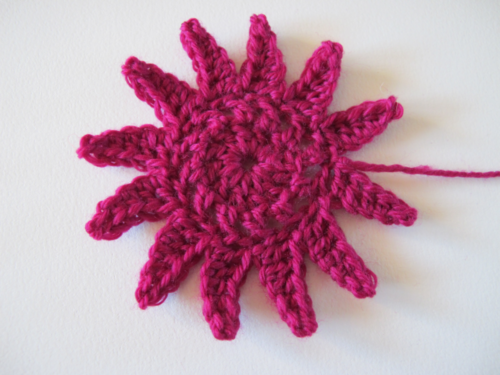 À demain !
See you tomorrow!
Enregistrer