C'est parti pour le Calendrier d'Avent 2016 !
We're off for the 2016 Advent Calendar!
Notre premier petit projet peut être réalisé en deux couleurs, qui sont désignées comme couleur A (rouge vif) et couleur B (café crème) dans les explications.
Our first little project can be worked in two colours, colour A (here: bright red) and colour B (here: coffee with cream).
Le projet photographié est crocheté en mérinos fin avec un crochet de 3,5 mm. N'hésitez pas à faire vos propres expériences avec les fils, les couleurs et les tailles de crochet !
The sample in the pictures is worked in fingering weight merino with a 3.5 mm hook. Feel free to experiment with yarns, colours and hook sizes!
Explications :
Pattern (US terminology):
Avec le fil de couleur A, faire 5 ml et fermer en rond avec 1 mc dans la 5ème ml à partir du crochet.
With col A, ch 5 and close to a ring with 1 sl st in 5th ch from hook.
Tour 1 : 1 ml (ne compte pas pour une m), 8 ms dans le rond, fermer le tour avec 1 mc dans la première ms du tour.
Round 1: Ch 1 (do not count as a st), 8 sc in the ring, close the round with a sl st in first sc in round.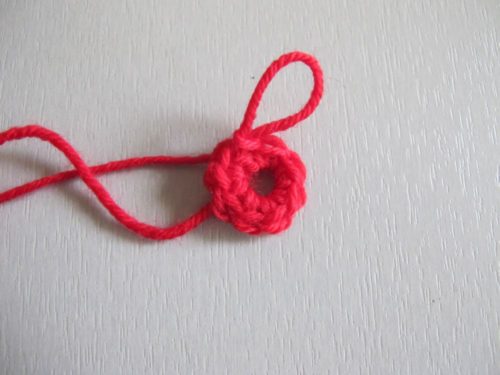 Tour 2 : 3 ml (comptent pour 1 br), 1 br dans la première m du tour (celle où l'on a fait la mc pour fermer le tour précédent), * 2 ml, 2 br dans la m suivante *, rép de * à * encore 6 fois, 2 ml, fermer le tour avec 1 mc dans la 3ème ml au début du tour.
On a 8 groupes de 2 br séparés par des arceaux de 2 ml.
Round 2: Ch 3 (count as 1 dc), 1 dc in first st in round (the stitch were you made the sl st to close the previous round), * ch 2, 2 dc in next st *, repeat from * to * 6 times more, ch 2, close the round with a sl st in 3rd ch at beginning of round.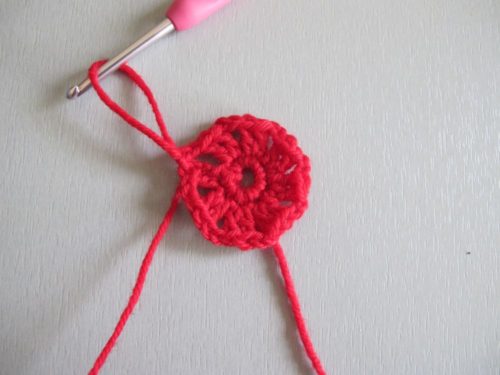 La suite, c'est demain !
We continue tomorrow!
Enregistrer