Nous commençons notre dernier motif de ce Calendrier d'Avent 2016. Quatre petits tours et puis s'en vont …
We are about to start the last motif in the 2016 Advent Calendar – the last, but perhaps not the least.
Ce quatrième motif peut lui aussi être réalisé en deux couleurs, désignées comme couleur A (rose chaud) et couleur B (gris granite) dans les explications.
This fourth motif is yet another one that can be worked in two colours, designated as colour A (warm pink) and colour B (granite grey) in the pattern.
Le motif photographié est crocheté en mérinos fin avec un crochet de 3,5 mm.
The motif in the photos was worked in fingering weight merino with a 3.5 mm hook.
On commence tout doucement !
We start out nice and slow!
Avec le fil de couleur A, faire 4 ml et fermer en anneau avec 1 mc dans la 5ème ml à partir du crochet.
With col A, ch 4 and close to a ring with 1 sl st in the 5th ch from the hook.
Tour 1 : 1 ml (ne compte pas pour une m), 6 ms dans l'anneau, 1 mc dans la première ms du début du tour. On a 6 ms.
Round 1 : Ch 1 (do not count as a st), 6 sc in the ring, 1 sl st in the first sc in the round. There are 6 sc.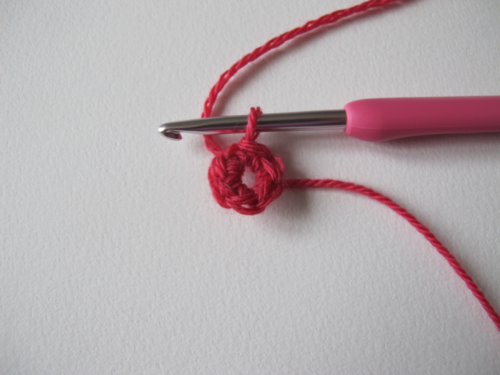 À demain pour la suite !
To be continued tomorrow!
Enregistrer
Enregistrer
Enregistrer