Alors, qu'est-ce qu'on peut faire avec ce premier petit motif ?
So, how can we use this first little motif?
Pour ma part, j'ai fait une version en lin dentelle vert pomme, avec des perles au dernier tour.
I made a version in apple green laceweight linen, adding beads on the last round.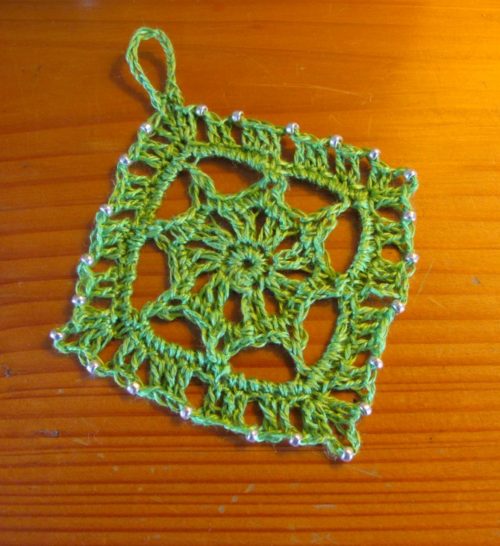 Pour ajouter les perles, j'ai utilisé la technique expliquée dans le bulletin d'information d'avril 2010. Ici, pour ce motif, j'ai utilisé des perles Toho 8/0 (3 mm) et pour les monter sur ma boucle, j'ai pris un crochet de 0,8 mm. Après chaque groupe de brides du dernier tour, j'ai ajouté la perle avant de faire la maille en l'air.
To add the beads, I used the technique explained in the newsletter from April 2010. I used Toho beads in the 8/0 size (3 mm), and used a 0.8 mm hook to slide the bead on to the working loop. After each dc group in the last round, I slid the bead on the loop before working the single chain.
Le seul arceau sans perle est celui ou j'ai fait la boucle pour suspendre le motif (voir l'article d'hier). Dans les coins, j'ai mis la perle sur la boucle avant de faire la deuxième maille en l'air (sur trois).
The only ch space without a bead is the one were I made the loop to hang the motif (see yesterday's blog post). In the corners, I put the bead on the loop before working the second chain (out of three).
Mais les motifs au crochet ne s'utilisent pas seulement un par un – on peut aussi les assembler pour faire des projets plus grands.
But crocheted motifs are not only used one by one – you can also join them to make larger projects.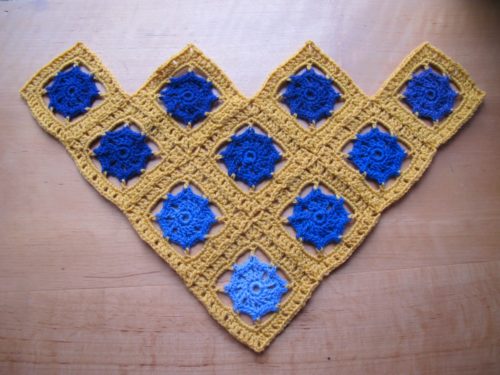 Pour assembler ces motifs, je vous propose tout simplement de remplacer la maille en l'air entre les groupes de brides par une maille coulée piquée dans l'arceau correspondant du motif en face.
C'est une technique qui fonctionne bien – finalement, une maille coulée, c'est simplement une maille en l'air piquée à travers une autre maille ou un arceau.
For joining these motifs, I suggest simply replacing the chain between the dc groups by a slip stitch worked in the corresponding ch space in the other motif.
This technique works very well – after all, a slip stitch is really a chain worked through another stitch or a ch space.
Pour mon échantillon, j'ai fait les centres des motifs avec de la Mini Mochi Periwinkle Shadows. On choisit souvent une couleur neutre pour faire les tours et créer une cohésion … Mon coloris « neutre » est le mérinos fin maïs ! 😉
In my swatch, I worked the centers of the motifs in Mini Mochi Periwinkle Shadows. You often use a neutral colour in the last rounds, to tie the motifs together… My neutral is the « roasted corn » colour in fingering weight merino! 😉
Ici, il s'agit bien sûr d'un simple échantillon – vous pouvez faire une écharpe, une étole, une couverture pour bébé, un plaid ou un couvre-lit ! J'ai ma petite idée de ce que je peux faire de mon échantillon en triangle, mais ce sera un projet pour 2017.
This is, of course, only a swatch – you can make a scarf, a stole, a baby blanket, a throw or a king-size bed cover! I have an idea of what I will turn my triangular swatch into, but that's a project for 2017.
Maintenant, j'ai vraiment hâte de voir vos motifs terminés ! Partagez-vos photos dans le groupe Facebook ou envoyez les par mail.
Now I'm really eager to see your finished motifs! Share your photos in the Facebook group or send them to me via email.
Samedi et dimanche, il y a des offres spéciales très spéciales, qui ne durent que 24 heures – profitez-en !
Saturday and Sunday, there will be very special special offers, each one lasting only 24 hours – don't miss them!
À lundi pour la suite en crochet !
See you on Monday to continue crocheting!
Enregistrer
Enregistrer