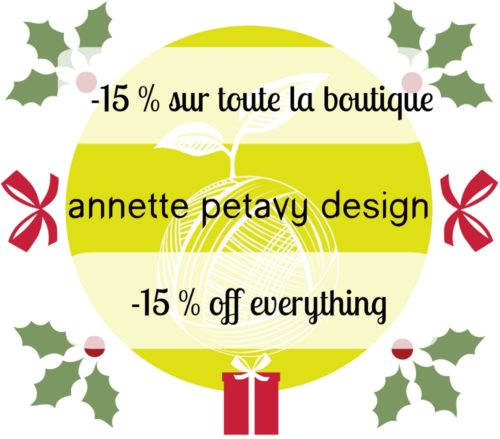 Seulement aujourd'hui, le 25 décembre 2016, je vous propose une réduction de 15 % sur tout achat dans ma boutique!
Comment procéder : dans la boutique, mettez les produits de votre choix dans votre panier et validez votre commande. La réduction de 15 % sera automatiquement déduit avant le paiement. (En cas de problème avec la réduction automatique, le remboursement sera fait rapidement par la suite).
Attention ! L'offre n'est valable qu'aujourd'hui, le 25 décembre 2016, sur les produits spécifiés et dans la limite des stocks disponibles. L'offre expire ce soir à 23h59 (heure de Paris).
Today's offer is a 15% discount on everything in my shop!
How it works for English-speaking customers: send me an email with your order before 11.59 p.m. (CET) tonight, December 25th 2016. I will send you a Paypal invoice via email.
Please note that shipping outside France but within the EU is 14.90€ and 23.50€ for destinations outside the EU. I'm working on a solution to lower these shipping charges – watch for a specific webshop for international customers in 2017.

NB! This offer is only valid today, December 25th 2016, on the specified products and as long as stocks last. The offer will expire this evening at 11.59 p.m. (CET).
Enregistrer