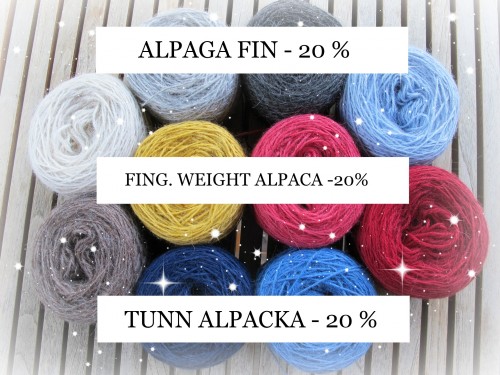 L'offre du jour porte sur un fil polyvalent de belle qualité : l'alpaga fin. Aujourd'hui seulement, recevez 20% de réduction sur l'achat d'au moins 4 pelotes (200 g) d'alpaga fin !
Comment procéder : dans la boutique, mettez au moins 4 pelotes d'alpaga fin dans votre panier et validez votre commande. La réduction de 20 % se fera automatiquement.
Attention ! L'offre n'est valable qu'aujourd'hui, sur les produits spécifiés et dans la limite des stocks disponibles. L'offre expire ce soir à 23h59 (heure de Paris).
Today's offer is a reduced price on a yarn that's both useful and of high quality: the fingering weight alpaca. Only today, get a 20% discount when you buy at least 4 balls (200g) of fingering weight alpaca!
How it works: in the shop, put at least 4 balls of fingering weight alpaca in your cart and confirm your order. At checkout, the 20% discount will be applied automatically on the price of the yarn.
NB! This offer is only valid today, on the specified products and as long as stocks last. The offer will expire this evening at 11.59 p.m. (CET).
Dagens kalendererbjudande är ett nedsatt pris på ett mångsidigt garn av hög kvalitet: det tunna alpackagarnet. Endast idag får du 20% rabatt när du köper minst 4 nystan (200 g) tunn alpacka!
Hur det går till: gå till butiken, lägg minst 4 nystan tunn alpacka i varukorgen och bekräfta din order. 20% rabatt dras från priset på garnet innan du betalar.
OBS! Erbjudandet gäller endast idag, på den angivna produkten och så länge lagret räcker. Erbjudandet måste utnyttjas senast ikväll kl 23.59.