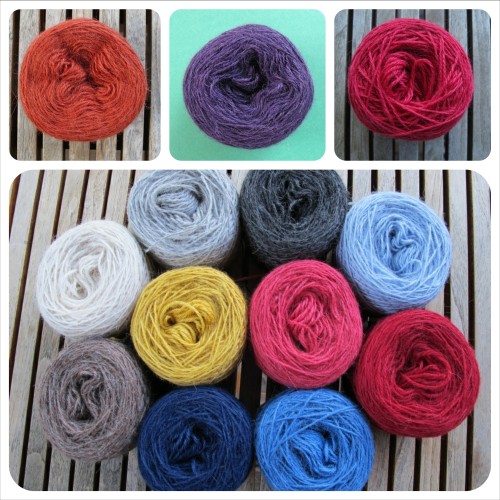 J'ai reçu une nouvelle livraison d'alpaga fin et d'alpaga dentelle, que vous trouverez désormais dans la boutique.
I have received a new arrival of fingering weight alpaca and laceweight alpaca, now available in the shop.
En alpaga fin, je peux de nouveau vous proposer le très beau rouge profond – un coloris très apprécié. J'ai aussi ajouté une rose un cran plus vif et soutenu, nommé « fuchsia ».
In the fingering weight, the beautiful deep red is now available again. I've also added a bright, strong pink named « fuchsia ».
En alpaga dentelle, plein de nouveaux coloris pour plus de choix : chocolat, potiron, ciel brumeux et, là aussi, le fuchsia. Le coloris taupe, très apprécié par beaucoup d'entre vous est également de nouveau disponible.
In laceweight alpaca, there are plenty of new colours : chocolate, pumpkin, cloudy sky, and also fuchsia. The taupe colour that has been so much in demande is available again.
Y a pluka alpaguer !
Let's alpaca!