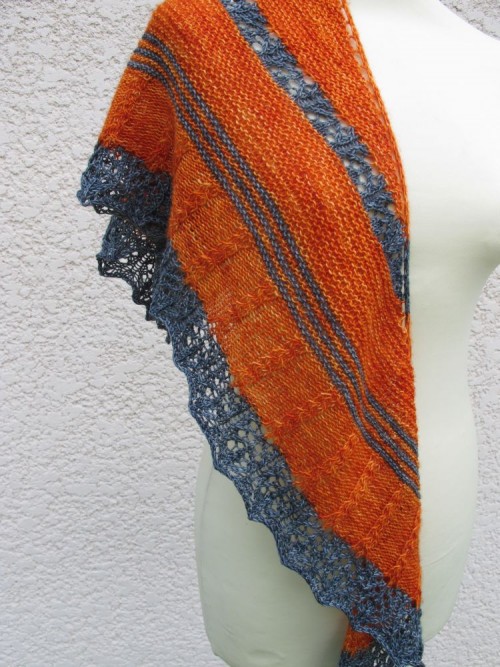 Récemment on m'a demandé si, quand on fait du tricot et du crochet son métier, il reste des ouvrages « non professionnels ». Et bien, oui ! Bien qu'il soit difficile de trouver le temps, je ne veux pas me priver de tricoter de temps en temps les modèles que je ne vends pas, avec des fils que je ne vends pas non plus. Sinon ce serait un peu triste, je trouve !
Recently someone asked me if, when you work full time with knitting and crochet, there are still « non professional » projects. Well, yes! It's very hard to find the time, but I don't want to stop knitting once in a while with patterns and yarns that I don't sell. I think that would be a little sad!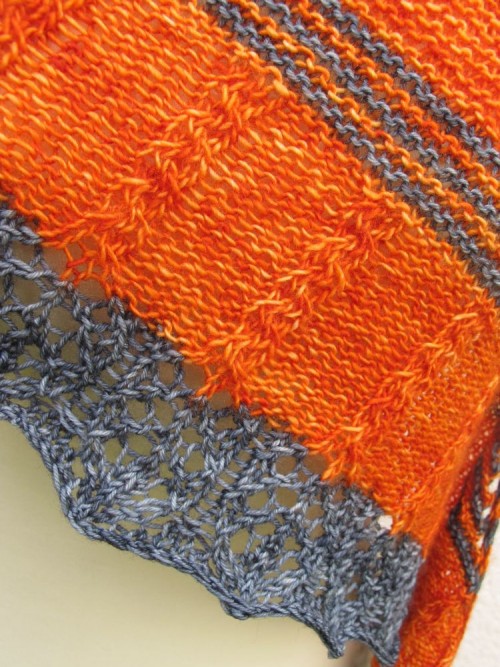 Voici donc mon dernier « projet-vacances », réalisé lors de mon séjour en Suède au mois de mai. Le modèle est le Curious Collective 2014 par Helen Stewart, une Australienne basée à Londres qui a un blog ici et un chouette podcast.
So here is my last « vacation project », knitted during my stay in Sweden last May. The pattern is Curious Collective 2014 by Helen Stewart, a London-based Australian who has a nice blog here and a great podcast.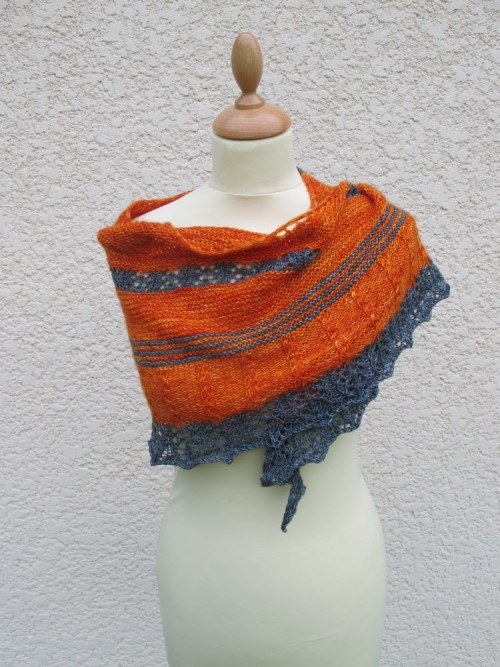 J'avais acheté ce modèle par curiosité. Je voulais suivre sa conception, tout à fait original: Helen a demandé par sondage aux acheteuses du modèle de définir les critères de base. On a donc pu voter pour décider si le châle devait être tricoté en une ou deux couleurs, s'il devait être texturé, ajouré ou les deux, s'il devait être triangulaire, rectangulaire ou en forme de demi-lune, etc. Très rigolo !
I bought this pattern out of sheer curiosity. I wanted to see how Helen worked out the basic criterias for the design in a very specific way: via polls on her blog. Votes were held to decide whether the shawl should be knitted in one or two colours, whether it should be textured, lacy or both, whether it should be triangular, rectangular or crescent-shaped, etc. Lots of fun!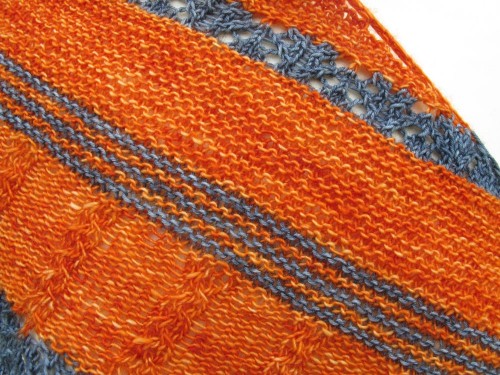 Pendant mes vacances, je voulais tricoter les superbes fils achetés chez Marion des (Vi)laines lors des premières portes ouvertes de son atelier lyonnais. J'avais deux coloris, « Capucines dans les cheveux » et « Oublier l'ardoise à la maison ». Je cherchais donc un châle bicolore et pas trop grand (mon séjour en Suède n'a duré que 10 jours, et je voulais finir avant mon retour en France). Le châle de Helen attendait sagement dans ma bibliothèque Ravelry, et j'ai associé les deux.
During my vacation, I wanted to knit up the gorgeous yarn I had bought from Marion of (Vi)laines, at the opening of her workshop in Lyon. I had two colours, « Nasturtiums in my hair » and « Forgetting the slate at home ». I wanted to knit a shawl in two colours that wasn't too big (I spent only 10 days in Sweden, and I wanted to finish before going back to France). Helen's pattern sat patiently waiting in my Ravelry library, so it was easy to combine yarn and pattern.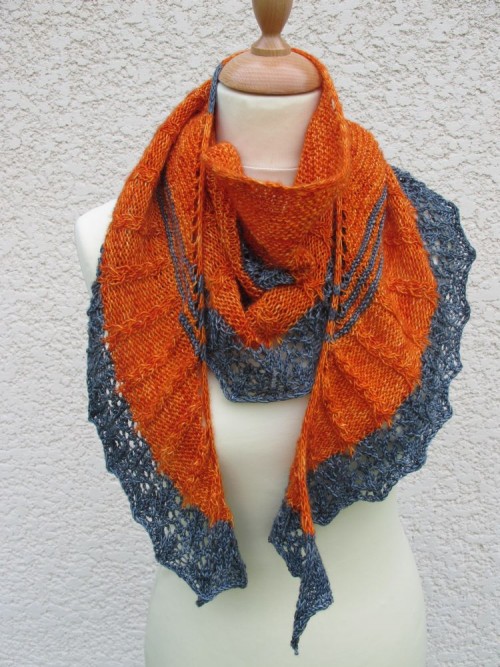 Voilà donc la petite histoire derrière ce châle. Courez-vite vous inscrire à la newsletter des (Vi)laines, les fils de Marion sont un pur bonheur !
That's the little story behind my shawl. Now, go and register for the (Vi)laines newsletter, Marion's yarns are a joy to work with!