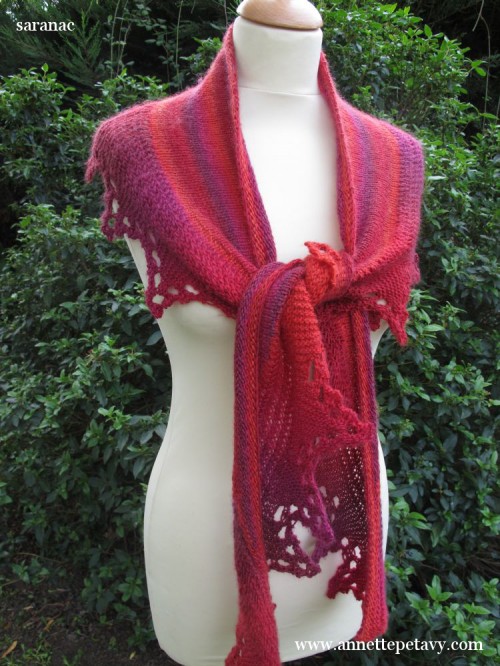 Il y a peu de temps j'ai publié la traduction française du modèle Saranac de Kirsten Kapur.
Recently I published the French version of the Saranac shawl by Kirsten Kapur (available directly from the designer in English).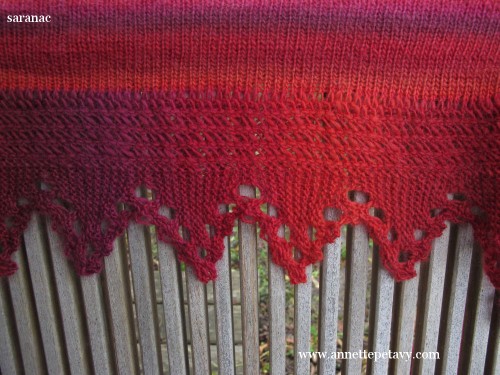 Je n'ai pas pu résister à la tentation de m'en tricoter un dans l'un des fils de ma boutique. J'ai choisi la Mini Mochi dans le coloris Red Zone – une couleur riche mais pas très contrasté. Le caractère « rayé » du fil permet de mettre en valeur le fait que le tricotage se fait dans deux directions, tandis que le coloris plutôt fondu met bien en valeur le point original de la bordure.
I couldn't resist the temptation to knit one for myself, in one of the yarns sold in my shop. I choose the yarn Mini Mochi in the Red Zone colourway – a multicoloured yarn in rich hues but without sharp contrasts. The long « stripes » in the yarn show off the construction of the shawl, knitted in two directions, while the tone-on-tone colourway allows the quite special stitch pattern in the border to stand out.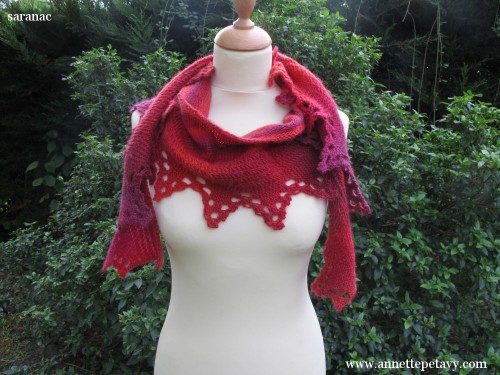 J'ai utilisé seulement deux pelotes (en omettant quelques rangs de la bordure en point mousse du haut du châle, qui est la dernière étape dans la réalisation). Comme je suis une tricoteuse assez détendue, j'ai utilisé une aiguille un peu plus petit que celle préconisée (3,5 mm plutôt que 4).
I made the shawl with only 2 balls of yarn (omitting a few rows in the top garter edge, which is the last step in the project). I'm a pretty relaxed knitter, so I chose to use a smaller needle than the one recommended in the pattern (3.5 mm instead of 4).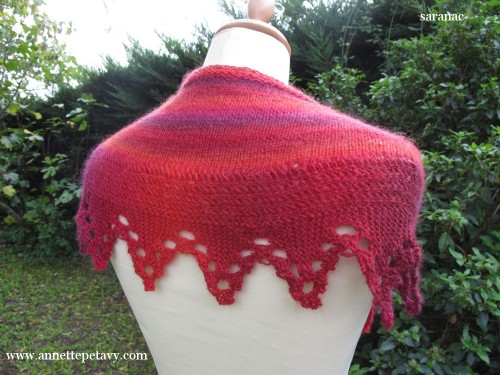 J'aurais bien sûr voulu vous le montrer sur les épaules de mon mannequin préféré, mais elle est très occupée par ses études … Merci donc à ma fidèle Alicette, toujours là quand j'en ai besoin et très patiente !
Fiche Saranac en français dans la boutique.
Fil Mini Mochi, en plein de coloris !
I would of course have loved to show you this on the shoulders of my favourite model, but she's very busy with her studies right now… Many thanks to my loyal Alicette, always available when I need her and a very patient model!