Newsletter June 2011: Variations in hook sizeNews:Lots of things to talk about this time!First, two new yarns in the shop:Sausalito is a heathered multicoloured yarn.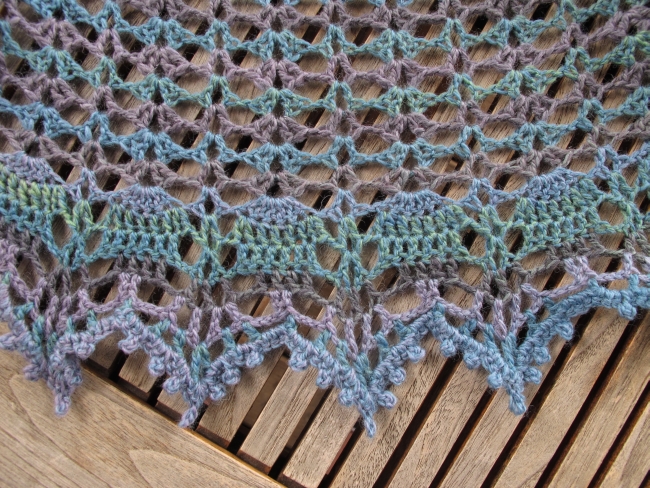 It comes from the same company as the Mini Mochi yarn, but is quite different. It's spun in several plies, and the different colours of the plies make for soft colour transitions. In the picture above, I've crocheted the Victoria shawl in the colourway Half Moon Bay. There are five gorgeous colourways available in the shop.The second yarn is a beautiful laceweight linen yarn, spun in France.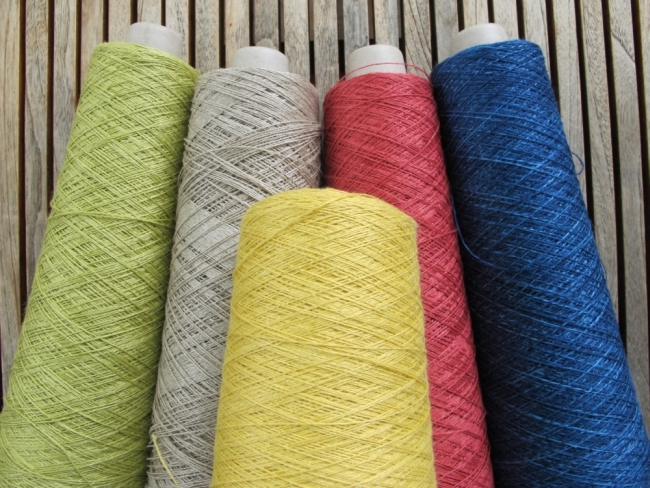 This is another yarn with personality – as so often with linen, it seems a bit stiff when you first work it, but it softens beautifully after the first washing. Linen takes dye beautifully, and the five colours available are amazing – both soft and intense.EclatDuSoleil, who first introduced me to this yarn, has designed a fabulous pattern for it: The Linen Lace Cardigan.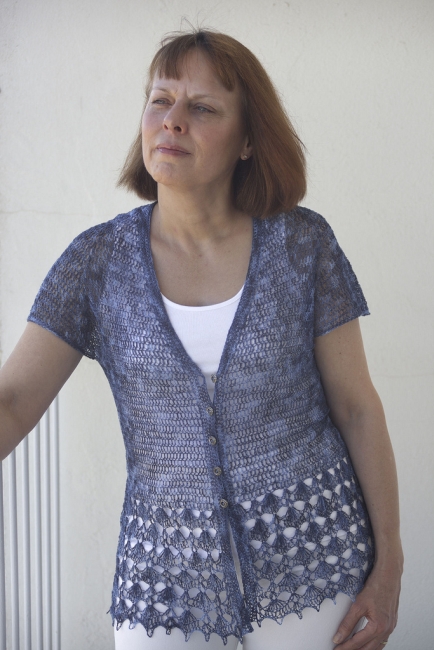 This summer garment is both lightweight and elegant, and will lend feminity to all your summer outfits. More information in the shop.Another new design by EclatDuSoleil is the beautiful Héloise shawl.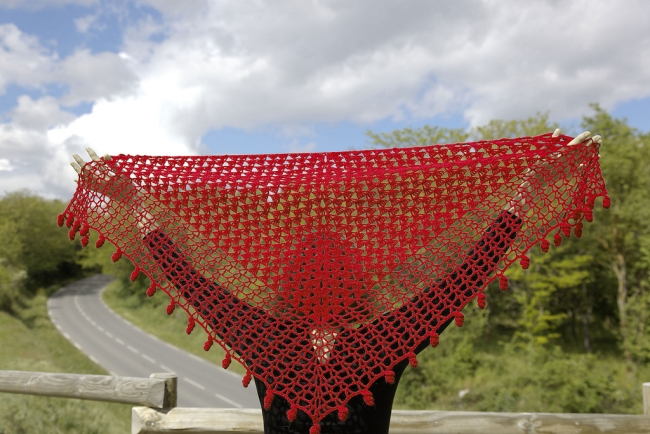 I love the contrast between the dense center and the lacy outer part of this shawl – not even to mention the swirl border! More information in the shop.To see my own latest design, the Arboretum Cardigan, you will need to check out the summer issue of Interweave Crochet.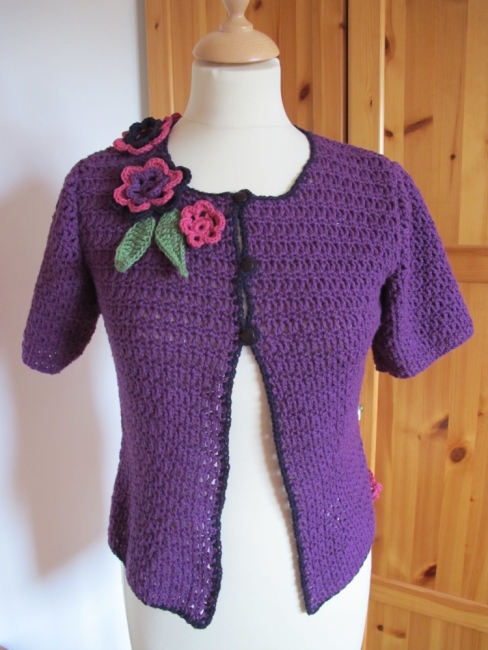 I'm very pleased with how it turned out, and it's beautifully styled in the magazine!I need your opinion!

When you work on your own, it's very important to have people to listen to. I love it when I receive e-mails with suggestions or questions. They make me move ahead. I also have some friends who are great sounding boards for my ideas, but I now feel I need to take this a step further.So this is the first time, but probably not the last, that I invite you, dear subscriber, to respond to a short survey on a specific subject. Since I love teaching crochet and knitting classes locally, I have been thinking about offering online classes. Designing and teaching an online class is a huge commitment – so I need your help to know if it's something I should do.The type of class I'm thinking about would entail access to online documents (pictures, videos, text documents) as well as regular chats or e-mail discussions with the participants. How do you feel about that? Please let me know. It would be a great help for me.Online survey here.There are only six short questions. The survey is, of course, completely anonymous. (And I'm not asking any questions about your annual income. Really, why should I?)Thank you!Variations in hook size:I have seen several crochet designs worked with more or less oversized hooks lately – the Linen Lace Cardigan is a beautiful example.This made me want to discuss how the appearance of a yarn and a stitch changes when the hook size changes. When you crochet (or knit) with a new yarn, chances are that you use the hook size indicated on the ball band or in the pattern you're following.However, playing around a bit with hook sizes can be very rewarding – and also surprising. You might find that the yarns in your stash are far more versatile than you thought. You will most certainly find that a specific stitch pattern or motif can look very different depending on the hook size and the yarn used.To illustrate this, here are simple swatches in two different yarns.Both yarns are lightweight, but I believe that's all they have in common.The first one is my new laceweight linen yarn, which I mentioned above. It's a very crisp yarn with great stitch definition.I worked two swatches in double crochet, with 14 sts and 7 rows in each swatch. The only difference is the hook used – I used a 2 mm (slightly smaller than a US B-1) hook for the swatch at left and a 4.5 mm (US 7) hook for the swatch at right.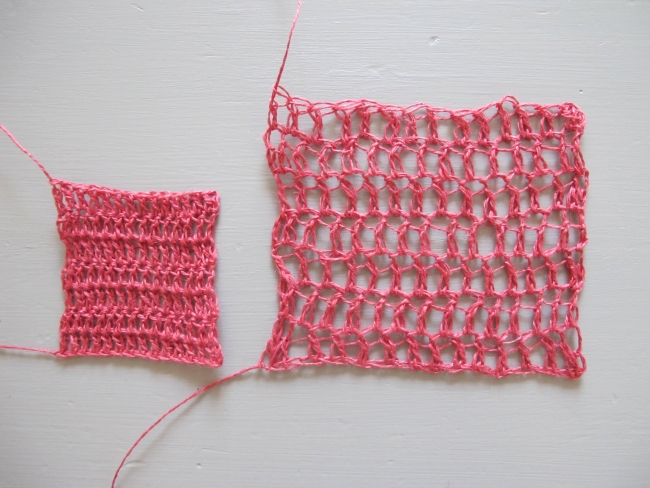 I actually started the smaller swatch with a 2.5 mm (between a US B-1 and C-2) hook, but it didn't look dense enough. This is a thin yarn, and it has absolutely no fluff to fill in any gaps.I crocheted these swatches while having my parents-in-law over for coffee, and my mother-in-law found the difference between the swatches so spectacular that at first she had a hard time believing they were made in the same stitch pattern. Everything is exaggerated in the swatch at right: the size, the details of the stitches… and the mistakes. There is at least one downright mistake in this swatch (which I didn't see before I looked at the photo on my computer screen). Also, any minor shift in tension is visible, since the stitches are so big and the yarn not very elastic. (I need to emphasize that I only steamed these swatches – I think the uneven spots would be toned down after a proper wet-blocking). The smaller swatch looks much more even, though I'm sure there are just as many mistakes or slight irregularities in that one!However, the larger swatch also looks much more complex than you would expect of a solid dc pattern. This is because you can see every detail of the stitches, and also because the spaces between the stitches are larger. You don't immediately identify the stitch pattern as simple solid dc.Both swatches have their uses – though I think I would go down a hook size or two for the larger swatch. As a comparison, the Linen Lace Cardigan mentioned above is worked with a 3.5 mm (US E-4). You still get the lacy look, but it's easier to handle and a little less extreme in scale.The second yarn I swatched was a lightweight mohair blend. This time, the 2 mm hook felt too small, so I used a 2.5 mm hook for the smaller swatch and a 5 mm (US H-8) for the larger one.
As you can see, the overall impression is quite different, due to the inherent fluffiness of the mohair. The yarn is bouncier, so the uneven spots are toned down a bit. The halo of the mohair also blurs the stitches a little, so they're not as crisp and clear as in the linen swatches.Because it's so hairy, mohair can be worked with a large hook and still maintain some cohesiveness. The mohair fibers fill great parts of the open spaces in the fabric.This means that the fibers are compacted in the swatch worked with a smaller hook. When I tried yet a smaller one, it was really too dense – it almost looked felted. I like the neatness of this swatch, though. If I were going to use it in a project, I still think I would try to see if I could go up a hook size or so, maintaining the neat look but giving the mohair fibers some more space.You might think very differently about these swatches, and that's why this experimentation is so much fun. Perhaps you have some ribbon yarn in your stash? Or some bouclé? Or a yarn with nubbly spots? Go and swatch and see how the look changes in any yarn when playing with hook sizes. I bet you'll get a lot of interesting ideas!  See you soon!