Don't think you have the right yarn on hand? Need to go shopping to find something that will suit the pattern you're admiring?
Perhaps not. Many times, the right yarn is there, in your stash. It's just hiding in different skeins.
Certainly, if you need a very fine yarn and all you have on hand are thicker ones, this month's newsletter will not be of much help. But if you have finer yarns and need a heavier one, do read on. I want to discuss the subject of mixing yarns by working double strands.
To wind the yarn-mix balls shown here, I used a contraption called a domestic twister.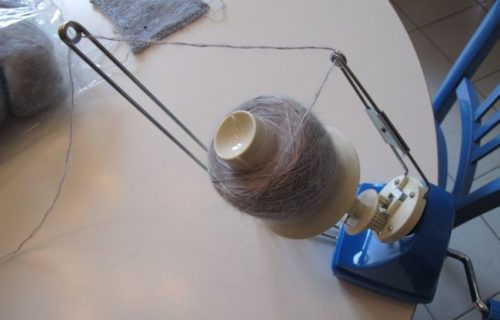 It looks like a ball winder but has a couple of extra features, like the extra arm at the right in the picture. The twister causes the yarns to twist lightly around one another, which means they will be evenly distributed in the crocheted or knitted fabric. It also helps to wind both yarns at the same tension, so you don't end up with large loops of one yarn while the other is taut.
However, it is perfectly possible to experiment with double stranding yarns without this machine.
I dove into my stash and pulled out some suitable candidates for yarn mixing.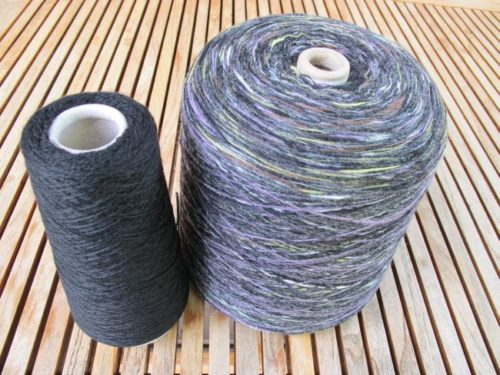 To the left is a black laceweight wool yarn. To the right is a very fine yarn with long colour variations on a black background (it looks slightly lighter in the picture than in real life). It's intended for machine knitting.
This is the child of the two cones, the two yarns wound together: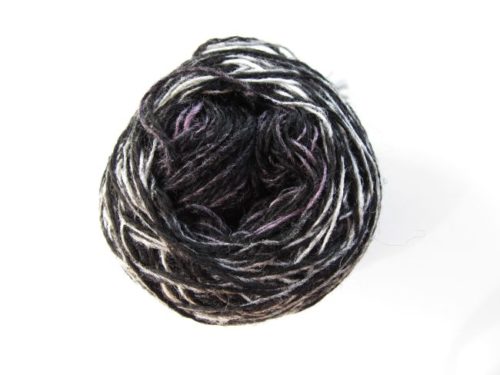 I decided to work a swatch in one of the stitch patterns of the Arrows stole. I used a 4 mm (US G-6) hook.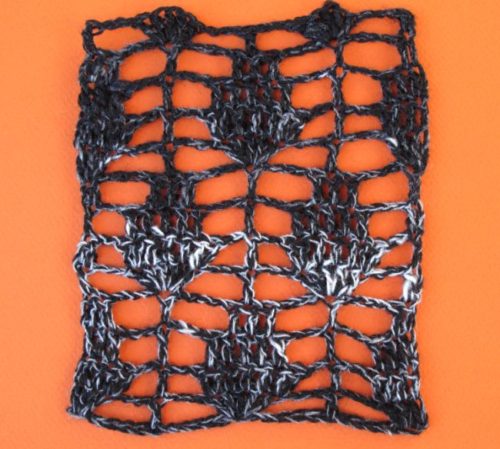 Since the swatch is quite small and the colour repeats of the thinner yarn very long, I didn't get to the violet part of the yarn that can be seen in the middle of the ball (I worked the yarn from the outside of the ball). There is also green and some brown in this yarn, which doesn't even show up in the small ball. It would be very interesting to try this yarn mix on a larger scale, with a simple stitch pattern – the Roma shawl immediately comes to mind.
The two yarns have a similar texture, which makes it quite easy to obtain a relatively cohesive blend. The next two yarns I tried to mix were a fingering weight merino and a fine mohair blend.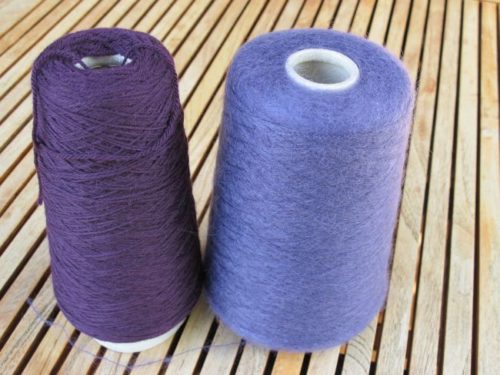 I was a bit concerned that the two yarns were not the same shade of violet – I didn't want to make a marled yarn, just something with complementary texture and subtle shading. I didn't need to worry long – the yarns came together very nicely, even in the small test ball.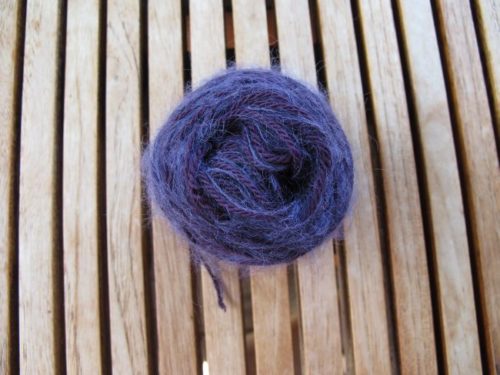 I worked a swatch with a 6 mm (US J-10)  hook in a stitch pattern taken from the blanket Grace's Gift by Jennifer Benson.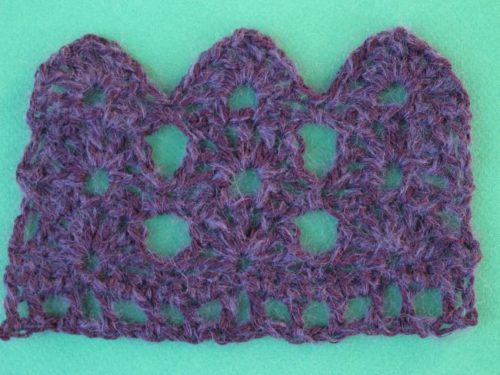 The end result is very soft and squishy, and I love the subtly mottled effect. The mohair content might not make this ideal for a baby blanket, but I can really see myself wrapped up in a cosy merino-mohair shawl on a cold winter night.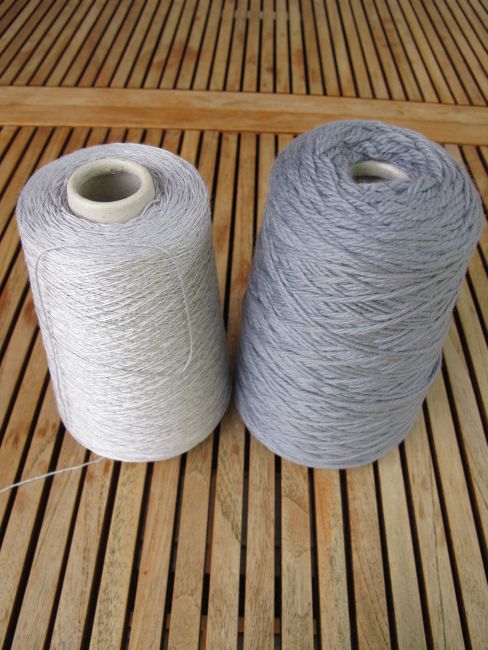 I moved on to two drastically contrasting yarns – a worsted weight wool and a laceweight bamboo.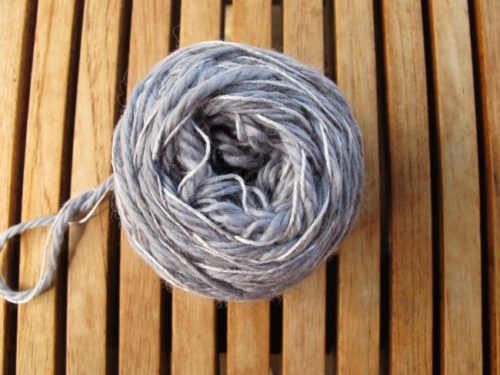 The contrast in both luster and shade is nice, but as you can see already in the ball, these two yarns don't really want to live together.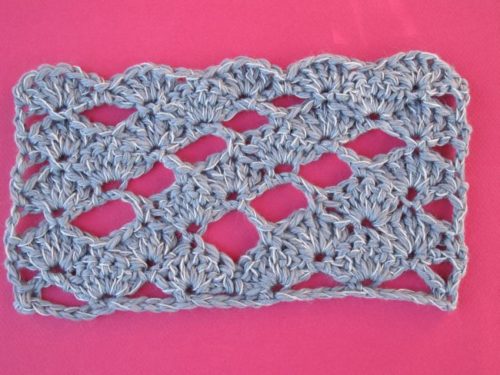 I worked a swatch with a 7 mm (slightly larger than a US K-10 1/2) hook, in a stitch pattern taken from the Zig-zag stole.
The end result is quite nice, but I think this was the most challenging mix to crochet. The two strands didn't really want to hang on to each other. I also should have used an even larger hook – I underestimated the thickness added by the fine bamboo strand.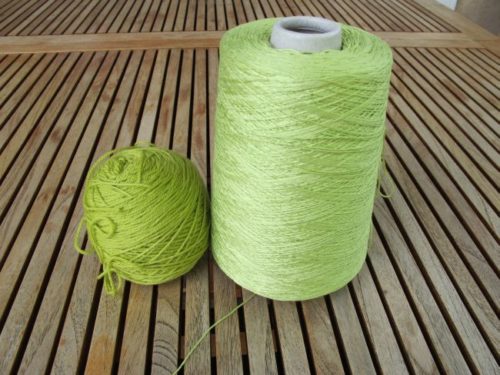 The next mix used similar materials: fingering weight merino wool and laceweight bamboo.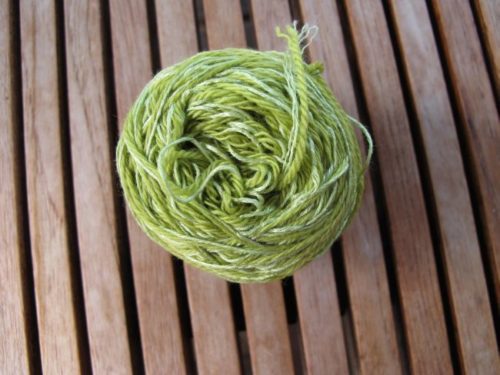 Here they are, wound up in a sligthly unruly but very pretty test ball.
I worked this mix with a 4.5 mm (US 7) hook, using a stitch pattern from the Celeste shawl.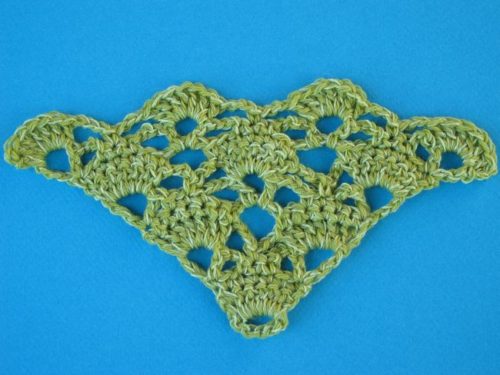 I absolutely love this swatch. The mix was not quite as splitty as with the worsted weight wool, but still, a bit challenging to work. However, I would accept that, because I enjoy the end result so much.  It's soft and would be even softer with a slightly larger hook, and the play between two shades of green, as well as matte and shiny, is really beautiful.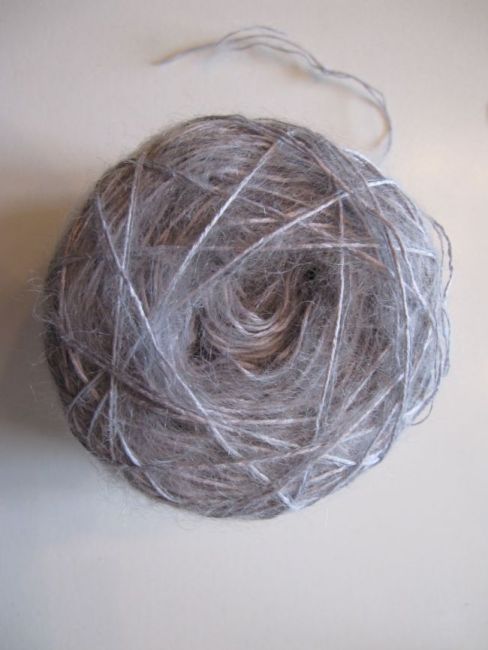 And finally, the best mix of them all (in my book at least): laceweight bamboo and a fine mohair blend.
I am seriously considering keeping this test ball as a pet.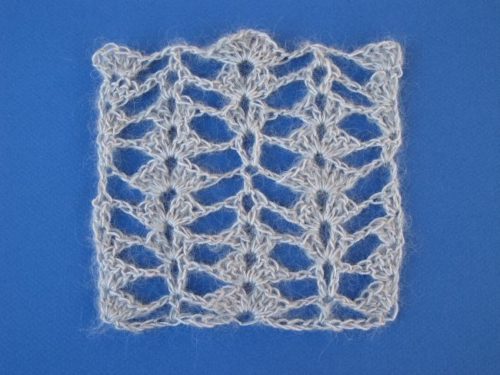 I worked this mix with a 4.5 mm (US 7) hook and used the stitch pattern from my Violet Points scarf.
Soft, luscious, reasonably cohesive… I think that what we have here is a swatch for a stole.
So have a look at the yarns you have at home and see what interesting mixes you can come up with! Feel free to share the results in the comments below.
See you soon!