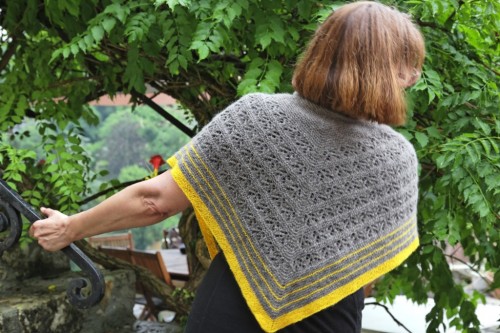 Cette fois-ci, la magicienne EclatDuSoleil a mis dans sa marmite l'héritage d'une géante du tricot, Elizabeth Zimmermann. Elle y a ajouté une bonne dose d'un fil d'une douceur exquise, le duvet de yak, et une pincée de laine dentelle jaune vif. Elle a tourné tout cela avec son aiguille à tricoter, et dans un éclair (ou plutôt après de longues heures de travail, mais ça fait moins conte de fée), est apparu ce châle triangulaire, Hommage à Elizabeth Zimmermann.
This time, the sorceress EclatDuSoleil put the heritage of a knitting giant, Elizabeth Zimmermann in her magic pot. She added a good splash of a supremely soft yarn in yak down, and a pinch of bright yellow laceweight wool. She stirred with a knitting needle, and in a flash (or rather after many hours of work, but that doesn't really fit with the fairy tale), appeared this triangular shawl, Tribute to Elizabeth Zimmermann.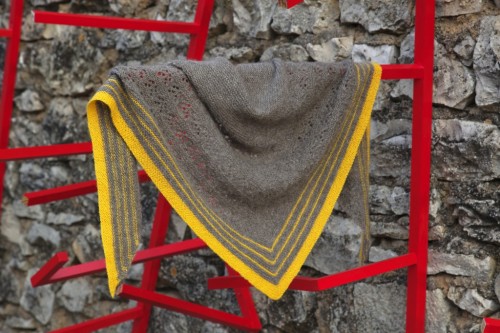 Du point mousse, un point dentelle simple et efficace, une pointe de couleur juste ce qu'il faut – EZ aurait adoré ce châle.
Garter stitch, a simple but effective lace pattern, a perfect touch of colour – EZ would have loved this shawl.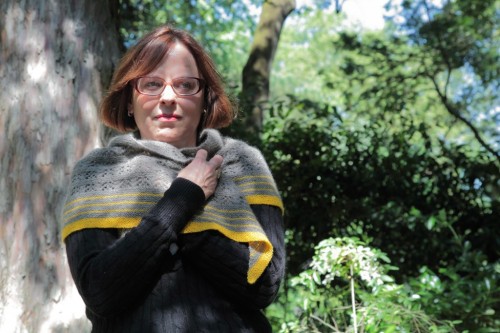 Plus d'informations dans la boutique.