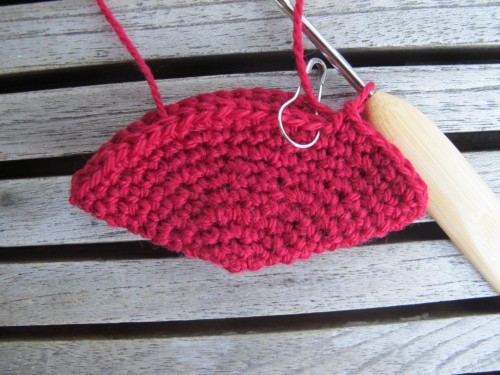 Si vous avez suivi les instructions de l'étape 1 de la première boule de Noël, vous devez désormais être l'heureux propriétaire d'un ouvrage ressemblant celui dans la photo ci-dessus.
If you have followed the instructions for step 1 of the first Christmas bauble, you should now be the proud owner of a project ressembling the photo above.
Si vous prenez le train en route – pas de panique. Pour vous permettre de rattraper les autres, l'étape d'aujourd'hui est courte – ce soir, vous avez largement le temps de faire les deux, si vous voulez.
If you just arrived – no worries. Today's step is short, so that you can catch up – you will easily have the time in one evening for both steps, if you like.
Etape 2 :
Step 2:
Tours 12 à 15 : Travailler sans augmentations.
Rounds 12 – 15 : Work straight without increases.
C'est tout ! À demain !
That's all! See you tomorrow!