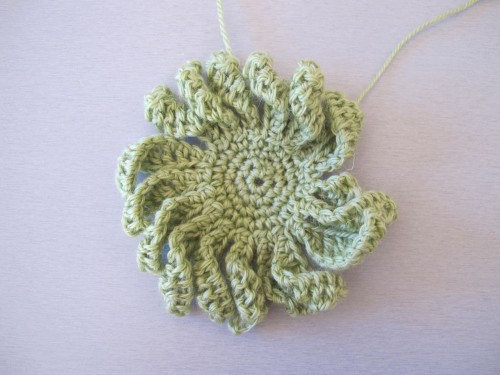 Qu'elle frise comme dans la photo ou que vous l'ayez dompté au blocage, vous devez maintenant être en possession d'une couronne de feuilles semblable à celle ci-dessus.
Whether it curls as in the picture or you have tamed it to flatness by blocking, you should now have a crown with leaves similar to the one above.
Aujourd'hui, on fait une mini étape pour permettre à Marie-Aude de nous rattraper !
Today, it's a mini step so that Marie-Aude can catch up!
Nous allons coudre la couronne de feuilles sur la boule.
We are going to seam the leaf crown to the bauble.
Étape 5 :
Step 5:
Rentrer le fil de démarrage de la couronne (le bout au milieu).
Weave in the yarn end at the center of the crown.
Aligner (aussi bien que cela puisse se faire) le centre de la couronne avec les feuilles sur le trou de la boule.
Align (as well as you can) the center of the crown on the hole at the top of the bauble.
Utiliser le bout du fil restant pour coudre la couronne sur la boule. Replier les feuilles pour faire des petits points le long de la partie pleine de la couronne, laissant les feuilles libres.
Use the remaining yarn end to sew the crown to the bauble. Fold back the leaves and make small stitches along the round center part of the crown, leaving the leaves free to move.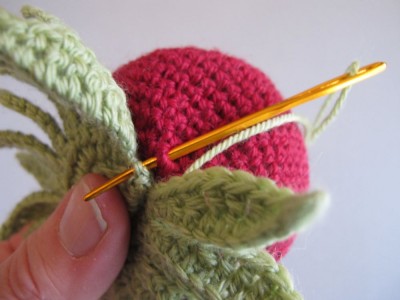 A demain pour la boule finie !
See you tomorrow for the finished bauble !