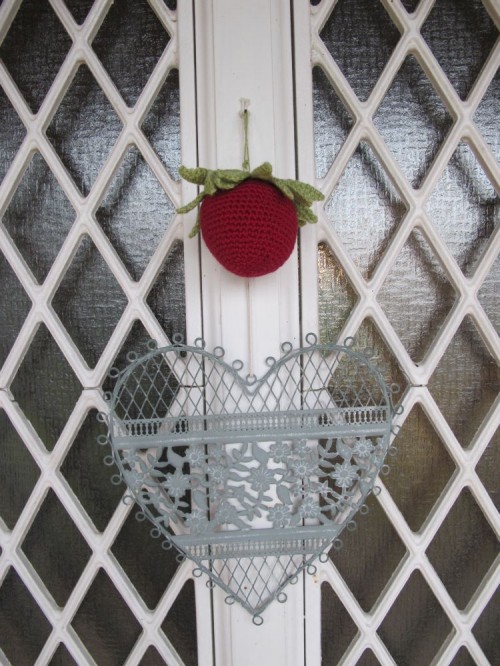 Voilà, ma boule no 1 est terminée – et peut-être le vôtre aussi ?
So, my bauble no 1 is finished – perhaps yours too?
Pour partager votre photo de boule avec les autres, et participer au tirage au sort du mois de janvier, il y a deux façons de s'y prendre :
To share you bauble picture with others and participate in the January drawing, there are two ways:
1) Si vous êtes membre de Ravelry, vous pouvez créer un projet pour votre boule et le lier au modèle (pattern) suivant : Crochet Noël 2013 – Christmas Crochet 2013. Et pendant que vous y êtes, vous pouvez aussi rejoindre mon groupe Ravelry : http://www.ravelry.com/groups/annette-petavy-design
1) If you're a Ravelry member, you can create project for your bauble and link it to the following « pattern » : Crochet Noël 2013 – Christmas Crochet 2013. While you're on Ravelry, you can also join my group : http://www.ravelry.com/groups/annette-petavy-design
2) Vous pouvez aussi m'envoyer un mail avec la photo de votre boule pour participer.
2) You can also send me an e-mail with a picture of your bauble to participate.
L'un ou l'autre, inutile de prendre le temps de faire les deux.
Choose one way or the other, there is no need to take the time to do both.
Pour participer au tirage au sort, vous avez jusqu'au 5 janvier pour m'envoyer une ou plusieurs photos de boules (chaque boule terminée vous donne un « ticket »). L'objectif n'est pas d'ajouter du stress, mais de s'amuser !
You have until January 5th to send me one or more bauble pictures (each finished bauble gives you an entry in the drawing). The idea is not to add stress, but to have fun !
Et si vous voulez simplement crocheter vos boules chez vous, les suspendre dans le sapin et ne pas les prendre en photo, c'est très bien aussi (mais vous ne participerez pas au tirage au sort, bien sûr).
And if you prefer crocheting your baubles in the quiet of your home, hang them in the tree and not take any pictures, that's perfect too (but you will not take part in the drawing, of course).
A demain pour commencer la boule no 2 !
See you tomorrow for the beginning of bauble no 2!