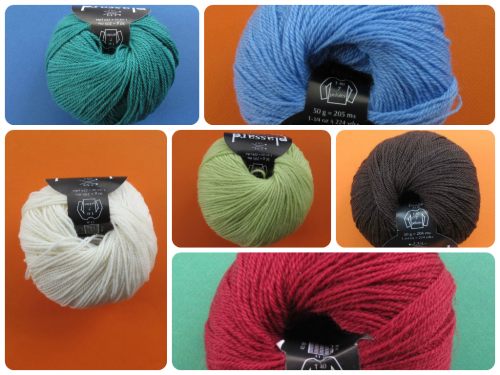 C'est la rentrée – fêtons cela avec quelques offres spéciales dans la boutique ! Pour commencer, du fil Plassard … souvenir d'une époque où je travaillais avec eux, avant de trouver mon mérinos fin actuel.
Let's celebrate the new season with some special offers in the shop! We'll start off with a yarn from the French company Plassard … from a time when I worked with this company, before finding my current fingering weight merino.
La qualité en question se nomme Boud'chou, et c'est de la laine mérinos lavable en machine, avec 205 m aux 50 g. Elle fonctionnera pour tous les modèles dans la boutique qui demande un fil type fin (comme de nombreux châles), et c'est le fil qui a été utilisé dans le modèles layette Robin et Manon.
The yarn on offer is named Boud'chou. It's a fingering weight merino wool, at 205 m / 50 g ball (superwash). It will of course work well for all patterns in the shop designed for fingering weight yarn (there are plenty of shawls), and it's the very yarn used for the baby designs Robin and Manon.
Ne tardez pas trop, le stock est vraiment limité !
First come, first served – my stock is very limited!
Offres spéciales de la boutique.
Special offers in the shop.