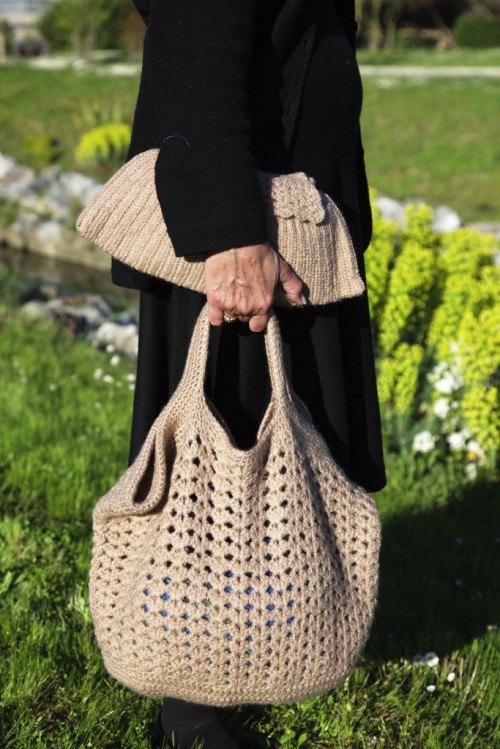 Vous le savez déjà – EclatDuSoleil adore les sacs au crochet. Après les Sacs filet et les Voyages en Italie, voici un ensemble pour aller faire son marche: le Couffin et pochette feutrés (ou pas).
You already knew – EclatDuSoleil loves crocheted bags. After her String Bags and her Italian Travels, here comes a set of bags for shopping: the Felted (or unfelted) Cabas and Pouch.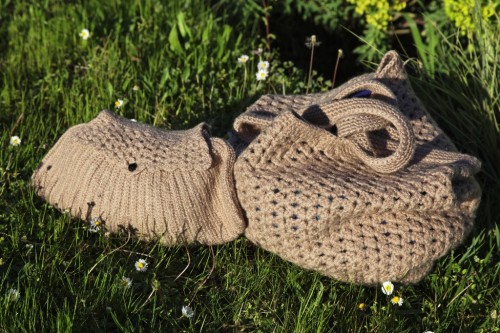 Si vous souhaitez feutrer vos sacs, il faut bien choisir votre fil. Il doit être de fibre animale, et non traité superwash. Vous trouverez plus de précisions sur la page produit dans la boutique.
If you want to felt your bags, choose your yarn with care. It must be made from natural animal fibers, and must not have been treated to be superwash. There is more information on this on the product page in the shop.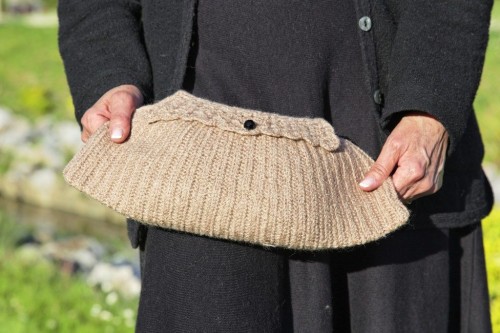 Pour ma part, j'ai voulu faire un petit essai avec la Laine à feutrer que je propose dans ma boutique.
As for me, I wanted to test out the Wool for Felting available in the shop.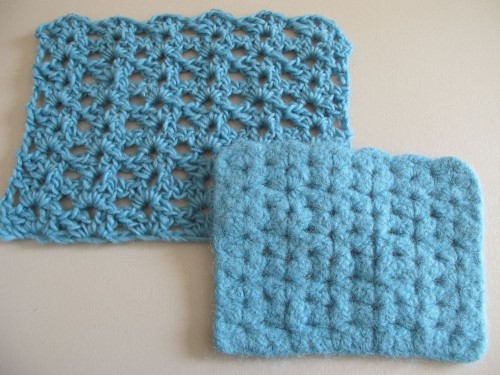 Le feutrage, c'est tellement rigolo!
Felting is so much fun!
J'ai testé le point du couffin/panier, où Hélène a travaillé son fil italien en double. (La pochette est crocheté avec un fil simple, nettement plus fin). La Laine à feutrer se travaille avec un crochet bien plus gros (8 mm au lieu de 6 mm), mais il s'avère qu'il feutre plus que le fil d'Hélène.
I worked the stitch pattern in the cabas/basket, where Hélène held her Italian yarn double. (The pouch is crocheted with a single strand of yarn, much lighter in weight). The Wool for Felting is to be worked with a much larger hook (8 mm instead of 6 mm), but it turns out that it felts more than Hélène's yarn.
Nous pensions toutes les deux que l'utilisation de ce fil donnerait un résultat beaucoup plus grand que le panier dans la fiche. Mais, avec réservation pour les variations dans le feutrage (ce n'est pas une science exacte), j'ai calculé que toute la circonférence du panier fini ne serait que 4 à 5 cm plus grand avec le fil Laine à feutrer.
We both thought that using this yarn would yield a much larger basket. However, with reservation for variations in felting (it is not an exact science), I calculated that the entire  circumference of the finished basket would be only 4 to 5 cm (a couple of inches) bigger with Wool for Felting.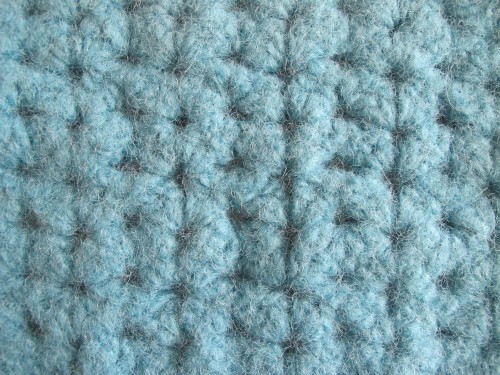 Ensuite, il faut bien sûr aimer le rendu … Pour ma part, je le trouve ce look doux et dodu très sympa! Si vous voulez apprendre plus sur le feutrage du crochet, je vous propose de consulter mon bulletin d'information d'octobre 2010.
You must like the result of course … I personally find this chubby, soft look very nice! If you want  to learn more about felting crochet, you can have a look at my newsletter from October 2010.
Fiche Couffin et pochette dans la boutique.
Pattern Cabas and Pouch in the shop.
Fil Laine à feutrer dans la boutique.
Wool yarn for Felting in the shop.