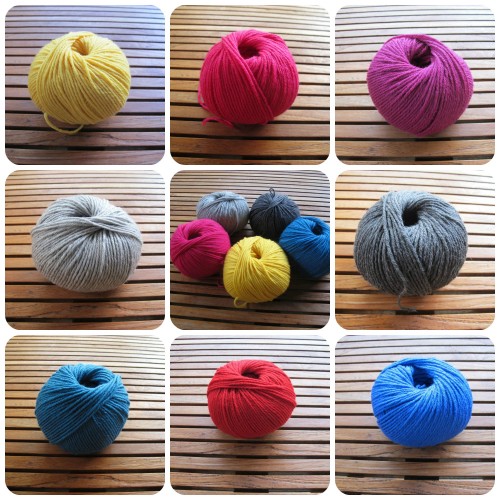 Voici un tout nouveau fil dans la boutique : le mérinos moyen ! Huit coloris et une douceur incomparable …
I have a brand new yarn in the shop : a DK weight merino ! Eight colours, and an incredibly soft touch …
Avec ses 112 mètres au 50 g, ce fil marche bien pour le crochet et le tricot. L'échantillon indicatif, 20 m aux 10 cm aux aiguilles 4,5 (à adapter bien sûr en fonction de votre façon de tricoter) colle parfaitement par exemple avec la veste Brindilles, présentée mercredi. Mais je testerai aussi bien volontiers ce fil avec le modèle pour enfants Mini bord de l'eau, ou le châle Feuille de cèdre, ou pourquoi pas au crochet pour réaliser une belle version du châle Toscane, en adaptant la taille du crochet.
With 112 meters per 50 g ball, this is a yarn that works well for both crochet and knitting. Why not try a version of the pretty shawl Toscane (perhaps you will need to adapt your hook size) ? More patterns and ideas are on their way.
Et pour vous donner l'occasion de le tester pour vous-même, et d'apprécier sa douceur et ses couleurs éclatantes, je vous propose jusqu'à minuit mercredi le 21 janvier 2015 (heure de Paris), une réduction de 20 % sur tout achat d'au moins 4 pelotes de mérinos moyen. Vous pouvez bien entendu panacher les coloris comme vous le souhaitez.
To give you a great opportunity to try this yarn for yourself, so you can appreciate its softness and the vibrant colours, I offer 20% off any purchase of at least 4 balls of merino DK until midnight Wednesday January 21st 2015 (CET +1). You can of course mix colours as you like.
Plus d'informations sur ce fil dans la boutique.