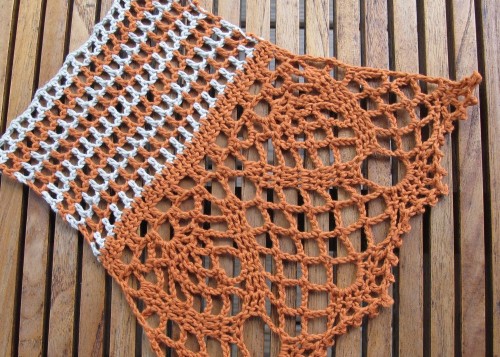 Petit rappel : la promo sur « La Vie en Rayures » est encore valable jusqu'au 30 avril.
Just a little reminder: the special offer on « A Striped Life » is still running until April 30th.
Et pour l'été, pourquoi ne pas faire La Vie en Rayures en coton bio ? J'ai crocheté mon échantillon dans les coloris « nature » et « potimarron », avec un crochet de 3,5 mm.
And for this summer, why not crochet A Striped Life in organic cotton? I worked my swatch in the colours « natural » and pumpkin, with a 3.5 mm hook.

Pour le châle vert des explications (celui dont j'ai utilisé le point pour mon échantillon), il vous faudra 3 pelotes de coton bio de la couleur de la bordure, et 2 de la couleur des rayures. Pour celui qui est jaune dans la fiche (et dont la bordure est moins large), 2 pelotes de chaque couleur suffisent, exactement comme pour le châle rose.
For the green shawl in the pattern (the one I based my swatch on), you will need 3 balls of organic cotton in the border colour, and 2 balls for the stripes. For the yellow one (with a more narrow border), 2 balls of each colour is enough, exactly as for the pink shawl in the pattern.
Et franchement, ce fil est d'une douceur …
And honestly, this yarn is so soft…