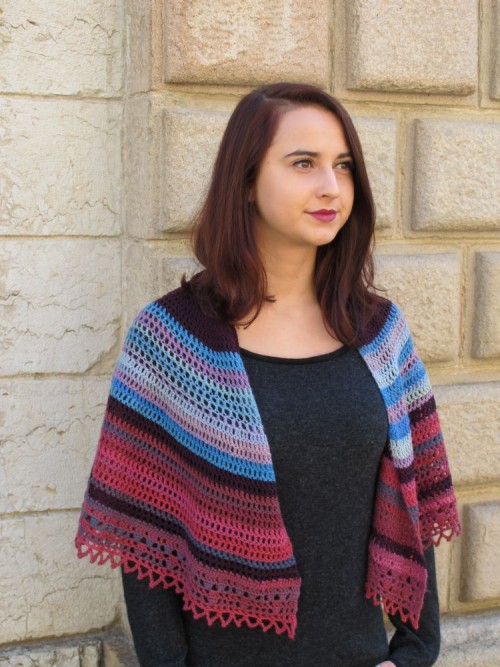 Après mon bulletin sur les châles en demi-cercle, j'ai eu envie d'expérimenter avec un châle crocheté type « pi » à plus grande échelle. Voici le résultat : Tarte aux myrtilles.
After my newsletter on half circle shawls, I wanted to experiment with a crocheted « pi shawl » on a larger scale. Here's the result: Blueberry Pi(e).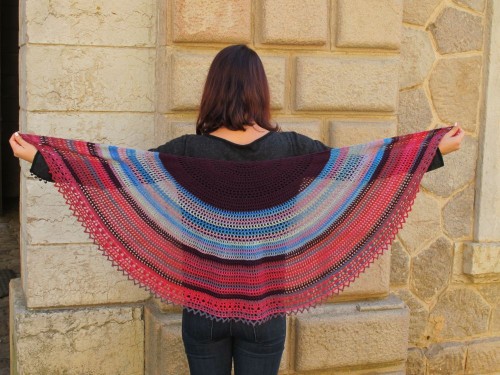 Dans mon prototype, j'ai utilisé 1 pelote de mérinos fin col prune, pour le centre et deux petites rayures, 1 pelote de Mini Mochi col Tutti Frutti, pour la première rayure large (en bleu/violet) et 2 pelotes de Mini Mochi col Dynamite, pour la deuxième rayure large et la bordure.
In my prototype, I used 1 ball of fingering weight merino col damson, for the center and the small stripes, 1 ball of Mini Mochi col Tutti Frutti, for the first large stripe (blue/violet), and 2 balls of Mini Mochi col Tutti Frutti for the second large stripe and the border.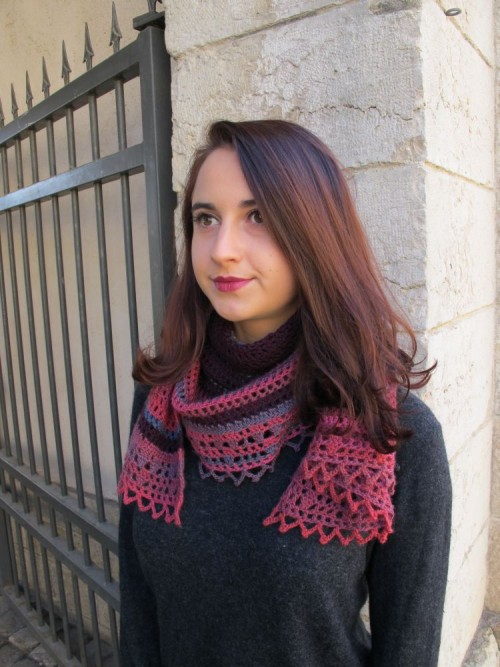 Toutes les variations sont possibles et imaginables – vous pouvez vous amuser à changer les fils et les couleurs, et bien sûr porter ce châle de plein de différentes façons.
All kinds of variations are possible and imaginable – you can have fun changing yarns and colours, and of course wear the shawl in multiple ways.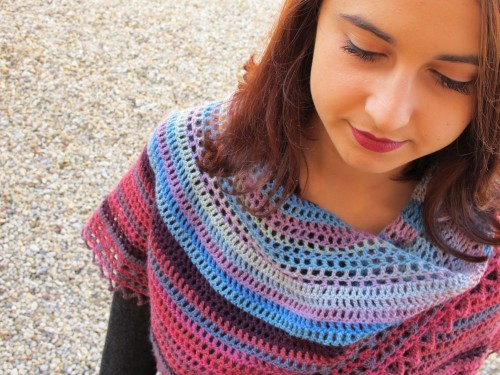 Et juste pour le plaisir, la fiche du châle est offerte si vous l'achetez en même temps que 4 pelotes de fil fin.
Plus d'informations dans la boutique.
And just for the pleasure of it, the pattern is free if you buy it at the same time as 4 balls of fingering weight yarn.