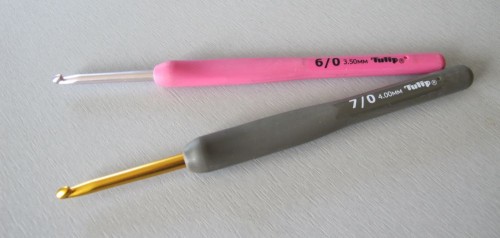 Les crochets Tulip sont de nouveau disponibles dans toutes les tailles ou presque !
Tulip hooks are now available again in the shop in all sizes (almost)!
Ces crochets viennent du Japon, et comme vous pouvez l'imaginer, la gestion des stocks est un peu compliqué : ce n'est pas certain qu'au moment où je passe ma commande, toutes les tailles soient disponibles. C'est pourquoi j'ai décidé de vous proposer désormais la version « Etimo gold » en plus.
These hooks come from Japan, and as you can imagine, stock management can be a bit complicated: sometimes some sizes are unavailable when I place my order. That's why I have decided to add the « Etimo gold » hook to my range.
Etimo gold a la même forme, avec le même manche confortable, que la version rose que vous connaissez déjà. Sa couleur est différente, son prix un peu plus bas, et il existe dans des tailles jusqu'à 6 mm (plus gros que son copain rose).
Etimo gold has the same shape, with the same comfortable handle as the pink version you already know. The colour is different, the price a little lower, and the sizes go up to 6 mm (thicker than it's pink sister).
Voilà, vous savez tout !
Now you know it all!
Dans la boutique, les crochets Etimo rose sont là et Etimo gold ici.
In the shop you will find Etimo rose hooks here and Etimo gold hooks there.