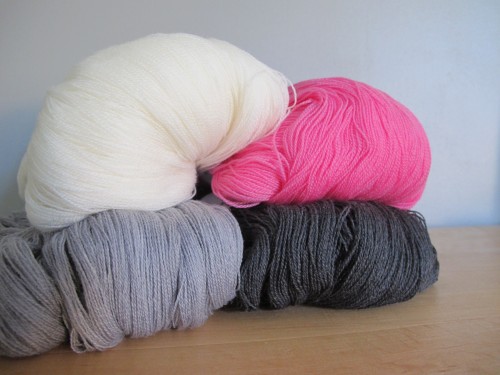 Pour les amateurs et amatrices d'ouvrages ultra fins, la petite famille de fil dentelle arachnéen (cobweb) s'enrichit avec un gris ardoise légèrement nuancé – très beau, et aussi doux que les autres coloris. À noter aussi, que le gris clair (lui aussi un peu chiné) est de nouveau disponible.
For amateurs of ultralight projects, the cobweb family greets the arrival of a new member: the slightly heathered slate grey, just as soft as the other colours. Please note that the light grey (also slightly nuanced) is now available again.
Tricoté ou crocheté en simple avec des aiguilles ou un crochet numéro 3, vous obtenez un résultat digne d'une tenue de fée, léger, transparent mais chaud (c'est tout de même de la pure laine mérinos). Vous pourrez voir des échantillons ici.
Knitted or crocheted as a single strand with a 3 mm hook or needle, this is what fairy clothes are made of. A transparent fabric that still is warm (this is after all pure merino wool). Check out the swatches here.
En double, vous retrouvez un fil dentelle classique de 750 mètres au 100 g, tout en douceur.
If you double it up, it's a classical laceweight at 750 meters per 100 g, still supersoft.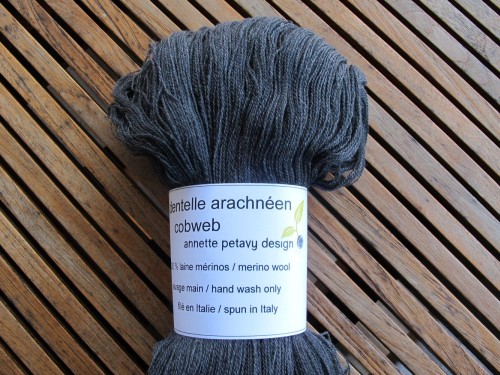 Le fil arachnéen dans la boutique.