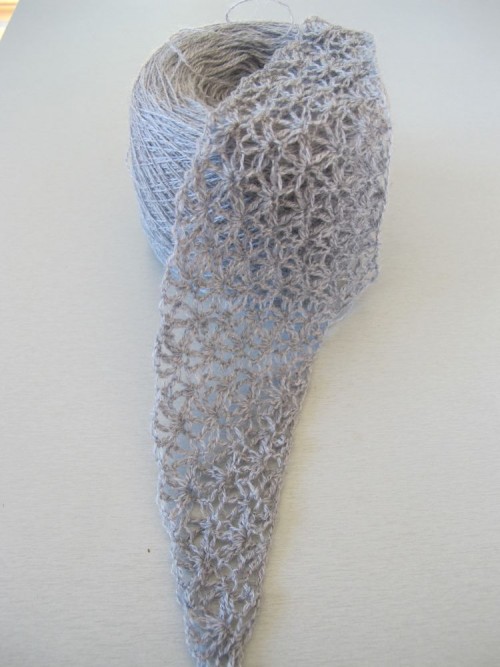 Comment montrer en photo la légèreté et la douceur du fil dentelle arachnéen ? Je crois que c'est impossible, mais je ne peux pas m'empêcher d'essayer.
How could I capture the lightness and the softness of the cobweb yarn in a photo? I don't think it's possible, but I can't help trying.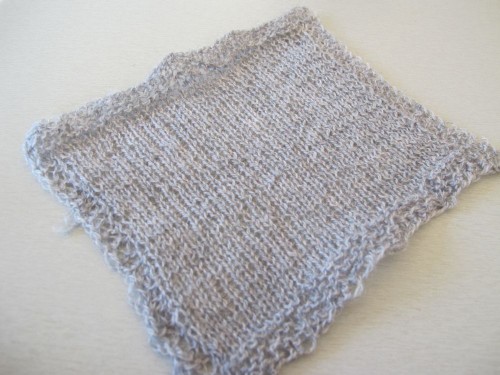 Les gens sont souvent surpris quand je leur montre ce petit échantillon, tricoté avec des aiguilles numéro 3. On peut effectivement tricoter ce fil ultra fin avec des aiguilles de taille raisonnable.
People are often surprised when I show them this little swatch, knitted with 3 mm needles. It is possible to knit this super fine yarn with needles of reasonable size.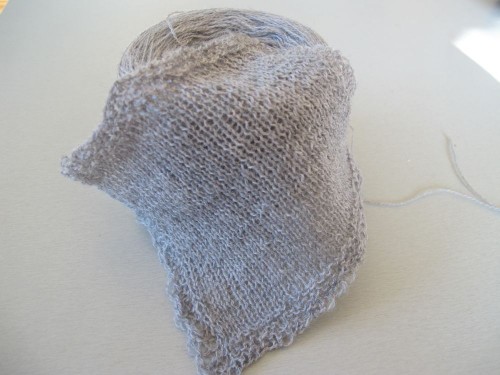 Ce bout de tricot est comme une petite plume dans la main – mais une petite plume qui tient chaud !
This piece of knitting is like a little feather in your hand – but a little feather that keeps you warm!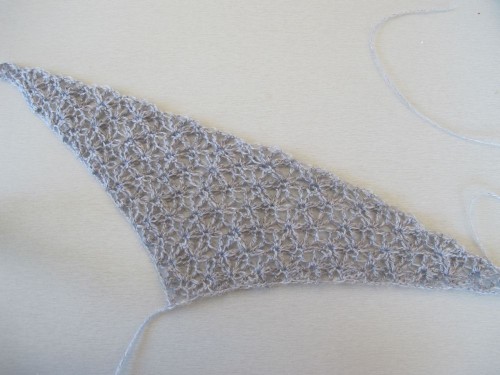 Ce joli point est celui du centre du châle Brume, conçu pour un fil presque aussi fin que celui-ci. Je l'ai travaillé selon les explications, avec un crochet de 3 mm.
Le fil dentelle arachnéen (cobweb) est disponible dans la boutique, avec un rapport prix/métrage défiant, j'ose le dire, toute concurrence !
This pretty stitch pattern is the one used in the center of the Mist shawl, designed for a yarn almost as fine as this. I worked it according to the pattern, with a 3 mm hook.
The cobweb yarn is available in the shop, and I dare to say that you will seldom find better yardage value for your money!