Un seul tour aujourd'hui sur notre premier projet :
Only one round today on our first project:
Tour 3 : 1 ml (ne compte pas pour une m), 1 ms dans la première m du tour (celle où l'on a fait la mc pour fermer le tour précédent), 1 ms dans la br suivante, * (1 ms, 3 ml, 1 ms) dans l'arceau suivant, 1 ms dans chacune des 2 br suivantes *, rép de * à * encore 6 fois, (1 ms, 3 ml, 1 ms) dans le dernier arceau du tour, 1 mc dans la première ms du tour.
Arrêter le fil de couleur A.
Round 3: Ch 1 (do not count as a st), 1 sc in first st in round (the stitch were you made the sl st to close the previous round), 1 sc in next dc, * (1 sc, ch 3, 1 sc) in next ch space, 1 sc in each of next 2 dc *, repeat from * to * 6 more times, (1 sc, ch 3, 1 sc) in last ch space, 1 sl st in first sc in round.
Fasten off col A.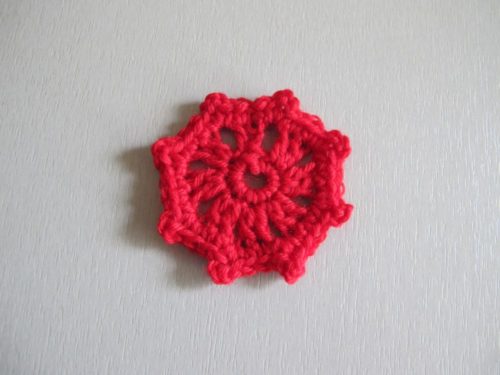 La suite demain !
To be continued tomorrow!
Retrouvez tous les articles sur le Calendrier d'Avent 2016 dans la catégorie dec2016.
Find all published articles re: the 2016 Advent Calendar in the category dec2016.
Enregistrer