Je me suis amusée avec ce deuxième projet, j'espère que vous aussi !
I had a lot of fun with this second project and I hope you did too!
Cette fois-ci, pour les petites idées, j'ai eu envie d'utiliser des fils plus épais.
For my ideas this week, I decided to use slightly heavier yarns.
J'ai donc crocheté un motif tel que je l'ai expliqué, dans un fil bio de grosseur moyenne qui fera son apparition dans la boutique dans les semaines à venir :
I crocheted a motif exactly as explained previously, in an organic DK weight yarn that will be added to my range in the coming weeks: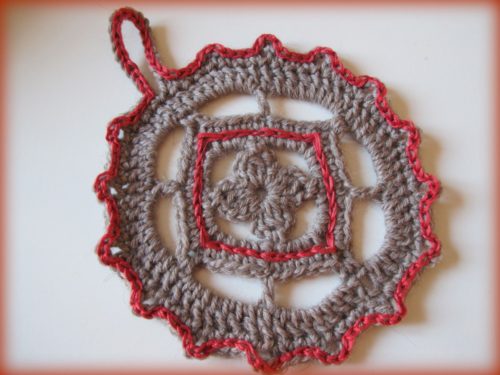 Pour rehausser le coloris neutre, j'ai pris un reste de bambou dentelle que j'ai tenu en double pour faire du « crochet de surface » (surface crochet) pour souligner le contour du motif et la forme du carré au milieu. Il s'agit tout simplement de faire des mailles coulées à travers le motif déjà crocheté, en piquant le crochet entre les mailles, ou, pour le dernier tour, dans les mailles.
To spice up the neutral colour, I used some leftover laceweight bamboo held double to make some surface crochet to underline the edge of the motif and the shape of the square in the middle. I simply worked slip stitches through the finished motif, between stitches for the inner line, and in the stitches of the edging.
Après, j'ai pris un fil encore plus épais (le mérinos épais en rouge profond), et j'ai crocheté juste les quatre premiers tours du motif (le trèfle + le carré), en deux fois.
I then turned to an even heavier yarn (my worsted weight merino in deep red), to work the 4 first rounds in the motif (the four-leaf clover + the square) twice.
J'ai bloqué ces deux carrés, je les ai mesurés et …
I blocked these two squares, I measured them and…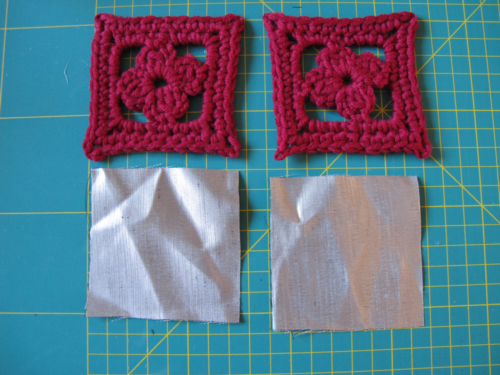 … j'ai découpé deux carrés de tissu (brillant !) aux mêmes dimensions.
… I cut out two squares of the same size in a (shiny!) fabric.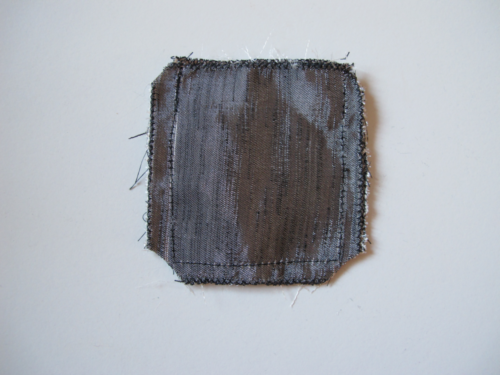 J'ai bien surfilé les deux carrés avec du zigzag (parce que ce tissu, un coupon de récup', s'effiloche à peine qu'on le regarde), et j'ai cousu autour de trois côtés avec une petite marge de couture (qui aurait pu être encore plus petite).
I finished both squares with a zigzag stitch (because this fabric frays like crazy) and I made a seam around three sides with a narrow seam allowance (that could have been even narrower).
J'ai recoupé les coins, et j'ai retourné.
I trimmed the corners and turned to the right side.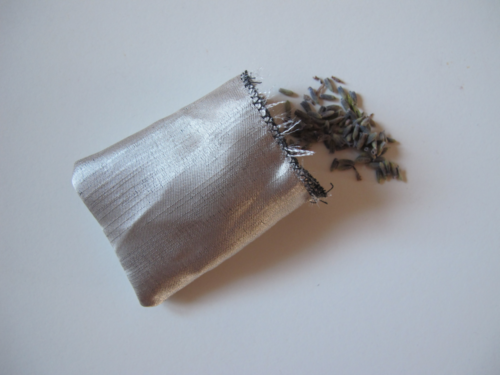 J'ai mis un peu de fleurs de lavande séchées dans cette petite pochette, et j'ai fermé le quatrième côté avec une couture à la main.
I put some dried lavender flowers in this little pocket, and hand-sewed the fourth side shut.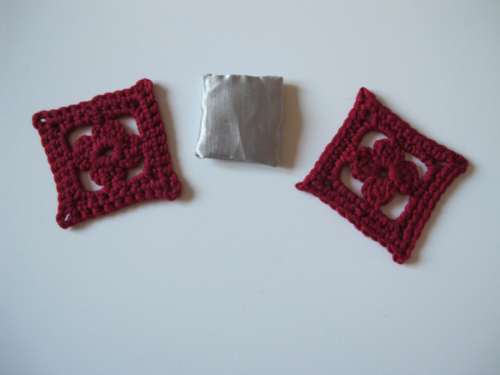 Prête pour le montage ! J'ai crocheté les deux carrés ensemble sur trois côtés, puis glissé le petit sachet de lavande à l'intérieur avant de finir le quatrième côté. J'ai calqué ce tour supplémentaire sur le rang 4 du motif, avec 1 ms dans chaque ms et (1 ms, 3 ml, 1 ms) dans les arceaux dans les coins.
Ready to put it all together! I crocheted the two red squares together around three sides, put the little lavender bag inside and finished the fourth side. This extra round was made like round 4 in the initial motif, with 1 sc in each sc and (1 sc, ch 3, 1 sc) in the ch spaces in the corners.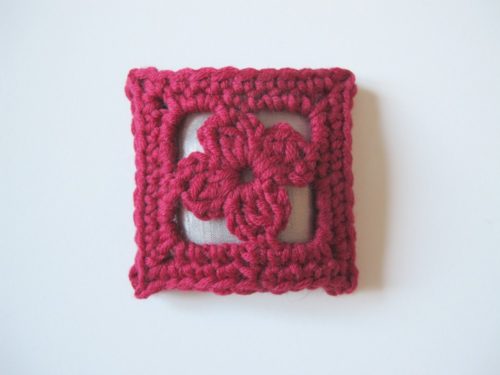 Voilà un petit sachet de lavande, à glisser dans un tiroir avec des laines … ou avec autre chose, puisque celui-ci est déjà parti chez une copine de ma fille qui se trouvait à la maison au bon moment, et qui ni tricote, ni crochète.
A little lavender bag, to put in a drawer with your yarns… or with something else, since this one already has left the house for the drawer of a friend of my daughter's, who happened to hang around at the right moment, and who doesn't knit or crochet.
N'oubliez pas de me montrer ce que vous avez fait avec ce deuxième motif, soit en m'envoyant une photo par mail, soit en la partageant dans le groupe Facebook. Ainsi, vous ferez partie du tirage au sort de janvier !
Don't forget to show me what you made with this second motif, either by sending me a picture via email, or by sharing a photo in the Facebook group. This way, you will enter the prize drawing that will take place in January!
Ce weekend, des offres spéciales sur la boutique – ne les ratez pas !
This weekend, there will be special offers in the shop – don't miss out!
Et lundi prochain, le début d'une nouvelle mini aventure à partager !
And on Monday, we'll start another mini adventure together!
Enregistrer
Enregistrer