Newsletter March 2013: Reversible Tunisian crochetNews:I'm happy to present a fun pattern for a beret, designed by yours truly: Grenobloise.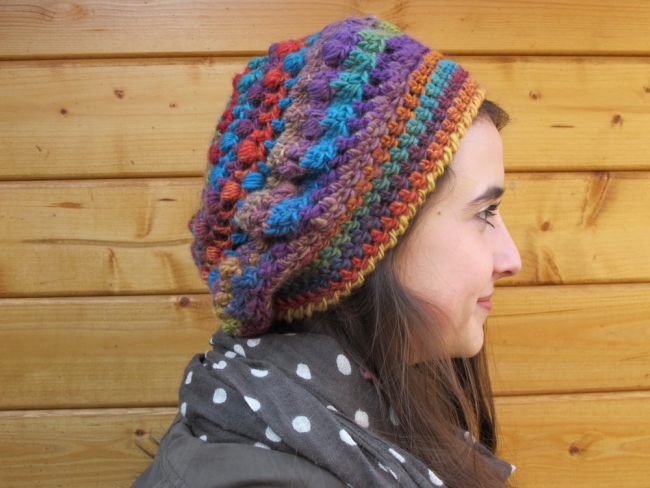 Worked in the lovely Mochi Plus yarn (or another worsted weight yarn of your choice) this little hat is quick to make. To accommodate different head sizes and hairdos, the pattern is written in three different sizes.More information in the shop!Reversible Tunisian crochetEver since I first saw one I was very intrigued by the use of double-ended Tunisian hooks. This technique is probably more familiar to my readers in America than in Europe – and I have no idea how well known it is in other parts of the world. Until quite recently, I couldn't try out the technique for a very simple reason: I didn't know where to find this type of hook.My recent collaboration with the Swedish company Ullcentrum changed this, and I now carry double-ended hooks in my shop. And of course, I had to try them out!These hooks can be used for working flat or in the round. In this newsletter, I will show the basic technique for working flat and obtaining a reversible fabric.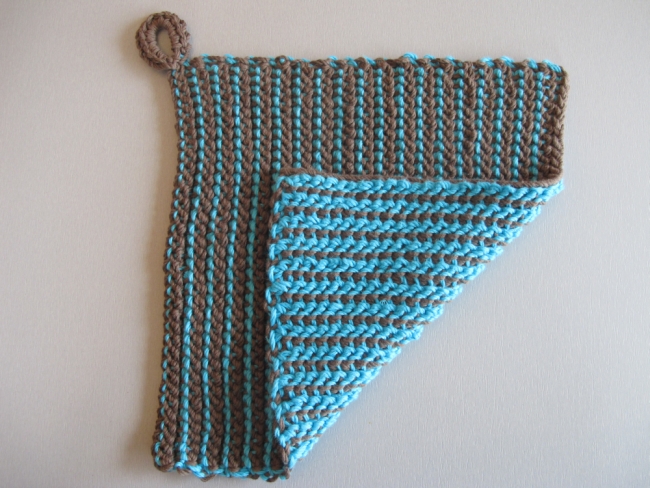 A reversible fabric is one that looks equally good on both sides. It doesn't mean that the two sides are identical. In the picture above of the potholder I made to try out this technique, you can clearly see that one side is dominantly brown while the other is dominantly turquoise.To brush up on the basics of Tunisian crochet, please refer to my newsletter for May 2009. Remember that each row in Tunisian crochet is made with a forward pass (where you pick up the loops on your hook) and a return pass (where you work them off).Now we are going to work with two colours and a double-ended hook!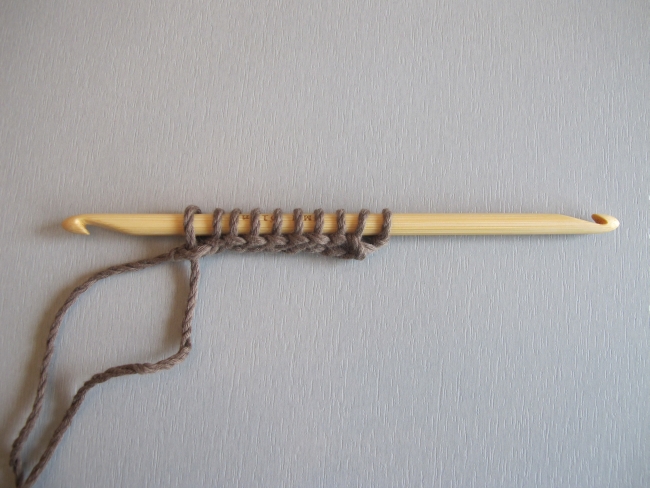 Here we are, after the first forward pass. Since I've picked up loops in my foundation chain, both the yarn end and the working yarn are at the left on my hook, just at the tip where I finished working.Note: For this small swatch, I used a 16 cm hook. For larger items, such as my potholder above, it's easier to work with a longer hook, such as the 32 cm hook in the shop.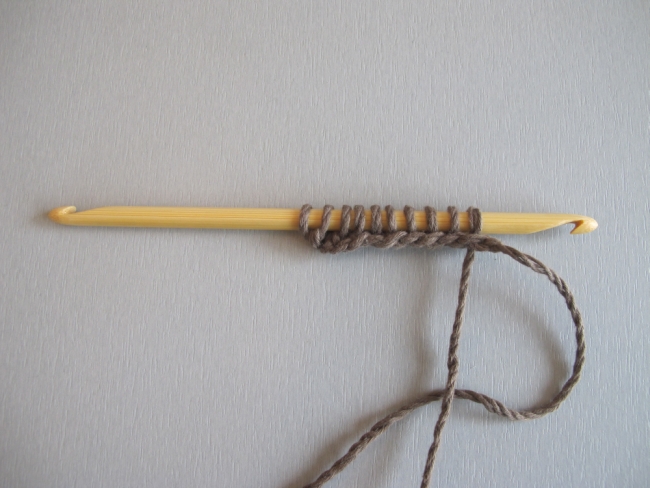 Now I turn my hook, so that the brown working yarn is to the right.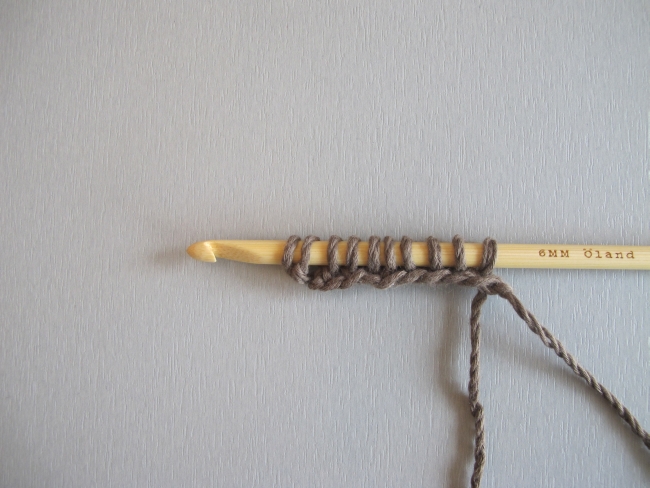 I slide the stitches to the left tip of the hook, where I'm going to start the return pass with the blue yarn.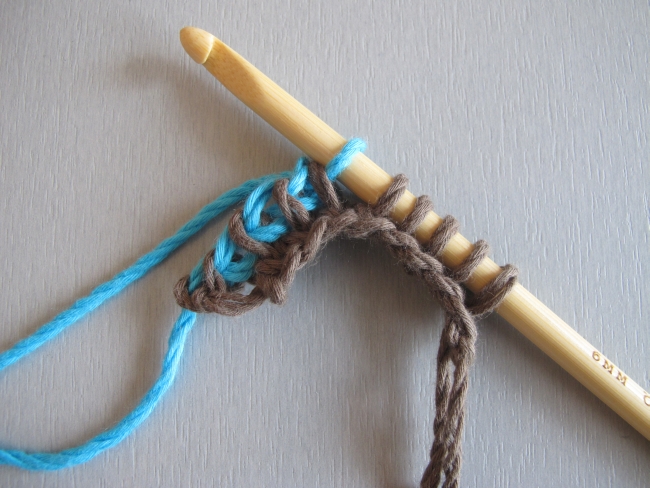 I do the return pass with the blue yarn, working off the brown loops.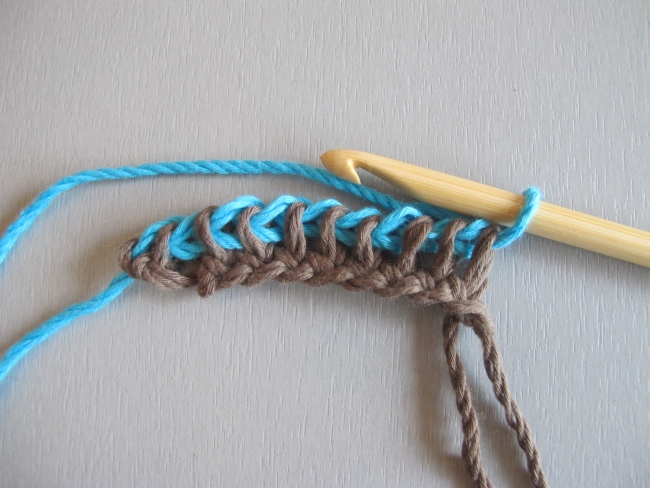 I have completed the return pass. I am now going to work the next forward pass, picking up stitches with the blue yarn (without turning my hook).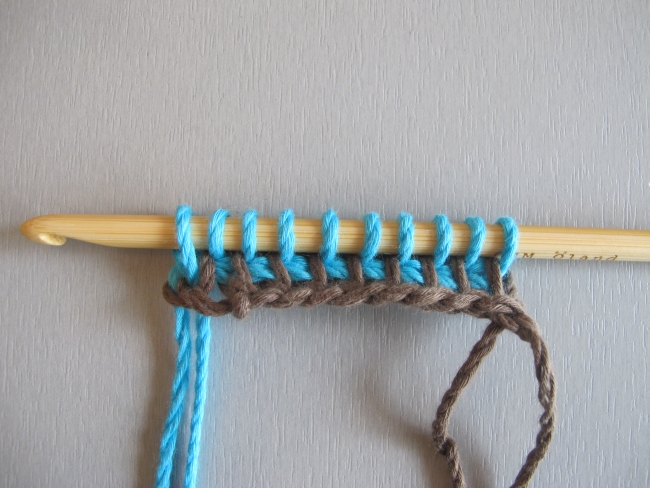 This is the point where I turn my hook, to access the brown yarn at the opposite edge.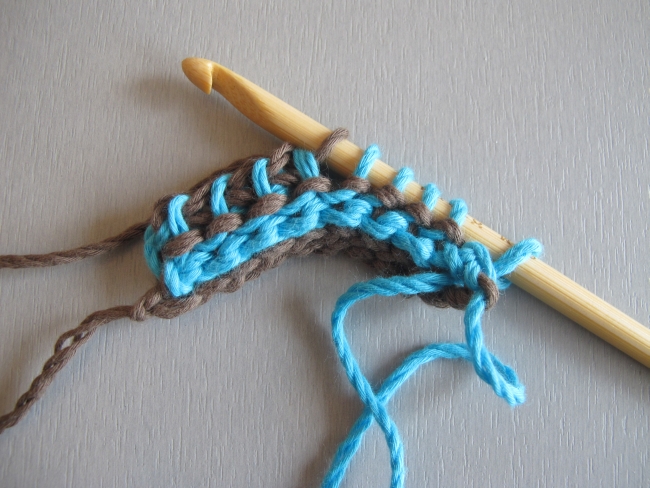 And so on…You always add a new colour on the return pass. This means that the moment to flip over your hook and pick up the other colour is when all the loops are on your hook.This makes it easier to lay down and pick up your work and still remember what to do next. If you put down your work once the forward pass is completed, when you pick it up again and see that the picked-up loops are on your hook, you know that you need to turn your hook over so that you can work the return pass with the other colour.If you put down your work after a return pass, there will be only one loop on your hook. You know that you have to use the same yarn to work a forward pass, before turning your work.It's good to work a simple project such as a potholder, cellphone case or something similar to get acquainted with the technique. After that you can start experimenting with different stitches, different colours…Have fun!
See you soon!