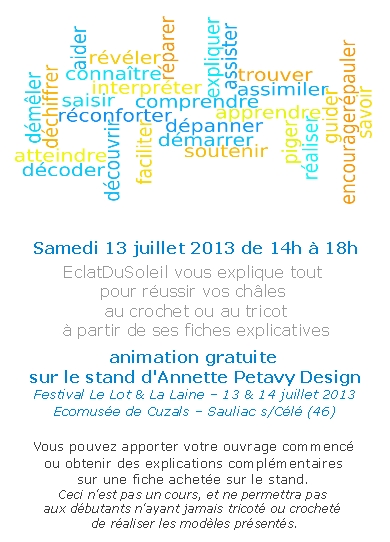 Du 13 au 14 juillet je serai donc au festival Le lot et la laine. L'invitée spéciale sur mon stand n'est autre que mon amie Hélène, EclatDuSoleil.
July 13th and 14th I will be present at the Le lot et la laine festival. My special guest is the one and only EclatDuSoleil!
En raison de sa présence nous vous réservons quelques opportunités très particulières, à savoir :
This will be a great opportunity to offer some specific treats, such as:
Le Genius Bar des châles, spécial EclatDuSoleil – le samedi après-midi de 14 h à 18 h, vous pourrez venir en consultation gratuite et personnalisée pour obtenir de l'aide sur votre ouvrage signé EclatDuSoleil par la créatrice en personne. Du mal à comprendre le démarrage, un point qui vous semble récalcitrant,  un conseil pour le fil à choisir ? Hélène sera a votre disposition sur mon stand.
The Shawl Genius Bar by  EclatDuSoleil – Saturday afternoon from 2 p.m. to 6 p.m., you can get personal advice on your project designed by EclatDuSoleil by the designer herself, for free. Do you need help to start your project, to understand a stitch pattern, or to substitute yarns ? She will be there for you in my booth.
La possibilité d'acquérir des prototypes de quelques un des modèles les plus populaires d'EclatDuSoleil. Plus de détails (modèles concernés et prix) sur le blog de la créatrice.
The possibility to buy the prototypes for some of EclatDuSoleil's most popular patterns. More details (designs and prices) at the designer's blog.
Plusieurs châles signée EclatDuSoleil, au crochet et au tricot, en avant-première exclusive. Venez découvrir des modèles que vous n'avez jamais encore vus !
An exclusive preview of several knitted and crocheted shawl designs by EclatDuSoleil. Come to see these designs for the first time ever!
Et bien sûr, je vous concocterai aussi quelques petites surprises …
And of course, I'm preparing some surprises…