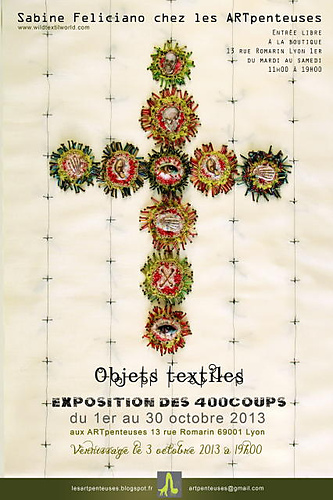 Pendant tout le mois d'octobre, si vous avez l'occasion de vous rendre à Lyon, vous pourrez admirer (et acquérir) les objets textiles magnifiques, farfelus et très personnels de Sabine Feliciano, artiste textile et bloggeuse aux 400 coups.
During the entire month of Octobre, if you have the possibility to visit Lyon, you can admire (and acquire) the splendid, quiry and very personal textile objects created by Sabine Feliciano, textile artist and blogger at 400 coups.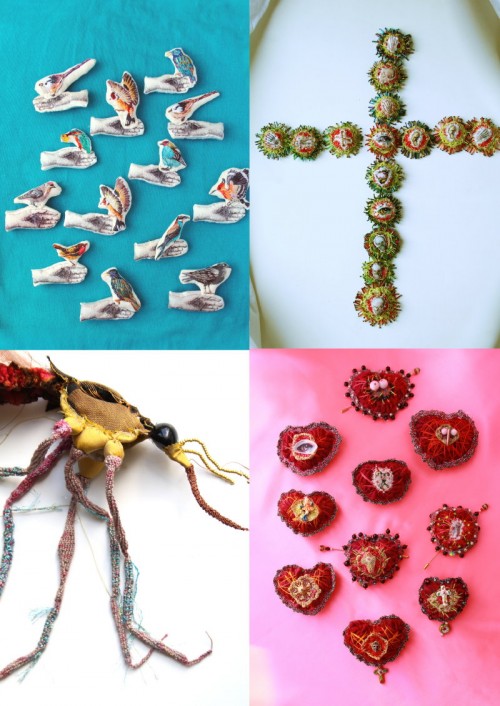 Sabine expose dans la boutique des Artpenteuses, au 13 rue Romarin dans le 1er, en bas de pentes de la Croix-Rousse – et sur le plateau, du 5 au 6 octobre, il y aura un salon, dont je vous parlerai très bientôt. L'occasion de se faire un week-end autour du fil à Lyon !
You will find Sabine's art in the shop Les Artpenteuses, on 13 rue Romarin (Lyon 1er), at the bottom of the hill of la Croix-Rousse – and at the top of the hill, Oct 5th to 6th there will be a show that I will tell you about very soon. It's the opportunity to spend a textile week-end in Lyon!
Et sinon, en plus du blog, découvrez l'univers de Sabine Feliciano sur son site Wild Textile World.
And if you can't, if you want more than the blog, discover Sabine Feliciano's universe at her web site Wild Textile World.