Newsletter January 2014: A new shop! And chart symbolsNews: There is only one piece of news this month, but it's a big one! The new online shop is finally in place – you can visit it here. Please note that the URL (the address) has changed. I'd like to tell you a little bit about what else is new.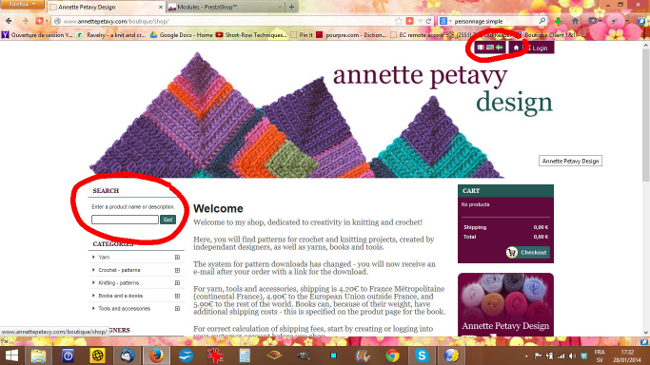 The shop exists in three language versions: English, French and Swedish. If you are directed to another version than the one you needed, just click the appropriate flag at the top right corner.Just beside the flags is a link to log into your customer account. The first time in the new shop, you will need to create a new account. It was technically impossible to transfer the existing ones from the old shop. Unfortunately, this means that you will not have access to your order history. However, I have the information available to me, so in case you need to know something related to previous purchases, just e-mail me.I understand that this might be a drawback, but believe me, there are many, many advantages with this new site!One of them is the search tool, at the top of the lefthand column. Just type in a word (part of the name of a pattern, for example), and the search tool will suggest plenty of options (provided that the word exists in the shop, of course!).Just below the search box is the « categories » box. Here you can browse different types of patterns. I've tried to make it as easy as possible to find the pattern you're looking for. This might mean that one pattern appears in several categories.At the top of the righthand column is the cart. If you are buying products other than patterns – i. e. « physical » products that are going to be shipped to you – I suggest that you log into your customer account before you start shopping. This way, the shipping cost will be correctly calculated from the start.When it comes to the downloadable patterns, the delivery method is new as well. You will now receive an e-mail with a link to your pattern. This link does not expire. You can refer to it for your own, personal use several times; for example, to download your pattern to different devices.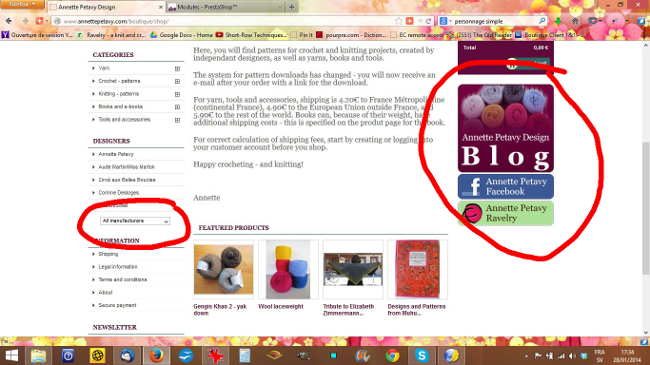 Farther down the page are more new features. To the left is a list of designers. Only a few appear directly on the screen (in alphabetical order), but you can use the pull-down menu to select one designer and see all his or her patterns. (I know it says « All manufacturers » for the time being – there is still some work left to do!)To the right are « buttons » for immediate access to my blog, my Facebook page and my designer page on Ravelry. By the way, if you are on Ravelry, you are very welcome to join my Ravelry group! Last, in the bottom center, you will find a few featured products. Typically, they will be recent additions, but sometimes old favourites can show up too!I hope you will like the new shop –  to me, it's also a much more efficient tool, and I'm thrilled. However, I am well aware that you may have comments, suggestions or questions about it. So please, feel free to e-mail me!Chart symbolsNext month I plan to discuss crochet charts (also called diagrams) and how to read them. As an introduction to that, I want to go through some of the most common symbols used to chart crochet patterns.I know that charts don't suit everyone. When I first learned to crochet, I didn't even know that charts existed. I only worked from written instructions, and when I first came upon charts, I found them very confusing. However, I'm very happy that I made the effort to understand how to read them. Charts are the international language of crochet, and knowing how to decipher them has enabled me to learn and use stitch patterns from many different sources.German chart symbols are slightly different from the other types I know. I'm not an expert on German crochet charts, but I'll try to point out the differences I've noticed. Please note that here, as in my patterns, I use US terminology to designate the stitches.So, to start off nice and easy, let's have a look at some common stitch symbols!Chain stitch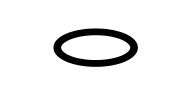 The chain stitch is shown as an oval. Like the other stitches it can be tilted in various ways to show how the stitch sits in the work. It can also be more or less stretched out, depending on who has made the chart or what works best when you draw the chart. Sometimes it's more of a circle than an oval, especially in German charts.Slip stitch

The left sign above is the most common one for a slip stitch. It can vary greatly in shape, from the circle shown here to a flattened oval to an almost flat line. However, all these shapes are filled in, in a solid colour. The symbol to the right can be found representing a slip stitch in German charts.Single crochet


A single crochet is most often shown as a cross or a plus sign. The black rectangle can be found in German charts.Half double crochet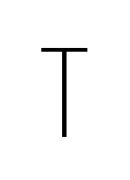 This looks very much like a T, but it's actually a half double crochet! The German version (not shown) lacks the top horizontal bar (so it looks more like an I).Double crochet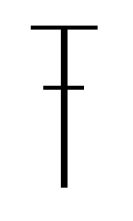 This is the symbol for a double crochet. Again, the German symbol (not shown) doesn't use the top horizontal bar (this is valid also for taller stitches, such as trebles, double trebles, etc.).To understand the symbols for taller stitches, I suggest you take specific note of the horizontal bar in the middle of the symbol, and consider that as the yarnover you make when you start making a double crochet.Treble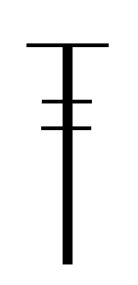 See how the treble has two horizontal bars in the middle of the stitch? And yes, you start out to make a treble with two yarnovers. For the taller stitches, every horizontal bar adds a yarnover – three for a double treble, four for a double double treble, and so on, for supertall stitches I don't even know the names of!Next month, we'll see how to combine these simple symbols to make charts. See you soon!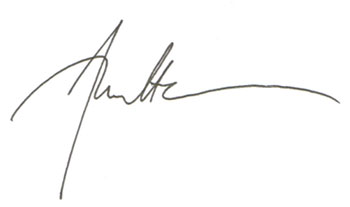 Newsletter index