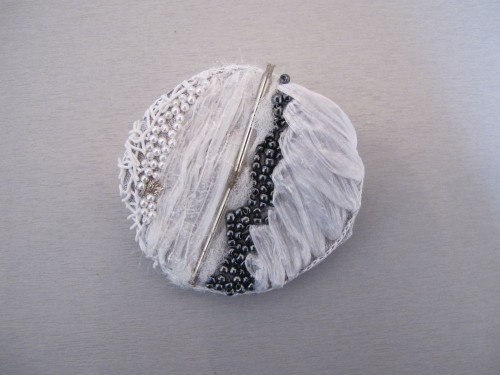 Merci à toutes celles qui sont venues me voir au salon Fil en Seine ce week-end au magasin Truffaut d'Ivry. Un salon à taille humaine en région parisienne, une équipe organisatrice attentionnée et chaleureuse – cette manifestation mériteraient d'être mieux connue et (un peu) plus fréquentée.
A big thank you to all those who came to see me this past weekend at the Fil en Seine show in Ivry (very close to Paris). A people-friendly show in Paris, organized by an attentive and welcoming team – this event should be better known and gain a (slightly) larger audience.
Ci-dessus, un de mes coups de cœur du salon: cette broche créée par Caroline Gamb, brodeuse d'art. Elle partageait un stand avec Catherine Legrain de Broderie Plaisir. Une belle rencontre !
Above, one of the irresistible items that came home with me: a brooch created by embroidery artist Caroline Gamb. Caroline shared a booth with Catherine Legrain of Broderie Plaisir. So happy to meet them!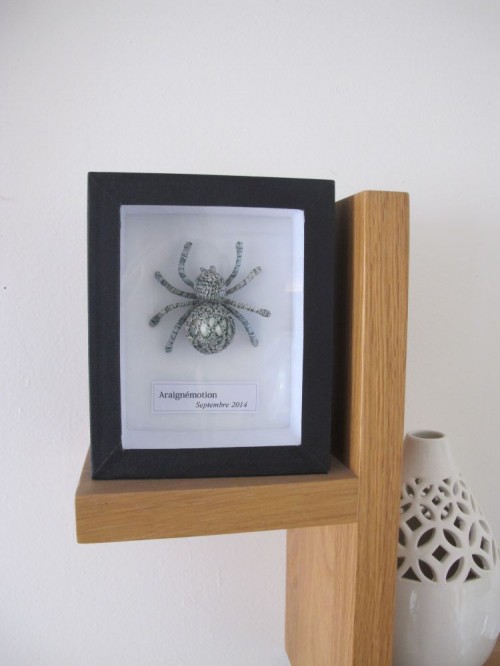 Sur mon propre stand, on trouvait bien sûr les pièces uniques de mon artiste textile préférée, Olivia Ferrand/Mon Souk (ainsi qu'Olivia elle-même). Toute résistance fût futile, j'ai totalement craqué pour l'Araignémotion qui trône désormais dans mon salon. Je pense que les travaux d'entomologiste crocheteuse d'Olivia n'ont pas fini de nous étonner.
In my own booth, you could find unique pieces by my favourite textile artist, Olivia Ferrand/Mon Souk (as well as Olivia herself). Resistance was futile, I fell head over heels for this Araignémotion (araignée = spider). I'm eager to see where Olivia's work as a crochet entomologist takes her next.