Dernière étape dans ce premier petit projet !
The last step in the first little project!
Sista steget i det första lilla projektet!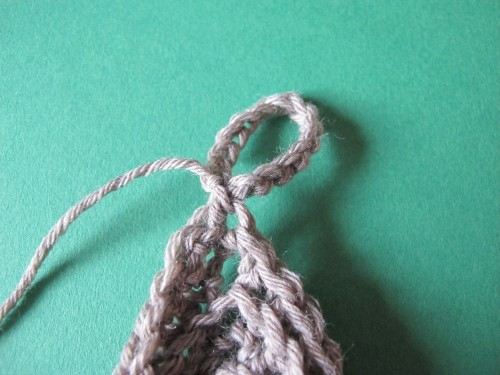 Rg 7 : 1 ml, 1 ms dans le brin arr dans chaque m jusqu'à la maille de la pointe, 1 mc dans la maille de la pointe, 15 ml, 1 mc dans la même maille.
Arrêter le fil et rentrer les fils.
Row 7: Ch 1, 1 sc blo in each st to tip stitch, 1 sl st in tip stitch, ch 15, 1 sl stitch in same stitch.
Fasten off and weave in all ends.
Varv 7 : 1 ml, 1 fm i bakre maskbågen i varje maska fram till spetsmaskan, 1 sm i spetsmaskan, 15 lm, 1 sm i samma maska.
Ta av garnet och fäst alla trådar.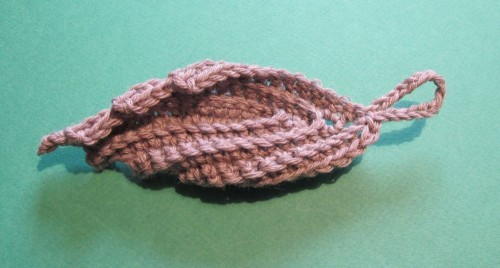 Voici notre feuille, prête à suspendre à une branche de sapin ou autre. Expérimentez avec différents types de fil, ou avec des perles.
Here is our leaf, ready to hang in the tree or somewhere else.
Test different types of yarn, or add beads.
Så här ser vårt löv ut, färdigt att hänga i granen eller någon annanstans.
Prova i olika garner, kanske med pärlor också.
On peut bien sûr aussi la bloquer.
You can of course block it too.
Man kan förstås blocka det också.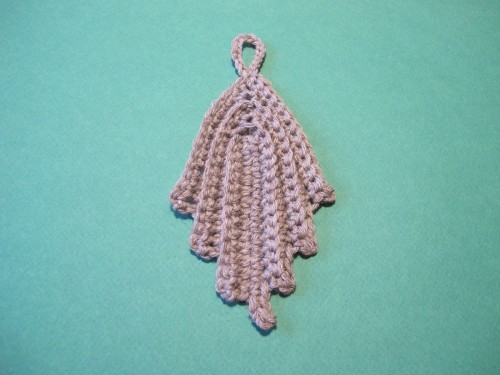 Une ou plusieurs feuilles bloquées deviennent une décoration de paquet cadeau, ou peuvent se coller sur une carte de voeux (peut-être sans la boucle dans ce dernier cas).
Et vous, que faites vous avec vos feuilles ? N'oubliez pas de m'envoyer vos photos ou de les partager dans le groupe Facebook.
One or several blocked leaves can decorate a gift package, or be glued to a greeting card (perhaps without the top loop in this case).
How will you use your leaves? Don't forget to send me your photos or share them in the Facebook group.
Ett eller flera blockade löv kan pryda ett julklappspaket eller limmas på ett julkort (kanske utan öglan upptill).
Vad gör du med dina löv? Glöm inte att skicka mig dina bilder eller dela dem i Facebookgruppen.