Avec la fleur montrée cette semaine dans le calendrier d'Avent, j'ai eu envie de faire …
With the flower shown in the Advent Calendar this week, I wanted to make…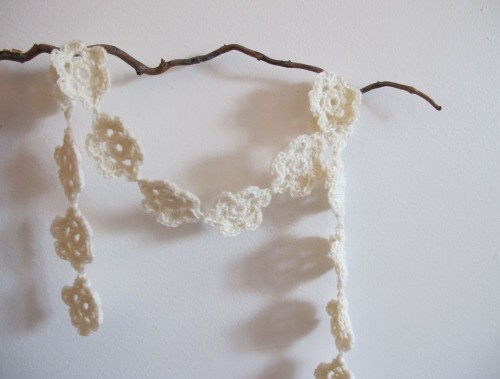 … une guirlande ! J'ai utilisé juste le centre de la fleur, avec la première rangée de pétales. Pour qu'elles soient faciles à accrocher entre elles, au lieu de faire (1 ms, 5 br, 1 ms) pour chaque pétale, j'ai fait (1 ms, 2 br, 1 ml, 2 br, 1 ms). À partir de la deuxième fleur crochetée, dans l'une des pétales, j'ai remplacé la maille en l'air centrale par une maille coulée, piquée dans la ml centrale d'une pétale de la fleur précédente.
… a garland! I used only the center part of the flower, with the first round of petals. To make the flowers easier to attach one to another, instead of working (1 sc, 5 dc, 1 sc) for each petal, I worked (1 sc, 2 dc, ch 1, 2 dc, 1 sc). From the second flower, in one of the petals I replaced the center chain with a slip stitch into the center chain of a petal in the previous flower.
Pour une guirlande, j'ai trouvé qu'un seul point d'attache entre deux fleurs était suffisant. On peut aussi attacher dans deux pétales cote à cote, pour un assemblage plus solide. Peut-être pour une écharpe crochetée en grosse laine !
For a garland I thought that attaching the flowers in one spot only was sufficient. You can also attach two petals side by side, for a sturdier assembly. Perhaps for a crocheted scarf in chunky yarn!
Je me suis aussi dit que ces fleurs, en faisant plusieurs étages et chaque étage dans une couleur différente, pouvait être une manière amusante de montrer des combinaisons de couleurs, par exemple comme ici avec mon fil mérinos fin.
I also thought that these flowers, if worked in several layers with a different colour for each layer, could be a fun way to show some colour combinations, as here in my fingering weight merino yarn.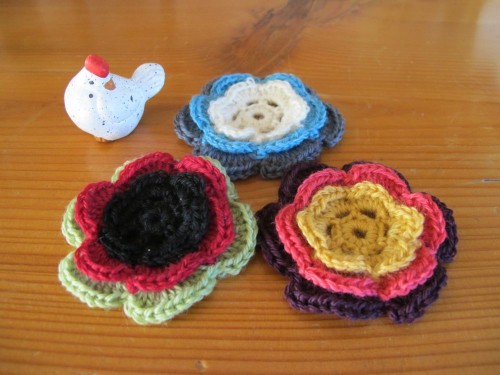 Et finalement, cela pourrait aussi faire de jolies broches, non ? Il suffirait de crocheter un cercle en mailles serrées (expliqué dans le bulletin de novembre 2012), y apposer une épingle à broche, et le coudre au dos de la fleur.
And actually, they could make nice brooches too, don't you think? All you would need to do is to crochet a circle in single crochet (as explained in the newsletter for November 2012), fix a brooch pin to it and sew it to the back of the flower.
Quand on change de couleur entre deux rangées de pétales, je propose de crocheter les arceaux qui préparent la rangée suivante dans la même couleur que les pétales précédents, pour que les mailles serrées qui « ancrent » ces arceaux soient moins visibles. Sauf si vous voulez faire autrement, bien sûr !
When changing colours between layers, I suggest working the ch arches that will serve as the base for the following petals in the same colour as the previous layer of petals, so that the single crochets that « anchor » these ch arches will be less conspicuous. Unless you prefer otherwise, of course!