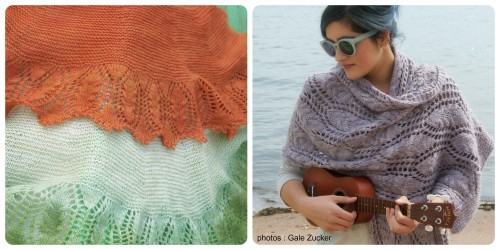 L'étole Laight Street (à droite) et les châles Vestry Street (à droite) sont tous des modèles compris dans le livre de Kirsten Kapur, Shawl Book One. Ces modèles ne sont pas disponibles sous forme de fiche individuelle en français. Les explications ont été traduites pour la première fois pour le livret de traduction que vous pourrez acquérir en même temps que le livre
The patterns Laight Street (right) and Vestry Street (left) are both included in Kirsten Kapur's Shawl Book One.
Et voici mes propositions de fil !
And here are my yarn suggestions!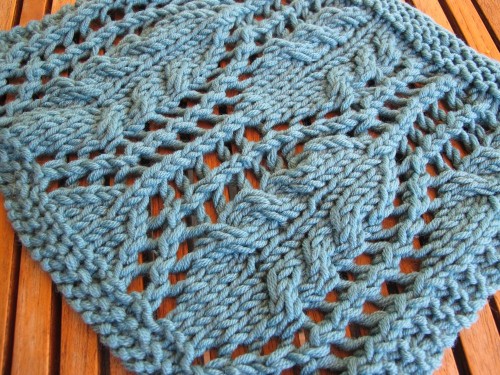 La version originale de l'étole Laight Street, photographiée par Gale Zucker en haut de ce billet, est tricotée dans un fil épais, à 157 m les 100 g, sur des aiguilles de 8 mm. L'échantillon indiqué est de 13 mailles aux 10 cm, pour une largeur de l'étole fini de 30 ou 56 cm suivant la taille choisie.
Kirsten's version of the Laight Street stole, photographed by Gale Zucker at the top of this post, is knitted in an aran yarn at 157 m per 100 g on 8 mm needles. The indicated gauge is 13 sts per 10 cm, which gives a finished stole with a width of 30 or 56 cm depending on the size chosen.
Avec ma copine Françoise, nous avons choisi de faire un échantillon avec le mérinos épais, un tout petit peu moins lourd. Le résultat est bien moelleux et agréable, et après blocage on obtient un échantillon très proche de l'original (14 mailles aux 10 cm).
I and my friend Françoise opted for a swatch in worsted weight merino, a tad lighter. The result is squishy and soft, and after blocking the gauge is very close to the indicated one (14 sts per 10 cm).
Pour tricoter Laight Street en mérinos épais, il faut prévoir 6 pelotes pour la petite taille et 12 pelotes pour l'étole plus large.
To knit Laight Street in worsted weight merino, you will need 6 balls for the smaller size and 12 balls for the larger stole.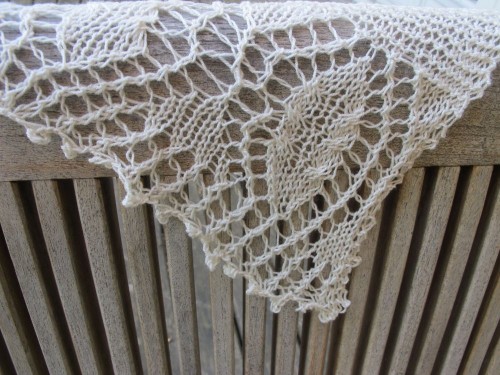 Vestry Street est un modèle de châle en demi-cercle, dont la bordure reprend une variante du point utilisé dans Laight Street. Les explications sont données pour deux versions, une en fil fin (type mérinos fin ou alpaga fin), l'autre en fil dentelle. Pour jouer encore plus sur le contraste entre les deux modèle, Françoise a bien voulu tricoter un échantillon de Vestry Street en London, coloris crème.
Vestry Street is a semi-circular shawl design, where the border includes a variation on the stitch pattern used in Laight Street. The pattern is written for two version, one in fingering weight yarn (such as my fingering weight merino or fingering weight alpaca) and the other one in laceweight. To underline the contrast between the two designs, Françoise agreed to knit a swatch for Vestry Street in London, col cream.
Le résultat est tout à fait aérien – Françoise a craqué pour le rendu du point mousse tout simple dans ce fil noble (moitié laine, moitié soie). Pour tricoter Vestry Street il vous faudra 2 pelotes de London.
The result is gorgeously airy – Françoise particularly loved the effect of the simple garter stitch in this sublime yarn (half wool, half silk). To knit Vestry Street you will need 2 balls of London.
Le livre Shawl Book One de Kirsten Kapur, avec en tout dix modèles de châles, est disponible dans la boutique.
Kirsten Kapur's Shawl Book One, with a total of ten shawl patterns, is available in the shop.