Geneviève m'a contacté pour me demander mon avis sur une version du châle Au-dessus des nuages (une création d'EclatDuSoleil) réalisée dans le fil London.
Geneviève wrote to ask what I thought about a version of the Over the Clouds Shawl (designed by EclatDuSoleil) worked in the London yarn.
Il fallait faire un échantillon !
I had to make a swatch!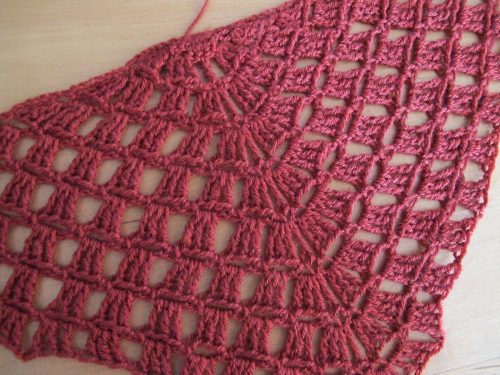 Avec un crochet de 3 mm, le rendu du point est superbe. Par contre, le résultat est nettement plus dense que dans la version d'origine :
With a 3 mm hook, the stitch definition is splendid. However, the fabric is much denser than in the original shawl: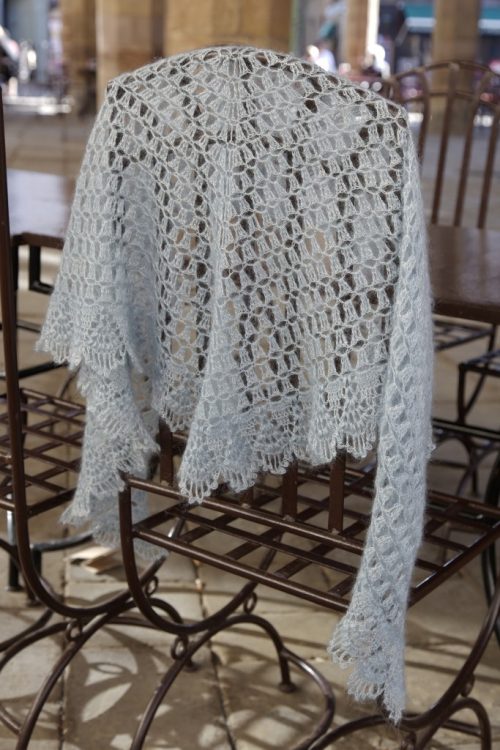 Crocheté selon la fiche, avec le fil London et un crochet de 3 mm, le résultat serait donc un châle plus petit (si on obtient le même échantillon que moi).
Worked according to the pattern, with the London yarn and a 3 mm hook, the final shawl would be quite a bit smaller (if you get the same gauge as I).
À partir de là, trois alternatives sont possibles :
Working from there, you have three options:
1) Se dire qu'on adore les petits châles qui se lovent autour du cou, et que justement c'est bien la place de la London, douce et chaude. La version originale fait tout de même 160 cm d'envergure – c'est assez grand et il y a donc de la marge.
 1) Decide that you love small shawls wrapped around your neck, and that it's a very good way to wear the soft and warm London yarn. The original shawl has a wingspan of 160 cm – that's relatively wide, so there is space to make a smaller but wearable shawl.
2) Tester avec un crochet plus gros pour s'approcher de l'échantillon de la fiche. Ensuite, c'est une question de goût – avec un crochet plus gros, le rendu du point sera différent. Vu la densité de mon échantillon, je pense qu'on peut au moins tester le 3,5.
2) Try a bigger hook to get closer to the pattern gauge. It's a matter of taste – with a bigger hook, your stitch pattern will look different. Looking at my swatch, I think it would be interesting to test at least a 3.5 mm hook.
3) Agrandir le châle en faisant plus de rangs. Et là, avec Au-dessus des nuages on tombe bien, car il est facile d'agrandir. Je cite la fiche d'Hélène : « Il est très facile d'ajuster la taille du châle à vos souhaits ou à la grosseur de votre fil, en augmentant ou diminuant le nombre de rangs de la partie centrale. Il suffit de s'arrêter sur un rang impair pour disposer des arceaux nécessaires à l'accrochage de la bordure. »
 3) Make a bigger shawl working more rows. We're lucky with this particular design, because it's easy to enlarge. Let me quote Hélène's pattern : « It is very easy to adapt the size of the shawl to your liking or to the weight of your yarn, by increasing or decreasing the number of rows in the center. Always finish with an odd-numbered row to have the 3-ch spaces required for working the first row of the border. »
Dans tous les cas, un changement de fil et d'échantillon, et a fortiori une augmentation du nombre de rangs, rend l'estimation du métrage nécessaire plus difficile. C'est bien d'avoir de la marge !
In any case, when changing yarn and gauge, and even more when increasing the number of rows, estimating the yardage is difficult. Make sure you have more yarn on hand!
C'est un vrai bonheur de découvrir les interprétations diverses et variées des modèles publiés dans ma boutique. En choisissant votre fil, vous ajoutez votre empreinte à l'ouvrage. Donc, n'hésitez pas à faire vos expériences, et si vous voulez, de les partager avec moi !
It's wonderful to discover the various interpretations of the patterns published in my shop. By choosing your yarn, you add your personal touch to the project. So feel free to experiment, and to share the results with me if you like!