Newsletter August 2011: Slip stitch crochet with Kerstin JönssonNews:I've been on vacation… so the news will come in the next newsletter! Look out for exciting new fall yarns as well as accessories in the shop.Slip stitch crochet with Kerstin Jönsson:Do you have a dream? Talk about it – it might come true! In the newsletter for April, I mentioned that I would love to take a class in slip stitch crochet in Sweden sometime. I very quickly got an e-mail from Kerstin Jönsson, author of the book Smygmaskvirkning (Slip Stitch Crochet), inviting me to come and crochet with her in her sunroom. I immediately realized that this was an opportunity I couldn't miss. That was how I came to spend a day during my recent vacation at Kerstin's home. « Worth a detour », as the guidebooks say!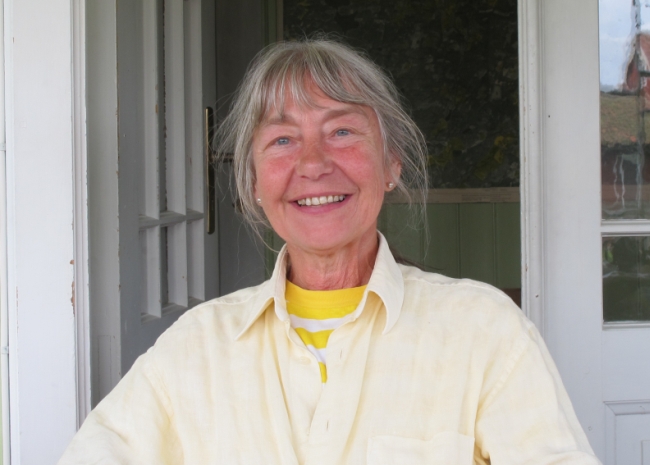 The sunroom was very pleasant and Kerstin herself an adorable person. The hours slipped by very fast, and I must admit there was more chatting than crochet. But we found the time to do some! Kerstin has written and self-published two books: the one about slip stitch crochet I already mentioned, and a book on two-end knitting.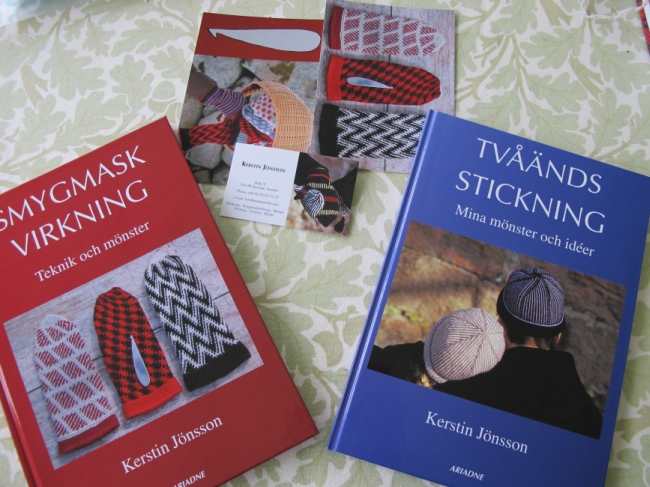 When it comes to two-end knitting, Kerstin is somewhat of a rebel on the Swedish scene. She argues that you don't need specifically spun, expensive yarn with a Z-twist to do two-end knitting. According to Kerstin, you can use any yarn; and after having seen her two-end knitting designs, I have a hard time not believing her.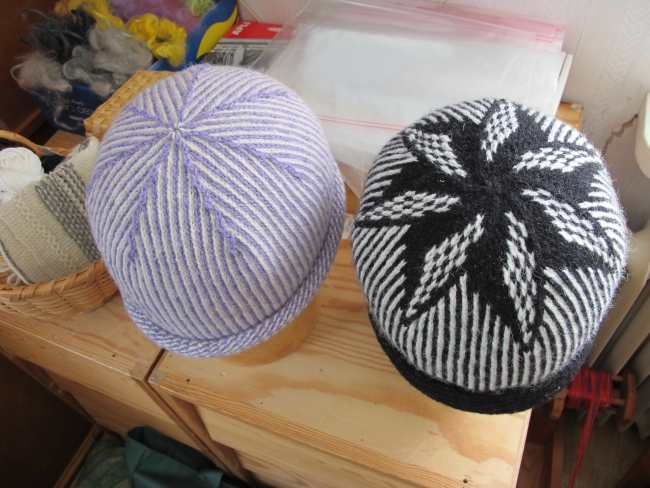 Among all her beautiful two-end knitting project, this is the one I liked the most: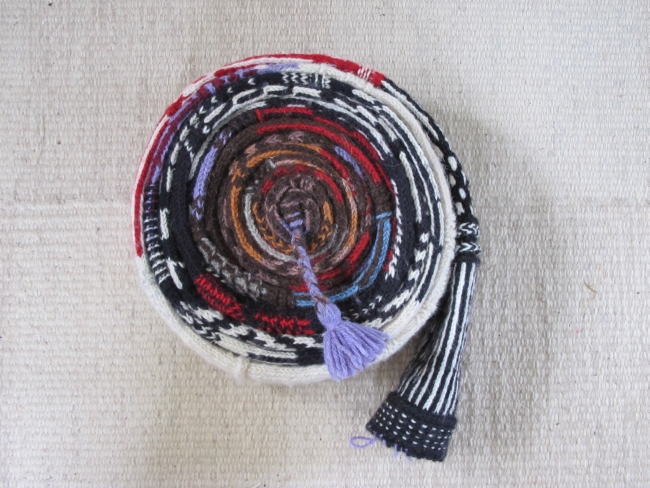 Kerstin calls it the Snake, and when rolled out, it looks like this: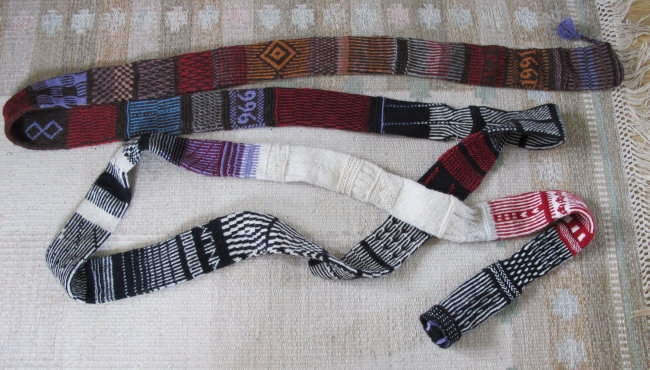 Or rather, it looked like this the day I came to visit. The Snake is a work in progress, Kerstin's never-ending swatch for two-end knitting, where she « sketches out » stitch patterns. It starts at top right in the picture, with a tassel. The current ending is at bottom right, but at that end the stitches are put on hold on a piece of yarn, ready to be picked up for new experiments.But I was going to talk about slip stitch crochet!As I explained before, I had a hard time really understanding how I should hold hook and yarn and how I should move my hands. Kerstin showed me willingly and gave me some important tips.Hook and yarn are held in the right hand; the work is held in the left.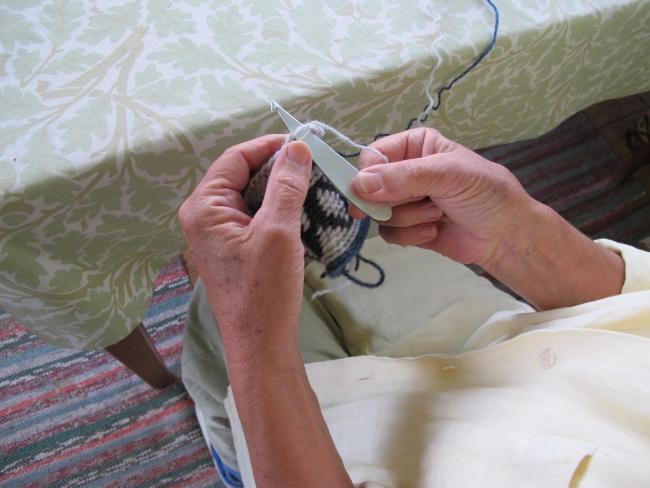 With her left thumb, Kerstin pinches together the loop on the needle and the stitch she is working into so they don't pull apart.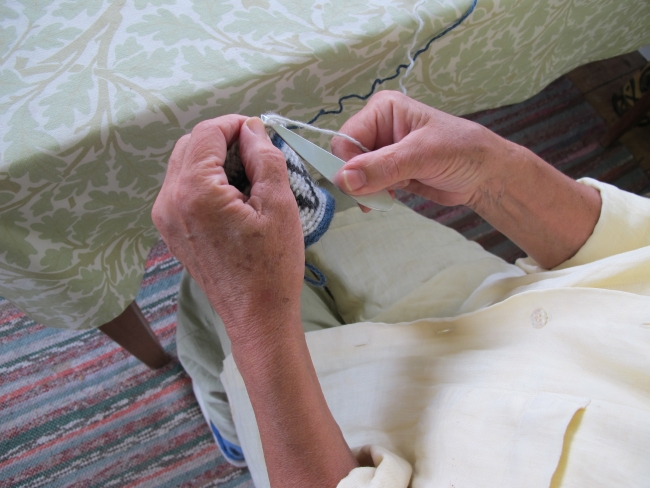 The yarn is thrown around the hook, and the hook moves vertically up and down.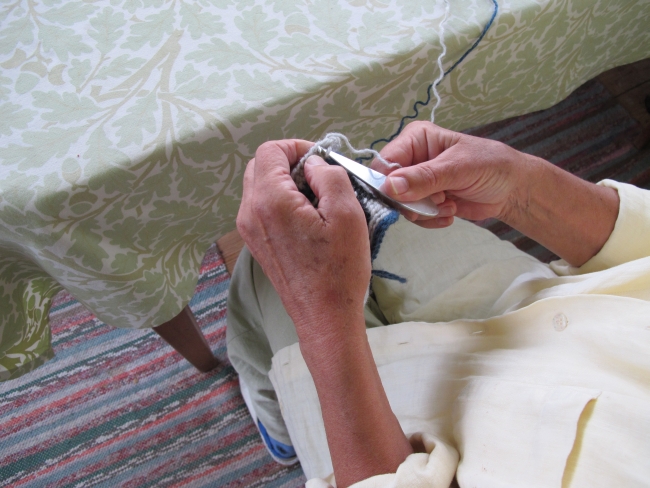 Kerstin points out that you should use small and light movements that don't put strain on your body.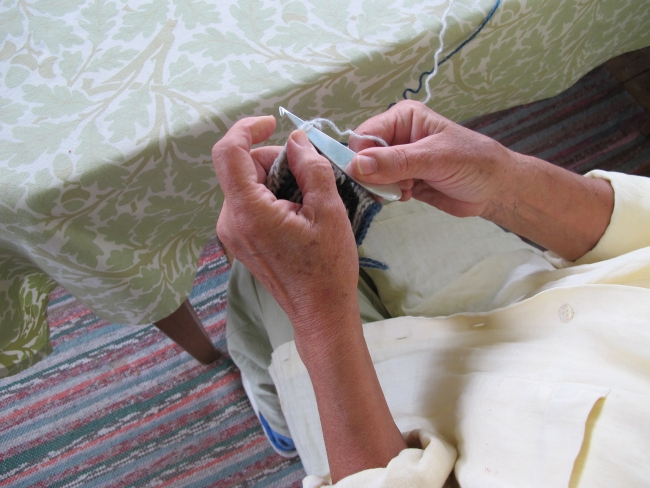 Those of you who haven't been to Kerstin's sunroom (I feel a little sorry for you, honestly) can watch the technique in this short video (12 sec):Here is Kerstin's very well used hook: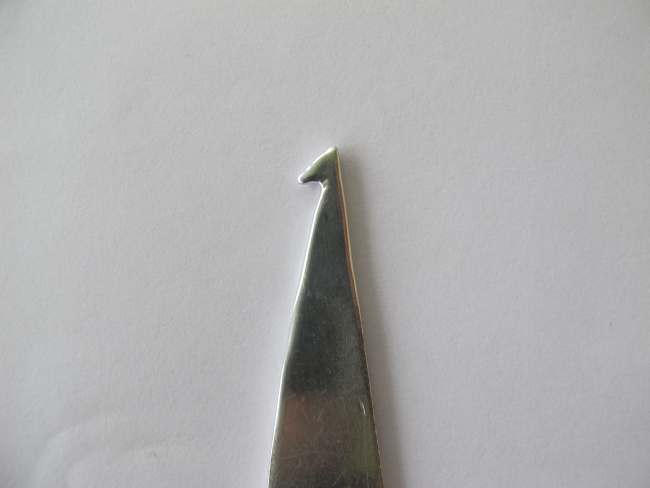 Less well used hooks will soon be available in my shop. In a little while they will be complemented by a pattern for those who would like to try this technique.Thank you Kerstin, for an absolutely wonderful day!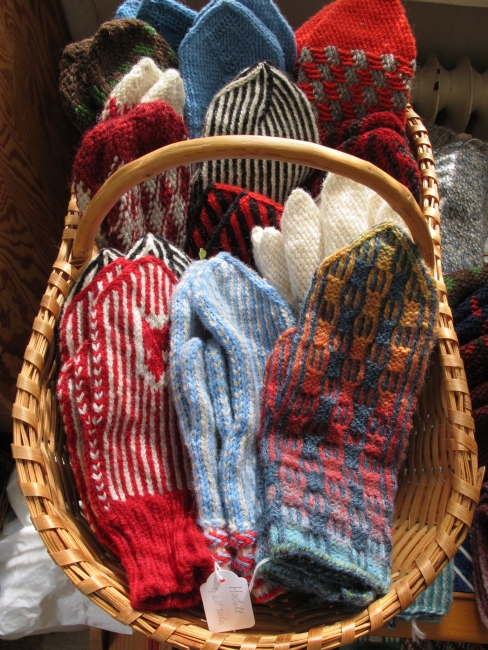 See you soon!